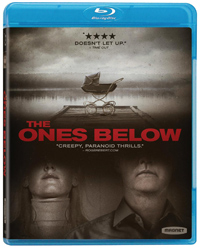 Pregnancy and psychological thrills make for comfortable bedfellows in screenwriter David Farr's (Hanna; "The Night Manager") directorial debut, The Ones Below. Premiering at the 2015 Toronto International Film Festival (in the City to City program for the festival's focus on London), US distributor Magnet granted the title a limited theatrical release across four theaters at the tail end of May, 2016, but the film unfortunately only generated twelve thousand in ticket sales. Considering Farr's attention to characterization and commendable mounting dread, the title deserves to stand out amongst streaming platforms and rental options, where it has a better chance of finding an audience prizing paranoid thrillers with actual substance.
Tonally comparable to Polanski's trio of horrific happenings in urban apartments, Farr channels the innate awkwardness of adult interactions and the unnamed tensions of familial competitions and contrived intermingling. As a genre film, the narrative plays out with almost disappointing predictability. But under the guise of a socioeconomic thriller operating as a nightmare of the privileged, Farr manages a striking portrait of the perverse relationship of building family vs. building community.
Kate (Clemence Poesy) and Justin (Stephen Campbell Moore) have been happily married for quite some time and are finally expecting their first child, the perfect addition to their life in the comfortably affluent suburbs of London. New neighbors unexpectedly move into the apartment below them, an instant curiosity since they completely renovate the overgrown shared garden in the backyard. It turns out that the couple, businessman Jon (David Morrissey) and self-reliant wife Teresa (Laura Birn) are also expecting their first child. The main difference between the couples is Teresa has been striving valiantly for years to have a baby while Kate has been slow to warm to occasion. When Kate and Justin invite them over for dinner, something tragic transpires, an event that will affect all of them in markedly different ways.
Perils of pregnancy have long haunted genre cinema, and the set-up of The Ones Below plays like a subdued version of French New Wave horror film Inside with something like the scenario in the picket fenced camp classic The Hand That Rocks the Cradle (1992), with Laura Birn an instant successor of Rebecca De Mornay's hell hath no fury like a honey blonde. But this changeling narrative seems to have more to say about social customs and class, as evidenced by the title. Susanne Bier's soapy 2014 melodrama A Second Chance plays with these notions via a similar format, though more from a masculine perspective.
Farr's examinations are far more subtle, as evidenced by the opening dialogue concerning Kate and Justin commenting on their new neighbors, the first people to occupy the home after someone died in it. They seem to be asking, "What kind of people would live in such a place?" as they continue to discuss the couple's 'foreign-ness.' Indeed, the couple is foreign, but very friendly despite their awkward behavior.
The husbands here seem more like pawns in the schemes or desires of the female characters, with "The Walking Dead" actor David Morrissey exuding an almost laughable menace. Farr is more consumed with notion of motherhood, the desire to rear dictating the more 'deserving' recipient, as evidenced by the film's first very uncomfortable dinner sequence. Of course, we learn Kate has her reasons for reluctance considering her own cold and distant mother. But as likeable as Poesy is here, the innocent and naive woman who lets guilt cloud instinct, the film belongs to Finnish actress Laura Birn, exuding a mixture of psychotic friendliness and hints of unhinged flickers of emotion, making her fascinating to watch, even if the The Ones Below ultimately ends up right where we thought it would. Birn makes good on the promise of her breakout role in 2012's Finnish drama Purge (she's since followed with notable supporting roles in Dome Karukoski's Heart of a Lion and Hollywood flick A Walk Among the Tombstones).
Farr, who wrote Joe Wright's excellent child assassin film Hanna, steps out on his own with a demure yet well-structured psychological thriller. DoP Ed Rutherford (Joanna Hogg's Archipelago, 2010) seems to focus rightly on the film's main interior, the apartment complex, and the characters' position in them, with Teresa down below, a green thumb in the garden, desperate for motherhood. Generous with the visibility of her body, she's a creature of the flesh, whereas Kate's reluctance to breast feed in front of her neighbors juxtaposes a moment earlier in the film where the women shower in a gym locker room. We get plenty of lingering shots on the stairs, but it turns out just being part of the upper echelon isn't an automatic guarantor of happiness. Farr opens and closes on two distinct moments featuring the child's eyes, an eerie bookend considering the comparable vantage points.
Disc Review:
Magnet presents the genre title in 1.85:1 with 5.1 DTS-HD Master Audio. Picture and sound quality are just fine in the presentation. Better than average bonus features help support the film's reputation as a carefully constructed psychological thriller and suggest the title simply didn't have the opportunity to find a deserving audience.
Going Below the Story:
This nine minute segment finds Farr discussing his inspiration for the film, born out of a conversation he had while directing a Harold Pinter play.
Behind the Cast and Characters:
The cast discusses their character creations in this nine minute feature.
Creating a Cinematic Moment – Under the Bridge:
This three minute blip features Farr's explanation of certain shots in the film and how they're framed, including an important moment towards the end of the film under a bridge.
Car Stunt – Breaking Down an Action Sequence:
Stunt Coordinator Marc Cass discusses the mechanics of one of the film's action sequences in this two minute feature.
Final Thoughts:
A solid lead turn from French actress Clemence Poesy and a startling supporting performance from rising Finnish star Laura Birn help make the familiar discomfort of dueling feminine personas a bit more intense in David Farr's suburban social horror, The Ones Below.
Film Review: ★★★/☆☆☆☆☆
Disc Review: ★★★/☆☆☆☆☆