Film Festivals
2013 Sundance Film Fest: David Lowery, Ryan Coogler, Dosunmu, Ponsoldt and Carruth Part of U.S. Dramatic Comp
2013's Sundance Film Fest sees a mix of returnees in Cherien Dabis, Lynn Shelton, Andrew Dosunmu, Shane Carruth (see Upstream Color pic below) and James Ponsoldt, a batch of newbies, and Sundance short film to feature film graduates in David Lowery (see Ain't Them Bodies Saints pic of Affleck and Mara above) and Jordan Vogt-Roberts as part of the U.S. Dramatic Competition. Of the 16 films from an equal split of male and female auteurs (with Gotham Award Grant winner Stacie Passon (Concussion) among them), we accurately predicted half of the listed titles below.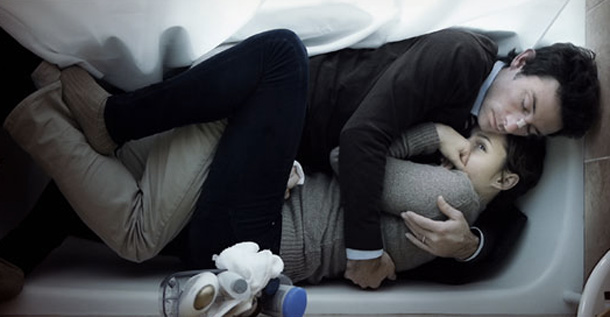 Afternoon Delight / U.S.A. (Director and screenwriter: Jill Soloway) — In this sexy, dark comedy, a lost L.A. housewife puts her idyllic hipster life in jeopardy when she tries to rescue a stripper by taking her in as a live-in nanny. Cast: Kathryn Hahn, Juno Temple, Josh Radnor, Jane Lynch.
Ain't Them Bodies Saints / U.S.A. (Director and screenwriter: David Lowery) — The tale of an outlaw who escapes from prison and sets out across the Texas hills to reunite with his wife and the daughter he has never met. Cast: Rooney Mara, Casey Affleck, Ben Foster, Nate Parker, Keith Carradine.
Austenland / U.S.A., United Kingdom (Director: Jerusha Hess, Screenwriters: Jerusha Hess, Shannon Hale) — Thirtysomething, single Jane is obsessed with Mr. Darcy, as played by Colin Firth in Pride and Prejudice. On a trip to an English resort, her fantasies of meeting the perfect Regency-era gentleman become more real than she ever imagined. Cast: Keri Russell, JJ Feild, Bret McKenzie, Jennifer Coolidge, Georgia King, James Callis.
C.O.G. / U.S.A. (Director and screenwriter: Kyle Patrick Alvarez) — In the first ever film adaptation of David Sedaris' work, a cocky young man travels to Oregon to work on an apple farm. Out of his element, he finds his lifestyle and notions being picked apart by everyone who crosses his path. Cast: Jonathan Groff, Denis O'Hare, Corey Stoll, Dean Stockwell, Casey Wilson, Troian Bellisario.
Concussion / U.S.A. (Director and screenwriter: Stacie Passon) — After a blow to the head, Abby decides she can't do it anymore. Her life just can't be only about the house, the kids and the wife. She needs more: she needs to be Eleanor. Cast: Robin Weigert, Maggie Siff, Johnathan Tchaikovsky, Julie Fain Lawrence, Emily Kinney, Laila Robins.
Emanuel and the Truth About Fishes / U.S.A. (Director and screenwriter: Francesca Gregorini) — Emanuel, a troubled girl, becomes preoccupied with her mysterious, new neighbor, who bears a striking resemblance to her dead mother. In offering to babysit her newborn, Emanuel unwittingly enters a fragile, fictional world, of which she becomes the gatekeeper. Cast: Kaya Scodelario, Jessica Biel, Alfred Molina, Frances O'Connor, Jimmi Simpson, Aneurin Barnard.
Fruitvale / U.S.A. (Director and screenwriter: Ryan Coogler) — The true story of Oscar, a 22-year-old Bay Area resident who crosses paths with friends, enemies, family and strangers on the last day of 2008. Cast: Michael B. Jordan, Octavia Spencer, Melonie Diaz, Ahna O'Reilly, Kevin Durand, Chad Michael Murray.
In a World… / U.S.A. (Director and screenwriter: Lake Bell) — An underachieving vocal coach is motivated by her father, the king of movie-trailer voice-overs, to pursue her aspirations of becoming a voiceover star. Amidst pride, sexism and family dysfunction, she sets out to change the voice of a generation. Cast: Lake Bell, Demetri Martin, Rob Corddry, Michaela Watkins, Ken Marino, Fred Melamed.
Kill Your Darlings / U.S.A. (Director: John Krokidas, Screenwriters: Austin Bunn, John Krokidas) — An untold story of murder that brought together a young Allen Ginsberg, Jack Kerouac and William Burroughs at Columbia University in 1944, providing the spark that led to the birth of an entire generation – their Beat revolution. Cast: Daniel Radcliffe, Dane DeHann, Ben Foster, Michael C. Hall, Jack Huston, Elizabeth Olsen.
The Lifeguard / U.S.A. (Director and screenwriter: Liz W. Garcia) — A former valedictorian quits her reporter job in New York and returns to the place she last felt happy: her childhood home in Connecticut. She gets work as a lifeguard and starts a dangerous relationship with a troubled teenager. Cast: Kristen Bell, Mamie Gummer, Martin Starr, Alex Shaffer, Amy Madigan, David Lambert.
May in the Summer / U.S.A., Qatar, Jordan (Director and screenwriter: Cherien Dabis) — A bride-to-be is forced to reevaluate her life when she reunites with her family in Jordan and finds herself confronted with the aftermath of her parents' divorce. Cast: Cherien Dabis, Hiam Abbass, Bill Pullman, Alia Shawkat, Nadine Malouf, Alexander Siddig. DAY ONE FILM
Mother of George / U.S.A. (Director: Andrew Dosunmu, Screenwriter: Darci Picoult) — A story about a woman willing to do anything and risk everything for her marriage. Cast: Isaach De Bankolé, Danai Gurira, Anthony Okungbowa, Yaya Alafia, Bukky Ajayi.
The Spectacular Now / U.S.A. (Director: James Ponsoldt, Screenwriters: Scott Neustadter, Michael H. Weber) — Sutter is a high school senior who lives for the moment; Aimee is the introvert he attempts to "save." As their relationship deepens, the lines between right and wrong, friendship and love, and "saving" and corrupting become inextricably blurred. Cast: Miles Teller, Shailene Woodley, Brie Larson, Jennifer Jason Leigh, Mary Elizabeth Winstead, Kyle Chandler.
Touchy Feely / U.S.A. (Director and screenwriter: Lynn Shelton) — A massage therapist is unable to do her job when stricken with a mysterious and sudden aversion to bodily contact. Meanwhile, her uptight brother's foundering dental practice receives new life when clients seek out his "healing touch." Cast: Rosemarie DeWitt, Allison Janney, Ron Livingston, Scoot McNairy, Ellen Page, Josh Pais.
Toy's House / U.S.A. (Director: Jordan Vogt-Roberts, Screenwriter: Chris Galletta) — Three unhappy teenage boys flee to the wilderness where they build a makeshift house and live off the land as masters of their own destiny. Or at least that's the plan. Cast: Nick Robinson, Gabriel Basso, Moises Arias, Nick Offerman, Megan Mullally, Alison Brie.
Upstream Color / U.S.A. (Director and screenwriter: Shane Carruth) — A man and woman are drawn together, entangled in the life cycle of an ageless organism. Identity becomes an illusion as they struggle to assemble the loose fragments of wrecked lives. Cast: Amy Seimetz, Shane Carruth, Andrew Sensenig, Thiago Martins.