California Dreamin': Lewy Taps Carlyle for Understated Character Study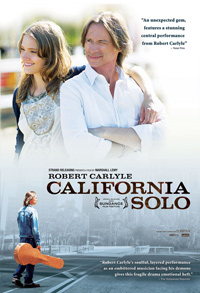 For his sophomore feature, director Marshall Lewy brings Robert Carlyle back to the big screen for his best film role in years with California Solo, a compelling character study goaded along as an immigration tale. An aging British rock star from the early 90s, with a distant child and a predilection for alcohol, recalls elements of other recent releases this year like Flight or This Must Be the Place even, and though it's a slight, minimal take on themes explored by many far wiser than he, Lewy manages to make a melancholy portrait of a man forced to face significant demons from his past, imbued by the simple, sad, solo that is Carlyle's affecting performance.
Lachlan MacAldonich (Robert Carlyle) has been living out a self imposed exile for the past decade and a half, working as a farm hand outside Los Angeles managed by his friend, Warren (A Martinez). In his free time, he records a podcast about the famous lives and deaths (mostly deaths) of some of Britain's most famed musical talents. It just so turns out that Lachlan was the guitarist for a popular British band, The Cranks, which had some hit albums in the 90s, the band's success mostly credited to Lachlan's brother Jed, the front man, who died of a drug overdose in an instance that seems instigated by Lachlan.
He's never returned to Scotland to face the fallout of his brother's death, but all that's about to change because Lachlan just received a DUI. Since he had a previous drug related charge back in his touring days, the DUI sparks a flurry of events that leads to ICE initiating a removal process for the lonely Scotsman. Desperately, Lachlan reaches out to his old producer, Wendell (Michael Des Barres, front man of Detective), who turns him away. His immigration lawyer suggests he find a US citizen that could testify that his deportation would cause them undue hardship, which leads him to reconnect with bitter ex-wife Catherine (Kathleen Wilhoite) and his thirteen year old daughter, but to no avail. In a recent relationship he's developed with Beau (Alexia Rasmussen), a farmer's market patron who has recently left her own beau, a rock obsessed douche, Paul (Danny Masterson), we learn Lachlan had an unsuccessful solo run after the death of his brother, cutting an album sharing the same title as the film.
California Solo has an eager authenticity to it, and one that deftly navigates familiar themes of facing one's own demons that could have easily become another melodramatic caricature of life or something like it. Lewy, who apparently wrote the vehicle for Carlyle, gives his star one of the best showcases for his talents, one that may even stand as a career best. It's just too bad that the rest of the film doesn't manage to be quite as compelling. The immigration issues, which may seem intriguing and underutilized, remain vague. "I have a green card," Lachlan explains, but the details surrounding his deportation are never fully divulged (perhaps this isn't innately imperative, but for those ignorant to deportation proceedings, there seems to be something that doesn't sit right).
And while Lewy assembles an impressive amount of familiar faces (Masterson and Martinez from popular television series, while Wilhoite is certainly no stranger to the indie scene), the supporting characters all feel a bit bland and uninspired, there to serve a purpose. This is, unfortunately, most evident with scenes involving his reconnection with daughter Arianwen (Savannah Lathem), and gets even worse with the utterly milquetoast romance we're supposed to believe develops between Lachlan and Beau. But despite of all that, California Solo manages to be a decidedly enjoyable film, giving us a character whose story we stick around to see until the end.