A Ciambra | 2017 Cannes Film Festival Review
Life of Pio: Carpignano Shows Them Who is Boss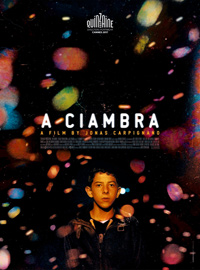 With hand gestures that you'd typically associate to argumentative Italians and a Calabrian backdrop that one would have a difficult time finding in a guidebook, from the onset, Jonas Carpignano's sophomore feature finds lineage to film history texts that are isms: neorealism, docu realism and survivalism. Due in part to it's not entirely likeable, pre-teen but aged by hardship protagonist, this restless and energetic film is a nomadic experience working within a distinctly nestled community. Despite the narrative weight of crime and corruption, A Ciambra offers a just, compassionate POV in the small gestures and everyday activityness needed to sustain a larger populous.
Constantly butting heads, the abrasive, brash and head strong Pio (Pio Amato) is equipped with the sort of gravel road street smarts that makes him the ideal pupil for misdeeds that will one day lead to bigger payoffs, but in the mean time, under the surface of this child wanting to fiercely become an adult is someone hanging onto the last scraps of playfulness and innocence. With the dominant patriarchs momentarily not in the picture, the strong family bonds means that despite his lack of experience as the bread winner, Pio quickly needs to become a provider for the many people under his same roof (his younger siblings and elders alike). With lit cigarettes and head strong attitude, viewers will remember certain archetype characters from post-war Italian cinema.
A companion piece to Mediterranea and based on a 2014 template short of the same name which was evidently key in learning how to explore the beats of his character set, the feature allows Carpignano to dress his player with own set of anxieties and fears, and though the text is undoubtedly equipped to be a fork in the road that leads to the same dire outcome, the film's most pivotal and poignant moments are when a new moral dilemma reflexion that does not involve immediate family (Carpignano's muse in Koudous Seihon) is requested and a welcome reprieve is unexpectedly offered in drunken celebrations of around dinner.
As the film depicts Pio's journey to supporting his family by honoring his grandfather's way, Carpignano's screenplay makes a more developed argument on how larger community of former outcasts have, in their own way, accommodated the next generation of forced migration found displaced North Africans. Not only has it created a balanced system, and a tied economy, but they have become contributors to a richness and life in a much broader sense.
Grainy, mostly nocturnal (execution of schemes take place in the nighttime) photography found in Tim Curtin's fly-on-the-wall aesthetic treatment allows for a continuos shadowing of its subject, and is less suffocating in approach and more organically construed than what we've seen elsewhere. Staying true to the neorealist classics, the future is not embedded with a false of hope and rich eat the poor, but rather where the poor eat the poor and how those lines are blurred and cultures crossed is treated less jarringly.
Not as engrossing as Mediterranea, but nonetheless compelling, the key ingredient to why A Ciambra is tonally less heavy is found in how these characters are embraced, (end credits explain why everyone feels cut from the same cloth) and for the time being, Carpignano's own worldly ethnocentrist approach can be felt over his already impressive and short filmography.
Reviewed on May 19th at the 2017 Cannes Film Festival – Directors' Fortnight. 118 Mins.
★★★/☆☆☆☆☆