Natural Selection: Potrykus' Debuts a Worthwhile yet Ragged Effort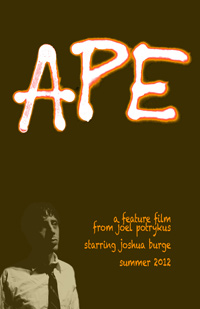 Aligned with similarly titled works that capture mankind's possibility to regress to a more primitive, mammalian state under pressure, everywhere from Eugene O'Neill's The Hairy Ape to Jesper Ganslandt's more recent, 2009 film, The Ape, indie filmmaker Joel Potrykus brings us young man malaise with his feature debut, Ape. Hailing from Michigan, Potrykus, like his protagonist, operates far from either centered entertainment metropolis in the US, and his film suggests a different rhythm than that displayed from more prestigiously located emerging artists. Unfortunately, the film, particularly the first half, feels incredibly amateurish and sluggish, and creaks along like nails on the chalkboard until eventually finding a workable rhythm that manages to find a voice despite the obviously extreme budgetary constraints.
Trevor Newandyke (Joshua Burge) has one sole ambition in life, and that is to be a successful stand-up comedian. His only problem is, he's not very funny, yet continually engages in a comedy amateur hour at a local Michigan comedy club, where he sometimes draws titters of laughter, but usually boos and derision, including from the owner of the club. It doesn't help that a fellow comedian, constantly at odds with Trevor, purchased jokes from Trevor which he continually uses but has failed to reimburse him for. And Trevor, whose only other hobby besides practicing jokes in the mirror is rampant pyromania and engaging strangers in odd conversations, usually in hopes to sell more jokes for money, is starting to unravel.
Unable to pay his cable, his television has been turned off, much to his chagrin. And he starts to see a man in a gorilla costume everywhere, followed by a man wearing red devil horns. Eventually, Trevor approaches the devil one day, who is selling vegetables at a homemade stand that advertises fruit for sale, and exchanges that infamous golden apple for a joke. After eating the apple on stage during his stand-up routine, Trevor's behavior becomes increasingly more erratic and violent.
On paper, this sounds like an interesting premise, featuring an awkward, grating protagonist who seems like he was transported from mid 90s with his raggedy clothing and preoccupation with mix tapes and VHS. The trouble with Ape is not that it lacks a cohesive narrative structure, which it does, but some incredibly wooden acting from the entire cast, until, inadvertently, Joshua Burge, like the character he portrays, suddenly hits his stride. The more angry and evil he becomes, the funnier he gets. The same can be said for the film at large, which stumbles along for nearly its entire running time.
The potential for something more acerbic is there, what with a weirdo main character and the extravagantly featured ape reminiscent of something like John Huston's Wise Blood (1979) at odd moments. However, the extremely cheap feel of the film, what with all the handheld camerawork, makes this seem like an amateurish documentary or something akin to those grunge films from the 70's directed by Paul Morrissey and starring Joe Dallesandro. Whereas those films at least had a titillation factor for some audience members, with Ape we get an endless recycling of material, being performed, practiced, reenacted, which is not seemingly without purpose (a significant conversation between the sparring comics references dream sequences in films, the process of an actual dream cutting to the reenactment of the dream) but doesn't necessarily translate into compelling material.
Having won Best Director at this year's Locarno Film Festival for Ape, Joel Potrykus is certainly not without talent, but this work lacks the polish and finesse necessary to make this a completely successful venture.
Reviewed on November 3rd at the 2012 AFI Film Festival – YOUNG AMERICANS Programme.
86 Min