Dellamaggiore Makes Major Moves: Despite Budget Cuts, Young Chess Players Are Building An Empire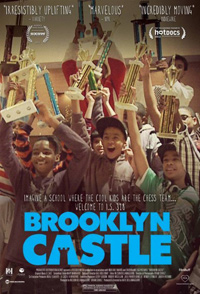 Inner city public schools are generally not known for their successful extracurricular programs, but I.S. 318, a small middle school in central Brooklyn, is a shining exception. The school is home to a massive chess team that has dominated on a national level for the past few years. Katie Dellamaggiore's directorial debut documents the team as they struggle through a series of serious budget cuts, all the while still cultivating the best and the worst of the varied group of urban eggheads. With a brilliantly charismatic team of lead subjects that navigate this hopeful story of the possibilities of supportive public education, it's easy to see why Brooklyn Castle won an audience award at SXSW this year. Built on structural finesse, and a winning story of triumphs both big and small, this is top shelf documentary film making that will surely garner love and support on its way to Oscar season. It means something when the rights to create a fictionalized film based on the story has already been purchased by producing giant Scott Rudin.
Creating an underdog out of champions, the school places second in a tournament right from the start. Shortly after, we are introduced to the best of the team – an 8th grade girl who could become the first African American chess master, an 8th grade boy running to be class president, a newly enrolled student who has already become the youngest kid to become a chess master at the age of 12, and a boy who aims to one day become a lawyer to help support his immigrant parents. At the opposite spectrum, one student struggling with ADHD starts competing on the team with hopes of roping in his concentration issues. Each of these chess players share in the common goal to win at the highest level as a team, but they are each true individuals with personal obstacles to overcome themselves. With the help of their devoted coaches who go above and beyond to help all of their players improve their game, the talented chess virtuosos operate as a unit, pushing for success on the board, in school, and at home all the same.
Although the cast is a sprawling network of competitors, and their ever supportive coaches and families, the filmmakers are sure to let the personalities shine, which allows for an incredible amount of building tension centered around scored competition, and a series of extraneous events that pull at the heart strings. These middle schoolers are playing at a professional level, and we want them to win. When they do, Dellamaggiore has made sure that it is cause for celebration, but when they don't, it hurts. As tournaments play out, the audience is brought for an exhilarating ride thanks to stylish scoring tables that deftly compliment the behind the scenes drama. The result is an elegant, important, and endearing film of aspiring youth, and passionate educators.
Each year there are a few docs that resonate with current social issues while also managing to capture the hearts of the public at large. Brooklyn Castle is one of those films. Dellamaggiore has crafted a doc that highlights our currently shrinking school budgets, while making light of what can be done with a little hope, perseverance, and community outreach. These kids have big dreams, and as far as they're concerned, the sky is the limit. These kids were making newspaper headlines before this film was even made, and with this film, hopefully they can find the financial support their school so desperately needs. Extracurricular activities are a big part of education, people, and don't you forget it.
Reviewed at the 2012 Hot Docs Film Festival – Special Presentations section
100 mins.