Why Did Those Days Ever Have To Go?: Wishmaster Koreeda's Closely Watched Train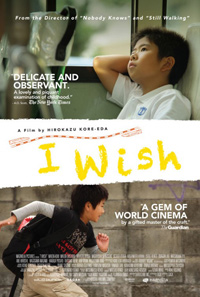 Master filmmaker Hirokazu Kore-eda returns once again to child protagonists for his latest offering, I Wish, a heartfelt tale about two brothers trying to reunite their recently divorced parents. While it may not equal the greatness of several of his own past titles, Kore-eda's latest is an observant sketch of childhood, and he once again manages to capture some of the best child performances in recent cinema.
Koichi, the twelve year-old protagonist, currently lives with his mother and retired grandparents in Kagoshima, which is in the southern region of Kyushu, Japan. An active, but sleeping volcano looms over the region, a constant sputter of ash coating the landscape with ash. Koichi is unhappy in Kagoshima, where he has moved with his mother following the divorce of his parents. His younger brother, Ryu, moved with their father in Hakata, a big city in northern Kyushu. While it's generally unclear how they decided on which child they would keep, their mother comments that Ryu is just like his father, a jobless musician who spends most of his time fostering the legacy of his indie band.
Desperate to reunite the family so that the four of them can live together again, Koichi constantly calls his younger brother for updates, trying to hatch a plan to get their parents talking. However, Ryu secretly doesn't want their parents back together, remembering that their homelife with the arguing couple was often stressful and uncomfortable, a fact that Koichi chooses to overlook. But when two new bullet trains are constructed to connect the regions, traveling upwards of 160km per hour, Koichi overhears some students saying that whoever sees the trains cross paths can make a wish at that moment and it will come true. Convinced that this is the miracle they need to reunite the family, Koichi convinces two of his friends and his brother to raise the money for tickets. While we're given brief background on the other children, it's obvious that they each have a wish of their own. Requiring the assistance of several adults, including Koichi's grandfather, the children have to ditch school and find a place to stay for the night on their grand adventure, and along the way discover that maybe there's other things they should wish for.
Kore-eda's certainly not making any grand statements with I Wish, but this delicate little feature is all the stronger for it. Essentially, it's the simple story of one young child who reaches the rather mature conclusion that in life you can't expect to have your wishes fulfilled, and instead, enjoy hope that comes from caring for things in the world beyond yourself. Adults are mostly on the backburner here, especially the divorced parents. Key scenes with the school nurse, Koichi's grandfather (whose subplot involving the appreciation for a popular dessert from his own generation that's lost on today's youth is used to interesting effect) and a librarian Koichi's friends have a crush on are all endearing. But it's a moment at the end of the film, when an elderly couple eagerly welcomes the band of children who are on their train-watching adventure, that's terrifically priceless. One of the young girls in the group reminds them of their daughter, a girl who ran away, unhappy living with them, never to return. The gracious couple drive the children to a spot where they can see the trains meet and when one of the children asks if they can make a wish for the old couple, they reply, "Last night was all we could have hoped for," recalling the heartache of the elderly couple in Ozu's Tokyo Story (1953).
Sporting a soundtrack from Quruli, a popular Japanese music group, I Wish is infused with the glowing nostalgia of childhood. Kore-eda's film hits all the right notes, but his secret weapons are his two child leads, Koki and Ohshiro Maeda, already a singing/acting comedic duo known as MaedaMaeda. While Koki is saddled with the more reserved role, the beaming Ohshiro lights up every frame he's in. There's a gentle wisdom at work in I Wish, tinted with a similar melancholy present in his last feature, the superb Air Doll (2009). If you've a wish of your own, perhaps it should be for more films from Hirokazu Kore-eda.