Reviews
Les Gazelles | 2015 My French Film Festival Review
Girls Just Wanna Have: Achache's Breezy Sophomore Feature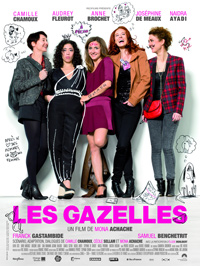 After adapting Muriel Barbery's celebrated novel The Hedgehog for her 2009 debut, director Mona Achache returns with her latest feature, Gazelles, based on the successful one woman show "Camille Attaque" of its star Camille Chamoux. Fans of her fantastic first outing may be a bit disappointed by the slightness of her latest, which feels akin to English language female buddy comedies, but happens to be a bit more refreshing due to its realistic female characters. Given its familiar scenario, Achache and Chamoux manage an energetic rendition of heterosexual female thirtysomethings finding empowerment as they overcome the building ennui of pre-mid-life crises brought on by refusing to accept standards they've had no say in creating. But even with its frank, sexual embrace in tow, there is a constant itchy niggle shadowing every scene because that fact of the matter is, we've seen this done too many time before, and no amount of charm can overcome the base familiarity of this premise.
About to sign a 30 year mortgage with Eric (Franck Gastambide), her partner of nearly fourteen years, Marie (Camille Chamoux) begins to feel herself at odds with her current state of existence as well as everyone's expectations of her. Stuck in a stagnant job at Job Center Plus, a chance meeting with an old classmate from high school has Marie realizing she hasn't taken very many chances. Not long after a handsome stranger (Samuel Benchetrit) buys her a coffee, Marie leaves Eric, suitcase in hand, and attends a random party she'd been invited to. She gets wrangled in with a posse of girlfriends led by Sandra (Audrey Fleurot), a single mother that lets Marie crash at her place. Soon, gals Gwen (Anne Brochet), Judith (Josephine de Meaux), and Myriam (Naidra Ayadi) have warmed to Marie and help her contend with loosening up and having fun—and never as a means to find fulfillment in the arms of a man other than for sex. In turn, Marie finds she has a few things she can teach these women, in particular Sandra. They're quite adept at the casual but can't seem to manage handling more serious, adult commiserations that would foster more provocative, lasting relations with men.
Entering the film a mousy, uptight ball of nerves, Camille Chamoux undergoes a rapid transformation as Marie, a likeable semi-screwball that never overreaches or undersells, giving off a mussed up Holly Hunter vibe. She's got great chemistry with the flame-haired Fleurot, though the passel of other women tend to get one defining trait a piece that doesn't quite equate with a lasting impression, the exception being the elegant Anne Brochet, returning to work with Achache after The Hedgehog. Another returning cast mate is Josiane Balasko, here in the slight role of Marie's nagging mom, nearly unrecognizable with a head of white hair. Male characters are wearily regarded, either as incredibly bland, such as Marie's near absent partner Eric, to the warmly roguish cad played by Samuel Benchetrit (a director in his own right).
Poppy and upbeat, Les Gazelles manages to be entertaining, though even prizing honesty, it still feels a bit too familiar, especially in its second half as it trials off into reconciliations and miscellaneous contrivances.
Reviewed as part of 2015's My French Film Festival, January 16 to February 16.
★★½/☆☆☆☆☆