Reviews
Magic Magic | Sundance 2013 Review
Identikit: Silva's Eerie Genre Effort an Unsettling Throwback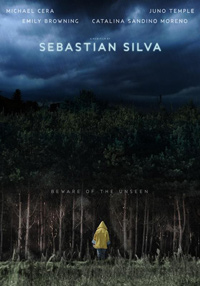 Harkening back to a genre of women and madness features that populated plenty of classic titles from the late 60s and 70s, Sebastian Silva's second film starring Michael Cera to be unveiled at Sundance 2013 is the excellently crafted descent, Magic Magic. Recalling classic Polanski titles, like Repulsion (1965) and The Tenant (1975) or Altman's Images (1972), Silva presents us with a scenario seemingly layered with symbolism and supernatural–even sadistic–undercurrents, though the possibility always remains that perhaps our minds are simply seeing what we want to be seeing.
Sarah (Emily Browning) is an exchange student in Santiago, Chile, and she has planned a fun filled trip for her group of friends, which includes her boyfriend Agustin (Agustin Silva), his sister Barbara (Catalina Sandno Moreno), and their mutual friend, Brink (Michael Cera). Joining them from abroad is Sarah's cousin, Alicia (Juno Temple), who arrives in a fragile state just as the group is making final preparations for their road trip departure.
On their way to Agustin's parents' home in south Chile, Sarah gets a mysterious call to return to Santiago to take a last minute exam that she states she recently flunked. Much to Alicia's chagrin, Sarah goes back while the rest of the group continues on to their destination. Unable to speak Spanish and treated dismissively by the cold and controlling Barbara, Alicia can't seem to make herself fit into the group, leaving her completely isolated. Due to what sounds like a loud flock of birds perpetually in motion outside of Alicia's room, she's unable to get any sleep, which also takes its toll on her increasingly erratic behavior. And when Agustin attempts to hypnotize her, he may have unleashed something dangerous in Alicia, which obligates the isolated group to bring the ailing young woman to the local Machi shaman.
Silva employs Wong Kar Wai's regular DP Christopher Doyle to create a foreboding, isolated landscape in the remote Chilean countryside. And with an impressive filmography already to her name, Temple is at last center stage in a mesmerizing performance as the unexplainably frail Alicia, as she at last gets to stretch her legs beyond the troubled, sexually aggressive or hopelessly naive adolescent female she's usually pegged into playing. It's so obvious that something is wrong with her from her entrance into the film's narrative, and while Silva refuses to give us any background information on her, she manages to make a pitiable and discomforting portrait of a young woman on the brink of madness. And then, speaking of brinks, there's the aptly named Michael Cera character, an over-the-top closeted homosexual whose desire for the Agustin Silva character has his real interests manifested obviously in every verbal and physical interaction.
This is, finally, a performance from Cera that is unlike his previous work, and he is grating, uncomfortable, and a welcome comic relief to the omnipresent dread that hangs over the group. For those that may find his performance borderline caricature, one should keep in mind the amount of social performance nearly all LGBT youth feel forced to engage their heterosexual peers and mentors with before becoming comfortable (or safe) enough to stop acting. Cera perfectly embodies that awkward youth who thinks most are oblivious to his true nature. Silva perfectly calibrates this social phenomena as further agitation for the besotted Alicia, Brink's overt insistence on masculine domination of her forcing her ever closer to one, not unlike the dog shepherding the sheep, which rather comically targets Alicia as a sexual object.
Throughout Magic Magic there are several overt symbols concerning the slippery nature of identity. While it's implied that Sarah stays behind to have an abortion, the rest of the group acquires a lost puppy, but then immediately abandon it when it quickly becomes a nuisance. There's sheep in the remote, mountainous Chilean locale, shepherded by a dog that even chases one off a cliff, and there's stuffed sheep pillows in the cabin where the group sleeps. Both Brink and Alicia are positioned as individuals that are not who they present themselves to be (i.e., straight, sane, respectively), and, thus, are like wolves in sheep's clothing, which is how Silva's Magic Magic operates at large. A decidedly open-ended finale may leave you unsure as to what the hell exactly happened, but its spell will stay with you, creepy crawling down your spine.
Reviewed on January 23 at the 2013 Sundance Film Festival – MIDNIGHT Programme.
97 Min.