Mixed Nuts: Hogan's Latest a Welcome Return to Roots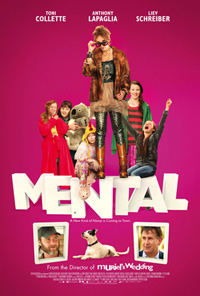 After almost two decades knocking around the studio system after the success of his 1994 hit Muriel's Wedding landed him in Hollywood, Australian director P.J. Hogan returns to his homeland and reunites with leading lady Toni Collette for Mental, one of his most heartfelt features to date. While his latest may not come close to usurping the greatness of Muriel, it sees Hogan once again utilizing his madcap zaniness and over the top flourishes to explore otherwise serious and emotionally heavy motifs. While he always seems to be riding the fine line of schmaltz and kitsch, Hogan's strongest asset is his ability to disarm us with goofy humor in order to expertly explore serious issues as well as combat stereotypes.
The Moochmore family has always been the odd neighborhood family. While perpetually absent dad Barry (Anthony LaPaglia) may be the town mayor, the residents of their small community belittle and tease his wife Shirley (Rebecca Gibney) and their five daughters. As Shirley retreats into her own fantasy world that involves wishing her family were more like the Von Trapps, she gets committed to a mental hospital for a "vacation," leaving the five girls to deliberate about their own mental illnesses they must be suffering from. At a loss to care for the daughters he barely knows, Barry randomly picks up the hitchhiking Shaz (Toni Collette) to be a live-in nanny. Accompanied with her dog, Reaper, Shaz is as equally fierce as she is eccentric, determining to teach the girls a bit about the meaning of normalcy as well as instilling in them a sense of self worth, particularly in the eldest teenager of the crew, Coral (Lily Sullivan).
Combating the bitchy OCD neighbor (Kerry Fox), Shaz attempts to convince Shirley of her sanity with the help of her friend and fellow inmate, Sandra (Deborah Mailman), as well as convincing Barry about his responsibilities as a father. With some unabashed lesbians and Coral's shark hunter boss Trevor Blundell (Liev Schreiber) involved in the strange fate of the Moochmore clan, Shaz slowly reveals a mysterious agenda of her own.
Always the fan of camp musical interludes in his features, The Sound of Music is not utilized to the delirious heights that Hogan managed to reach with the music of ABBA in Muriel's Wedding, instead using the musical as a book end here. But Mental's real Julie Andrews tribute is in the form of Toni Collette, whose defiant Shaz plays like a sort of bedraggled Mary Poppins. Without a doubt, it's Collette's performance that glues the goofiness together, here a strong willed force of defiance, a fantastical role model that was exactly the type of mentor Muriel could have used. She's a warm, loveable presence, and she's supported by an ensemble of notable Aussies, from Kerry Fox, Anthony LaPaglia, Liev Schreiber, Caroline Goodall, Rebecca Gibney, and Deborah Mailman (who will likely more recognizable to audiences after The Sapphires opens in theaters). Oh, and if you're observant, you'll notice Hogan casts Muriel co-star Sophie Lee in a bit part as another tarty slut.
Once again, Hogan revisits the problems of patriarchy, a suburban family roiling in developmental crises due to the abandonment and callousness of a politically motivated father figure as well as a judgmental and uncaring community. For all its poppy energy and madcap pacing, there's an aching heart at the core of Mental, fully unleashed once we discover the backstory of Shaz. While Hogan struggles to tie things up satisfactorily in its final act, he doesn't resort to unrealistic solutions. And, for at least one creature wild at heart, she's released from her iron cage.