The Kid with the Skis: Ursula Meier's Latest Hits Emotional Summit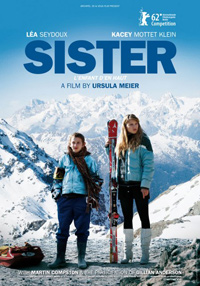 Swiss director Ursula Meier returns after her solid 2008 debut, Home, with Sister (or L'enfant d'en haut), a powerful survival tale of a young child, navigating through his world as a hustler of stolen goods. With styles and themes akin to the works of the Dardenne brothers, Meier's bleak second feature proves she is indeed a director of significant talent, her latest title a Swiss sister to the Belgian The Kid With a Bike.
Set entirely at a ski resort in the Swiss Alps, we meet a young boy named Simon (Kacey Moette Klein), and it's immediately clear that Simon conducts a semi-lucrative hustle stealing skis, equipment, food, and clothing from the rich vacationers and selling it at low costs. Simon lives alone in a small hovel of an apartment with his older sister, Louise (Lea Seydoux), a restless young woman that can't hold down a job and runs off frequently with young men. It seems their parents are dead, but how or when is never really discussed, but one gets the sense that even the details we pick up on may be fabricated as their story changes from person to person, tweaked to fit situations.
A major twist is revealed about Simon and his sister in the second half of the film, one that renders their pitiful existence even more desperate and grim. Since their only source of income and food is through Simon's self-sufficient pillaging, home-life for them seems as unstable as their tumultuous relationship, with Simon taking more frequent risks that endanger his safety, though he manages to peripherally involve an interested customer in one of the lodge's cooks (Martin Compston). But it's his fascination with a beautiful mother he sees at the lodge (Gillian Anderson) that reveals more about his real wishes and dreams than any words he shares with his sister.
Meier, who apparently crafted the film around Klein, a young actor she had worked with in her first film, captures a masterful performance from him here. The original French title, which translates to The Child From On High, is a better indication of what the film is reaching for, as it is Simon and not his wayward sister that is the essence of the narrative. Having scored Isabelle Huppert for Home, Meier has landed one of France's most intriguing new actresses with Lea Seydoux, a wonderful presence here as the petulant older sibling. Her chemistry with Klein creates some of the most vibrant and, in turn, despicable moments in the film. Compston and Anderson also provide bright spots in their supporting roles, and one scene in particular between Anderson and Klein is beautifully and embarrassingly rendered. Meier selectively uses a soundtrack here, letting the empty spaces, and the wet, quiet snow of the mountains reflect the desolation and spirit of survival within Simon and Louise. Sister deservedly was awarded the Silver Bear at the 2012 Berlin Film Festival, and one can only hope that Ursula Meier will continue to originate her offbeat and captivating narratives.
Reviewed on June 17 at the 2012 Los Angeles Film Festival – International Showcase.
97 Min