Reviews
The Brothers Grimsby | Review
This is England: Leterrier Transports Raunchy, Nonsensical Comedy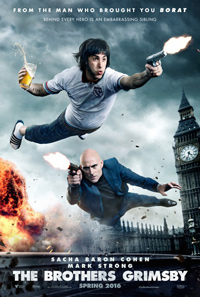 If Adam Sandler was still interested in generating laughs, he might have eventually turned out something as ridiculous and outré as The Brothers Grimsby, another vehicle designed specifically by and for button pushing star Sacha Baron Cohen, in which he stars as another odd, social misfit bumbling about in his own particularly distressing comedy of errors fashion. Helmed by Louis Leterrier, (now completely divorced from the slickly serious Transporter realm, where he cut his teeth as an acolyte/product of Luc Besson before moving on to Hollywood fare with the 2008 The Incredible Hulk rehash), it's a completely asinine, adolescently minded bit of perversity. It also happens to have its fair share of shockingly extravagant moments, and these, along with Cohen's odd penchant for political subtexts and sometimes innocent charm makes his latest offering disarming, and surprisingly funny. Though it's not bound to widen Cohen's audience, it's unlikely to repel them (while those unaccustomed may be surprised at the levels of depravity on display).
Buffoonish soccer fan Nobby (Cohen) reunites with his estranged brother of twenty-eight years, Sebastian Grimsby (Mark Strong), a man who happens to be a super-spy working for an offshoot program of MI6. Through a series of bungled efforts, the two brothers find themselves being hunted by Sebastian's agency while trying to unveil a nefarious plot involving the assassination of a Princess Di-type human rights guru, Rhonda George (Penelope Cruz).
Thankfully, Cohen and his co-writer Phil Johnston (the writer of Zootopia and Wreck-It Ralph returning to the devilishly adult vein he first hinted at in 2011's Cedar Rapids) have enough sense to zip through the utterly ridiculous set-up, glancing swiftly over its own rudimentary flashbacks, mostly included solely as punch-lines. Before the credits roll, we're already into the narrative's main thrust, a reunion of two estranged brothers who become embroiled in clichéd conspiracy to stop an imminent act of terror (strangely, similar in origin to Kingsman: The Secret Service, which also featured Strong). To focus on the film's synopsis only conveys how useless and stupid it is, but it manages to create some perverse magic along the way, particularly for covering new ground in interspecies sexual shenanigans and uncomfortable uses of the anal cavity.
We've seen Cohen play these odd social misfits time and again, usually as an ethnically questionable foreigner navigating conservative social customs (Borat; The Dictator) or, more provocatively, masquerading as a flamboyant gay man through America's various armpits of homophobia in Bruno. The Brothers Grimsby doesn't have the same obvious agenda as Cohen's trio of Larry Charles directed films (fans of Fast & the Furious or Donald Trump be damned), thus making it nearly an anomaly in Cohen's representations—but not quite.
Most of the other cast members, including Mark Strong, are utilized solely to assist their lead showman. Several of them do nab a laugh here and there, though sometimes they're the troubling butt of the joke, such as Rebel Wilson as Cohen's white trash, incredibly fertile wife, or Gabourey Sidibe as another dubiously accented maid. Penelope Cruz is on hand for some surprise uses, as well. Others, like Ian McShane, Isla Fisher, and a weirdly neglected Tamsin Egerton, make little impact.
Specifically calibrated to be politically incorrect, The Brothers Grimsby continues a current trend of avoiding blatant homophobic tendencies (despite its random tangent involving Daniel Radcliffe and an offensive, exploitative AIDs punchline) in favor of more subtly demeaning women and the ignorance of Britain's working class. But really, the biggest complaint against the film is how consistently low-grade it is compared to Cohen's previous satires, making it an easier target than it should be for dismissive, critical contempt.
★★½/☆☆☆☆☆