Such Great Heights: Andrea Arnold's Provocative Adaptation Revitalizes Classic Tale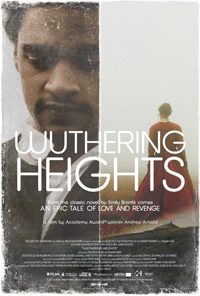 While she's stated herself that she dislikes the idea of adapting a novel to film, director Andrea Arnold has surprised and surpassed negative connotations with this often bastardizing notion to create one of the most beautiful, original and outstanding interpretations of Emily Bronte's beloved novel of tempestuous love, Wuthering Heights. Not to mention, the classic tale has been filmed numerous times and to varying degrees (Bunuel's glorious 1954 version has stood as the most worthwhile but most unavailable stateside, leaving Merle Oberon and Juliette Binoche versions as the definitive cinematic versions to Western eyes), but Arnold has to be given credit for making this a vision all her own, and, inadvertently, she carries with it a cinematic hope that fresh life can indeed be brought to twice told tales, though, to be honest, this kind of treat is considerably rare.
To the uninitiated, Earnshaw (Paul Hilton), a Yorkshire farmer, while on a trip to Liverpool, picks up a young, orphaned boy (in this version Arnold outdoes her predecessors and makes him an actual racial other) and brings him home to raise as his own. Naming him Heathcliff (Solomon Glave), the boy is immediately at odds with Earnshaw's motherless children, the fiery tomboy Catherine (Shannon Beer), and the angry and hateful Hindley (Lee Shaw). Heathcliff eventually forms a bond with Catherine which quickly turns into passionate love, even though they are still clearly pre-adolescent. When the Linton family moves in on the property next to the Earnshaw farm and Mr. Earnshaw passes away from consumption, life drastically changes for Heathcliff, the child forced to move into the barn with the animals by the cruel Hindley. Catherine is sent to live with the Lintons in an order to curb her tomboyishness and separate her from the unhealthy relationship she's built with her Heathcliff. Things reach a breaking point when Heathcliff discovers that Catherine has accepted the Linton boy's offer of marriage and he flees. Returning years later (now played by James Howson), he revisits the Earnshaw farm to discover Hindley riddled with consumption and debt. Heathcliff has made well for himself, paying for a room at the farm while he introduces himself to Cathy (Kaya Scodelerio), the pregnant lady of the Linton house, but still very much in love with Heathcliff. His return throws both their trajectories into passionate chaos.
Without the use of music, Arnold's Wuthering Heights manages to be one of the most sensual developments of love perhaps ever committed to film. The love of Heathcliff and Cathy is here related to us through sensory perception, a veritable commingling of the elements. We can immediately sense Heathcliff's longing for her when they are children, his head (and the camera) caught behind her mass of hair as they ride on horseback. One of his hands lightly grazes the horse. Cathy is aligned with the air and the wind, while Heathcliff is the soil, the rich Earth, and their passion is sealed in one revealing scene where they smear each other with wet mud. Arnold's film won Best Cinematography at the 2011 Venice Film Festival, a prize that couldn't have been more perfectly chosen. The handheld camerawork (DP here being Robby Ryan, who has since gone on to work with Sally Potter and Ken Loach), a style she utilized in previous efforts, catches a beautiful and tempestuous natural landscape. The wind serves as our harrowing soundtrack, a constant reminder of their world, like their love, being out of order. Arnold carefully chooses what to show us, and this makes for one of the most passionate and visceral kiss scenes (not between our lead characters) you're apt to see. She manages to make us believe in their longing.
This, her third feature film, was an interesting choice for Arnold, following Red Road (2006) and Fish Tank (2009), a film that caused Bret Easton Ellis to renege on his misogynist comments about women not being able to direct films following his reaction to Anne Fletcher's The Proposal (2009). Wisely, she banked on her own skill as a storyteller with her latest beautiful success, and not the star power that so clearly carries previous English speaking film versions (Olivier and Ralph Fiennes playing Heathcliff to the ladies already mentioned, not to mention a 1970 Timothy Dalton starrer as well). While a majority of the film is spent with our characters as youths, this only graces their final time as adults with that much more potency. Howson and Scodelerio, two beautiful creatures dominating the screen, can't make you want for anything more. "When you're in peace, I'll be in Hell," he tells her. "I'll never be in peace," she replies. And you believe both of them