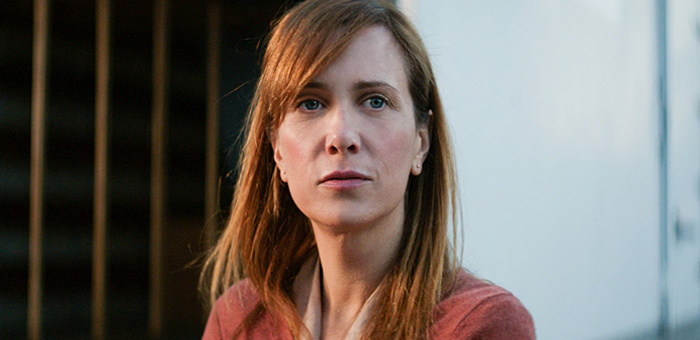 It's panning out to be a significantly different type of experience with regards to filmmaker Liza Johnson's sophomore film. After stumbling out with her debut Return, a painfully difficult indie film that premiered in Cannes (Directors' Fortnight) and whimpered into theaters, the helmer quickly got behind the camera with a plethora of talent for Hateship Loveship, which managed to charm the IFC Films' Arianna Bocco during TIFF – landing a theatrical distribution deal which will probably set the dramedy for a 2014 showing.
Gist: Based on a short story by Alice Munro with a screenplay by Mark Poirier, Kristen Wiig stars as Johanna Parry, a profoundly shy, unadorned woman who is hired by Mr. McCauley (Nick Nolte) as a housekeeper and a primary caregiver to his granddaughter Sabitha (Hailee Steinfeld). When Sabitha uses technology to foster a pseudo-relationship between her widowed father and new caretaker, Johanna is finally able to indulge in something long missing from her life: the dream of a future and a home of her own.
Worth Noting: Munro's material has attracted the likes of Sarah Polley (Away from Her) and Jane Campion (upcoming Runaway).
Do We Care?: Despite not being sold on Return, with a Kristen Wiig and Guy Pearce pairing, Johnson's second feature was on our radar for TIFF (unfortunately but we did not have the chance to review it). It'll definitely be an item of interest in the mid-range U.S. indie film offerings for next year.
Eric Lavallée is the founder, editor-in-chief and film critic at IONCINEMA.com (founded in 2000). Eric splits his time between his home base in Montreal, NYC, and is a regular at Sundance, Cannes and TIFF. He has a BFA in Film Studies at the Mel Hoppenheim School of Cinema. In 2013 he served as a Narrative Competition Jury Member at the SXSW Film Festival. Top Films From Contemporary Film Auteurs: Almodóvar (Talk to Her), Coen Bros. (Fargo), Dardennes (La Promesse), Haneke (Caché), Hsiao-Hsien (Three Times), Kar-wai (In the Mood for Love), Kiarostami (Taste of Cherry), Lynch (Mulholland Dr.), Tarantino (Pulp Fiction), Van Sant (My Own Private Idaho), von Trier (Breaking the Waves)
Trieste Kelly Dunn
"I focused on feeling wronged and that something was taken from her, and that taking it from someone else who deserved it felt heroic and right, despite it being wrong and irrational." Read more

Review

Interviews

In Theaters

18 Apr

11 Apr

04 Apr

02 Apr

28 Mar

21 Mar

14 Mar

07 Mar

28 Feb

Masthead

Facebook