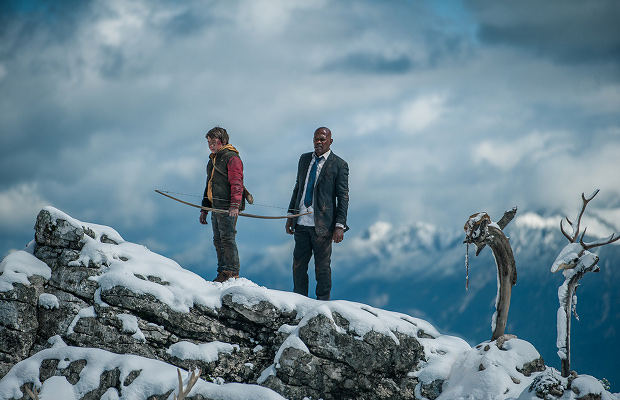 Big Game
Director: Jalmari Helander
Writers: Jalmari Helander, Petri Jokiranta
Producers: Altitude Film Entertainment, Cinet, Egoli Tossell Film, Subzero Film Entertainment
U.S. Distributor: Rights Available
Cast: Samuel Jackson, Jim Broadbent, Ray Stevenson, Ted Levine, Onni Tummila, Felicity Huffman
After creating a new cult Christmas film with his 2010 debut, Rare Exports: A Christmas Story, the Finnish director should finally be unleashing a follow-up this year with an equally intriguing sounding project featuring an American president played by Samuel Jackson, who must seek help with an adolescent boy in the woods. Helander describes the project as an epic adventure film. Count us in.
Gist: A young teenager camping in the woods helps rescue the President of the United States when Air Force One is shot down near his campsite. br>
Release Date: While Rare Exports premiered at Locarno, Helander's latest should land a high profile premiere somewhere, perhaps SXSW or a later fall fest.
Nicholas Bell is a Los Angeles based film critic/journalist for IONCINEMA.com, covering film festivals such as Sundance, Cannes, TIFF, AFI, as well as weekly film reviews. Nicholas is also a regular contributor to men's fashion periodical, MM Magazine. Top Films From Contemporary Film Auteurs: Almodóvar (All About My Mother), Coen Bros. (No Country For Old Men), Dardenne Bros. (The Kid With a Bike), Haneke (The Piano Teacher), Hsiao-Hsien (Flight of the Red Balloon), Kar-wai (In The Mood For Love), Kiarostami (Close-Up), Lynch (Blue Velvet), Tarantino (Inglourious Basterds), Van Sant (My Own Private Idaho), von Trier (Dogville), Zulawski (Possession), Carax (Mauvais Sang)
You may also like...
Review

Interviews

In Theaters

31 Jul

24 Jul

17 Jul

10 Jul

03 Jul

01 Jul

19 Jun

17 Jun

12 Jun

05 Jun

03 Jun

Masthead

Facebook

Lance Edmands (Bluebird)
"We discussed how much of the look would be inspired by this era, the last time people really had the money to renovate things. The house that the main family lives in was totally empty and falling apart when we picked it." Read more