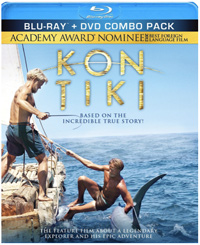 An Academy Award nominee for Best Foreign Language Film, the old-school high-seas adventure epic that reintroduces the inspiring historical feat of Thor Heyerdahl from Norwegian directors Joachim Roenning and Espen Sandberg sails past every opportunity to chart the deeper waters of human emotion, but the worthwhile story and sophisticated visual effects keep Kon-Tiki afloat.
As history goes, Norwegian ethnographer Thor Heyerdahl was convinced, after ten years of field work, that Polynesia was populated from the East by South Americans, despite conventional wisdom that Asians settled the island (with which genetic findings from contemporary anthropologists agree). His theory was rejected by scientific publishers including National Geographic, but rather than accepting the death sentence of his dissertation, the explorer embarked on the 5,000 mile journey that he believed Peruvians made 1,500 years earlier. Using a faithfully constructed, self-built balsa wood raft named after Incan sun god Kon-Tiki, Heyerdahl proved that oceans were not barriers, but roads that created contacts between ancient people.
Taking into consideration the borrowed money that financed his trip, Heyerdahl responsibly preplanned lucrative book deals, speaking tours and procured a camera. His book has been translated into 70 languages and sold over 50 million copies, while his amateurish but authentic documentary film won an Academy Award in 1951.
Kon-Tiki dramatizes the already extensively documented event with nicely paced cinematic spectacles – threatening sharks, stormy seas and magnificent electric eels, but accomplishes little during the inevitable downtime of a 101 day-long journey. The five men on board with Thor (Pal Sverre Hagen) exchange such flimsy dialogue, that in the end they are indistinguishable tanned bodies with grown-out beards and shaggy hair. The engineer turned refrigerator salesmen Herman Watzinger (Anders Baasmo Christiansen) is most memorable, looking up with a blood-covered face, desperately begging for a little safety with modern materials, he offers the only glimpse into the psychology of fear. Aside from a childhood prologue in which Thor nearly drowns after stubbornly crossing an icy pond, even our hero is frustratingly underdeveloped.
Disc Review
For a project otherwise swelling with nationalistic pride, simultaneously filming in Norwegian and English is a curious decision, but one that certainly accommodates an impatient Hollywood audience. The subtitled native language option is highly recommended.
Visual Effects Featurette
With an exaggerated instrumental score and no verbal commentary, digital layers are added and subtracted for nearly ten minutes. The featurette does nothing to demystify the VFX process, but serves as a fascinating reminder of the technical genius involved in a film that gracefully veils its effects (with no exploding Transformers to be found).
Kon-Tiki: The Incredible True Story
The misleadingly labeled bonus, instead of shedding light on the historical basis for the feature film, feels like a gossipy episode of entertainment news television. Matt Lauer recalls his father reading the book and completely unrelated fashion designer Diane von Fürstenberg offers her opinion on the film. It is maybe worth watching for an appearance by the accomplished producer Jeremy Thomas, who has worked with Bertolucci, Cronenberg and Wim Wenders. Just turn the publicity exploit off before Maria Menounos feeds you some bunk about your potential to achieve amazing things.
Final Thought
Significance beyond undemanding genre expectations is faintly suggested, only to announce fundamental shortcomings. Where is the madness of prolonged isolation, the sense of insignificance as a speck in a vast ocean, the satisfaction of challenging uncompromising authorities and winning? Rent the Blu-ray and enjoy the wondrous imagery, but Kon-Tiki is no more emotionally engaging than the (more honest) documentary available on YouTube.