Reviews
Il Futuro (The Future) | Review
Future Starts Slow: Scherson's Adaptation a Densely Structured Puzzle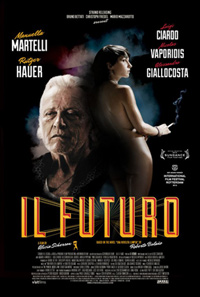 For her third feature film, Chilean born director Alicia Scherson adapts cult Latin American author Roberto Bolano's novel
The Future
, an Italian language oddity that's basically a coming of age tale dressed up in a puzzling narrative of symbolism. Throw in a possible heist angle and you have what sounds like an instant cult item. While intriguing, and at moments, striking, there's an unfortunate distance from the events and characters in Scherson's film, and an undeniable indifference to what's unfolding before us.
Their parents having just died in a tragic car accident, Bianca (Manuella Martelli) and her brother Tomas (Luigi Ciardo) are left to fend for themselves. Thankfully, Bianca is of legal age and so has the option to be the legal guardian of Tomas, but must be responsible for him until he also comes of age. As Tomas begins to become fascinated with going to the gym and bulking up, Bianca begins to develop sensitivity to light, supposedly caused by the extreme amount of energy in one's own psychological universe, released by events like car accidents.
Soon, Tomas invites two body building friends of his to stay at their house, and soon they are basically living with the brother and sister. As Bianca begins a casual sexual relationship with these two "blood brothers," she is asked to be involved in a heist they have devised. Nearby, a retired and blind ex Mr. Universe, and star of a franchise of Hercules-like films, Maciste (Rutger Hauer) resides in isolation. Bianca is asked to pose as a prostitute and earn the trust of Maciste, who distrusts everyone, even banks. Since he's a rumored millionaire, her job is to find the safe in Maciste's home. However, Bianca soon finds herself developing feelings for the gentle and kind blind man, and it's not long before she soon begins to establish a voice of her own, and thus, can finally take control of the reigns to her own future.
Opening with an exquisitely grand title sequence, The Future at first promises to be a surprising ride into a heavily stylized, Lynchian universe. But soon after Bianca and Tomas are left to themselves, Bianca's intermittent omniscient narrations, which sound as if they must have been lifted directly from densely structured inner monologues from the novel, tend to grate and distract. The physical interactions are entirely concrete, yet we're being fed a stream of hopelessly abstract thoughts that tend to sound more like stream of consciousness, freely floating from the body they originally came from.
Scherson seems to employ a painstaking deliberateness to every detail, as everything seems to also have some hidden meaning or other agenda. Bianca, as played by Martelli (who bears a resemblance to Noomi Rapace), is void of emotion for nearly the entire film, until she begins to make choices for herself due to her interactions with Maciste. Hauer's presence is an odd and wholly intriguing accent, but even he gets lost in the plodding mire of the narrative. With her own sight affected, Bianca only begins to break the cycle of patriarchy (and presumably, the male gaze) through the affections of a man who cannot see, only able to become a fully fleshed personality when she is no longer simply a visual object. These are all elements that make The Future a possible heady and lofty film experience, but it's just too bad we never get the opportunity to get invested in the first place.
Reviewed on January 19 at the 2013 Sundance Film Festival – WORLD DRAMATIC COMPETITION Programme.