Can't Hardly Wait: An Ensemble of Pretty People All Attend Their High School Reunion in Linden's Debut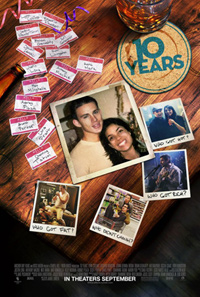 Besides births, weddings, funerals and birthday parties, one of the other most common subgenres within the ensemble drama/comedy realm is that of the high school prom or high school reunion category. Unfortunately, we, as an audience must invest a certain stake in the filmmaker's claim, then, that high school was indeed the most important formative event in our lives that we will forever be chained to, no matter how much time or pain or joy has passed, much like salmon must astonishingly swim upstream every year to spawn. The rite of passage of high school has such an influence, such a magnetism, these films insist, that we aren't even able to have a proper adulthood without these reunion milestones. But then, if you're not on board with that thought process, Jamie Linden's by-the-numbers ensemble debut, 10 Years, is definitely not for you. The writer of Dear John (2010) and We Are Marshall (2006) pulls together an exemplary cast of young up-and-comers, but to little avail.
We meet a multitude of characters, some about converge at the house of Sam (Ari Graynor) and Cully (Chris Pratt), the cheerleader-jock couple from high school currently married with kids. Old friends A.J. (Max Minghella) and Marty (Justin Long), have just flown in, the former seemingly unhappily married, the latter a carefree bachelor. Then there's Jake (Channing Tatum), with current girlfriend Jess in tow (Jenna Dewan-Tate, real life wife Channing), and then tagging along is Reeves (Oscar Isaac), who has become a famous rock star in a popular band. Jack seems to really love Jess and bought a ring eight months ago, seemingly unable to find the right time to propose, and we learn that some of this anxiety is due to an old flame with high school sweetheart, Mary (Rosario Dawson). Perhaps the reunion will decide this for him. Oh, and don't forget Scott (Scott Porter), who now lives in Japan with his wife, who he had fly half way across the world with him to attend this reunion.
Traveling together to the actual event, we meet a plethora of other characters, including Garrity (Brian Geraghty) and wife Olivia (Aubrey Plaza), where we discover along with Olivia that Garrity used to "act like he was black" upon being introduced to his old black classmates, like the free spirited Andre (Anthony Mackie). And then there's the sexy, popular classmate, Anna (Lynn Collins), immediately ogled by A.J. and Marty, who spend the night vying for her attention. Plus, a seemingly lost girl, Elise (Kata Mara), who turns out to be the crush of Reeves. Mary decides to show up, but with husband (Ron Livingstone), irritatingly in tow. Meanwhile, ex-jock Cully drinks himself into a stupor, insistent upon making amends with all the nerds he was awful to ten years ago, including Peter (Aaron Yoo). As the event winds down, the classmates all head to an old dive bar, Pretzels, where they can relive some more memories together.
At first, 10 Years feels like a melancholy exploration of forgotten goals and dreams for some of our main characters and it manages to tap into a certain nostalgia many people may feel about their experiences from that period of their lives. But, like almost all movies centered completely around a high school reunion, the cliché tends to be that all the characters never have any more defining moments. And in 2012, technological advances and social networking perhaps dampen the revelations that may be experienced at the high school reunion, no? Oddly, the film happens to be one of the few not to have one facebook reference, though Dawson and Tatum share an awkward exchange where they admit to trying to find each other online. But while director Linden desperately tries to balance a large group of well rounded characters, the entire production reeks of a highly romanticized and glamorized portrayal of what your ten year reunion is supposed to look like, and the proceedings feel like we're watching the graduates of Celebrity High. All the "nerdy" grads that bothered to show up, of which there are a mere handful, only interact with one another and only get to resolve issues with being bullied by Chris Pratt. Saddest of all, more than one character makes mention of how long they've been waiting for this glorious event or how wonderful they've always thought it would be.
Some of our actors fare better than others, while most tend to not register as anything at all (Ron Livingston, Anthony Mackie). Particularly uncomfortable are subplots involving Chris Pratt, and even worse, Long and Minghella ridiculously mooning over the bitch-queen, hair-sprayed Collins, who has dressed for the occasion like it's a red carpet event (of course, she has a secret of her own we're all supposed to empathize with). Tatum and Dawson fare better, but Dewan-Tatum has absolutely no screen presence, a figure only there to fill a void. And while Isaac's infatuation with Mara carries the most sensational surprise, this highly romantic, if completely unrealistic flourish, only manages to make everything feel manufactured.
Linden obviously has a love for classic ensemble films, as he references influences like The Big Chill (1983) and American Graffiti (1973). However, his own film pales in comparison to these savvy titles. Certainly it doesn't help that the majority of his cast is older than the late-twentysomethings they're supposed to be portraying. But the main problem is how the film is a blatant reiteration of how a heteronormative paradigm asserts that, for the majority, high school is and will forever remain the only significant moment of socialization for people, a moment in time that will always be savored and a second helping constantly sought after. But for those people that exist outside of this cinematically traditional school of thought, the high school reunion is not a penultimate ritual. But boy, oh boy, Jamie Linden has sure concocted a dreamy fantasy of trivialities for us with 10 Years, a grown up movie for those now older highschoolers from Can't Hardly Wait (1998).