Judge Not: Travis Magnificently Revamps Dystopic Comic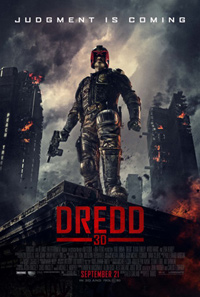 The mid 90's was a time when comic book adaptations were neither highly regarded nor definitive blockbusters, and many will remember a 1995 title, Judge Dredd starring Sylvester Stallone and Armand Assante, as not being particularly well received. But now, Pete Travis, best known stateside for his 2008 inventive misfire, Vantage Point, strikes while the iron's hot with Dredd 3D, a rehashing of the same character. Surprisingly, this flashy facelift happens to be one of the best action films to be made in quite some time, its gritty adult humor and narrative aptitude recalling the best works of genre stalwarts like Verhoeven and Carpenter.
In a dystopic future, America has become an irradiated wasteland. On the East Coast, Mega City One comprises the land that used to tretch from Washington, DC, to Boston, now an uber violent metropolis, where millions of people live in 200 floor complexes, each a smarmy ghetto with its own rules and regulations. The only forces of order operating in the city are the presence of the urban cops, known as Judges, who possess the power of judge, jury, and executioner. Amongst them, one of the most feared and reviled is Judge Joe Dredd (Karl Urban), a veritable killing machine, ruthless and brutal. His latest assignment from Control is to take a new recruit, Anderson (Olivia Thirlby) out for a training day assessment. Anderson failed her entrance exams to be a Judge, but possesses psychic powers, one of a growing member of mutants popping up in the mega cities. Since Judges can only respond to about 6% of actual crimes, Control insists on utilizing her unique abilities as a special weapon against their losing war on crime. As fate would have it, they respond to a recently reported triple homicide at the massive complex Peach Trees, controlled by an infamous drug lord known as Ma-Ma (Lena Headey) an ex-prostitute turned kingpin known for her extreme violence. When the Judges arrest one of her right hand men, she locks down the complex, afraid that her employee will inform the Judges that she is the one responsible for supplying Mega City One with a vicious new reality altering drug known as SLO-MO. And thus, the Judges, cut off from any outside assistance, must wage war with Ma-Ma and her brutal gang.
Dredd is perhaps an example of film that best utilizes the capabilities of 3D technology. Instead of simply throwing or splashing or darting objects out at the audience intermittently, Travis has designed a beautifully bleak landscape that oozes, spikes, and crawls out toward us. But even without 3D, the visual design is gorgeous and engaging, and it's definitely not necessary to enjoy the film. Of course, the mind altering drug is used to a great degree, almost excessively so, but it slows down moments of deadly violence for us to appreciate it down the most minute detail. There are moments that make violent murders look like a beautiful ballet sequence (recalling Joanna Cassidy's demise in Ridley Scott's 1982 Blade Runner), bodies being crushed, bullets tearing through flesh. At the same time, there are several moments worthy of recoil.
While some minor plot holes exist, mostly revolving around some vaguely defined boundaries about Thirlby's psychic powers, both plot and dialogue are surprisingly sound. Weakest of all may be Karl Urban as the titular Judge, employing a Batmanesque guttural growl with every sentence, making him nearly unintelligible over loud speaker, and thus, he inadvertently becomes the plucky comic relief. The females are better served here, with a surprisingly effective Thirlby imbuing her character with a humanity that could have easily been lost in this material. But it's a deliciously feral looking Lena Heady that just may be the best element of Dredd. With a messy coif, jaggedly foul teeth, and scarred cheeks, Heady looks like a rabid animal prowling around her private chambers in Peach Trees. Pete Travis has made a heavily styled and high voltage entertaining revamp with Dredd 3D, one that can't be taken too seriously, but is definitely a visceral, enjoyable flick. Judgment is coming, and you don't want to miss the verdict.
Reviewed on September 6 at the 2012 Toronto International Film Festival – MIDNIGHT MADNESS Programme.
95 Min.