Cancer Eats More Than Just Kate Hudson's Colon in Kassell's Emotional Porn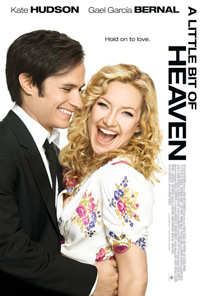 After her excellent 2004 feature debut The Woodsman, Nicole Kassell finally returns with her next feature, A Little Bit of Heaven. Unfortunately, her latest is an ungainly little beast oscillating disastrously between romantic comedy and cancer drama, which might have worked better if there had been a little more conviction about what it's trying to say. Instead, we're served a bizarre religious framework (that at least, albeit inadvertently, points out a certain ridiculousness in how people 'believe') used to further a clichéd story about a fun, sunshiny woman that has everything going for her except those easy-to-write absent/distant dad issues that make her wary of men and commitment.
Marley Corbett (Kate Hudson), is a loving young woman with a promising career working for a boss that adores her (Steven Weber), a gaggle of gal/gay pals (Lucy Punch, Rosemarie DeWitt, Romany Malco), and a banging sex-life. Convinced that happiness for a woman does not lie in love, marriage and 2.5 children, Marley seems happy as a clam till her best friend and co-worker, Sarah, tells her she doesn't look well and should consider getting a checkup. Flirting unashamedly upon meeting her cute, young doctor (Gael Garcia Bernal), she discovers that she has late stage colon cancer. Even as she finds she is unresponsive to chemotherapy, Marley never loses her strong sense of self or her humor, but surprisingly finds herself falling in love with her doting doctor. And as her mother (Kathy Bates) moves to New Orleans to be closer to her ailing daughter, Marley also has the opportunity to reconnect with her estranged father (Treat Williams), the man responsible for her fear of relationships. Offered a new, clinical trial treatment, Marley has an opportunity to struggle for her life or get ready to say goodbye.
Once again, Kassell has managed to pull together a beautiful ensemble cast, nearly every supporting player a noted name of considerable talent. However, no matter how much support cushion, there's nothing that can distract from Hudson's grating performance, her nonchalant flirting more akin to a brainless, flitty bird stupidly pecking for crumbs, and her clichéd single-gal promiscuity like an ungainly, hairy wart heralding the typical American demise for women that enjoy too much fun.
At her best, Hudson can still manage to evoke the delightful persona of her mother, but those moments are few and far between, flashing across the screen with a giggle or a grin. Hudson's rom-com baggage follows her like a minefield in this cancer comedy, busting up any delicacy that tries to crystallize around her. It doesn't help that there's absolutely no onscreen chemistry between her and her physician, played by Gael Garcia Bernal. Though he plays it subtle, why he would get all flummoxed over Hudson's melting iceberg is unclear and frankly, unnecessary. Distractingly, we have nearly every character orbiting her remark how terrible she looks. But at her worst, Hudson only ever manages to look like she drank some sour milk, and maybe smells like Similac and baby powder.
A Little Bit of Heaven takes its title from a scene involving Peter Dinklage, an escort hired by one of Hudson's many friends and neighbors (the gay and only-there-to-support-my-lady-friend Romany Malco) for her entertainment. Due to his small stature, he's known as "a little bit of heaven," and so the two funny bunnies carouse in a completely unnecessary scene that could have been excised altogether (never mind the subtle whiff of exploitation of little people, same said for her gay, black neighbor). In fact, one can't help but recall Dinklage's debut in Tom Dicillo's Living In Oblivion (1995) where filmmaker Steve Buscemi is desperately trying to make a film. During a strange dream sequence, Dinklage confronts Buscemi about why a weird, surreal dream sequence has to feature a little person. Let's pose the same question to Nicole Kassell—what's the point here beyond giving the audience a little something funny, bizarre, and overtly distracting that they couldn't see coming?
The film's most awkward aspect is the fantastical whimsy of Hudson's lukewarm religious streak. Upon being knocked out for her colonoscopy, she has a vision of God in the form of Whoopi Goldberg. God as Whoopi apparently loved the tale of Aladdin, and grants Hudson three wishes. Sadly, she can only think of two, unable to admit to herself that it may be love and a heteronormative familial unit that she really wants. Even if God is a fanciful genie, how refreshing for our Marley that the almighty One still sponsors the need to commit before dipping out. And then, yawning us into the final quarter of the film is an emotional porn extravaganza of Hudson making the goodbye rounds. If you have a heart, of course some of these moments are emotionally stirring, in particular, a terrific turn from Kathy Bates as Hudson's mom. Others are much more clichéd, like an unfortunately written role for Hudson's besty, played by Rosemarie DeWitt. Expecting her second child, DeWitt is unable to open the door to say goodbye to Hudson during an emotional farewell monologue, sobbing uncontrollably on the other side. And then poor Lucy Punch somehow gets neglected altogether. A majority of the problem lies with Hudson, as Kassell would've been better served to cast an actress not known for dumb-dumb rom-com stinkers. But she's not the only problem as, sadly, the uneven tone, problematic script, and ridiculous exploration of faith more at home with some drek starring Kirk Cameron makes this little bit of heaven feel a lot more like hell.