Rough Draft: Carr-Wiggin's Latest Buoyed Exclusively on the Charms of Lead Actress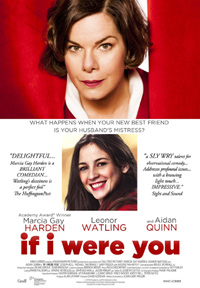 If one were to look for fresh evidence of the perennial talents of the gifted Marcia Gay Harden they could definitely find proof of it in her lead turn in If I Were You, a new film directed by Canadian writer/director Joan Carr-Wiggin. Harden's got a number of titles in post-production, but it's been a minute since we've seen her in a really juicy lead role, and she sinks her teeth into this one. How unfortunate then that nothing else about the film even comes close to matching her considerable talents, as she carries the film's merits entirely upon her shoulders.
Strolling down the bustling streets of Toronto one early evening, Madelyn (Marcia Gay Harden) accidentally stumbles upon her husband Paul (Joseph Kell) sharing a romantic dinner with his mistress, Lucy (Leonara Watling). Shocked, she peers from outside the restaurant and calls him to see how he will react. She sounds strange, so he breaks off his evening plans with Lucy, causing a fight between the lovers, which sends Lucy off to a convenience store to buy rope with which to kill herself. Madelyn follows her and the two become inadvertent confidantes as they reveal their man problems to one another, though Lucy, an aspiring actress, isn't aware of who Madelyn really is. They decide to take each other's advice on everything, which first sees Madelyn gain a perverse upper hand in her messy situation, but this quickly backfires when she gets cast as the lead in an amateur production of King Lear after bursting into tears while on the phone with her husband. Of course, Lucy gets cast as the Fool.
Meanwhile, Paul thinks Madelyn is involved in a passionate affair and thus finds himself trying to rekindle a romance with her and grows distant from the emotional Lucy. While one of Madelyn's married co-workers (Gary Piquer) declares an undying love for her, she finds herself drawn into a quick, passionate affair with a stranger (Aidan Quinn) she meets at a nursing home after her mother suddenly dies. The buttoned up Madelyn throws herself into Lear and finds a brave new world opening before her.
There are plenty of small snickers and giggles to be had throughout Carr-Wiggin's latest feature, and they're all due to some spot-on timing from the whiskey chugging Harden, who somehow, despite all the fluffy bullshit smothering her character, manages to be utterly realistic. Such is not the case for Spanish actress Watling, known for her notable turns in titles from Almodovar and Isabel Coixet, here wasted as the daffy, brainless foil to Harden. But it's the extremely wooden Joseph Kell who really makes this film hard to swallow, nearly every scene he's featured in a reminder of just how banal the entire proceedings really are.
The film inadvertently sets up a microcosm with Madelyn's role in Lear, where actual talents only highlight the mediocrity of the entire proceedings which is what If I Were You does to Harden. We're treated to a montage of scenes from the theatrical production and damn it if she doesn't just knock even those snippets of scenes right out of the park. In fact, it may just leave you wishing to have seen that production instead, since If I Were You finally wraps up at the two hour mark after spinning endlessly on its less than fascinating dramatic tension. As one character points out, "I adore subtext," and therein is a hint to the biggest problem in If I Were You which is all subtext without an original work of substance to allude to.