Hamshank Redemption: Stewart's Debut a Trashy, Lurid Queersploitation Effort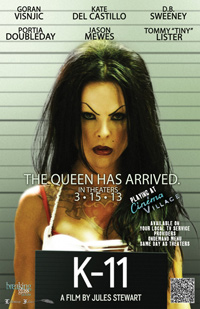 Jules Stewart, mother of that actress Kristen Stewart, makes a curious and fascinatingly trashy exploitation grindhouse directorial debut with K-11, which plays like one of those women in prison shockers made in the 70s with names like Pam Grier or Mercedes McCambridge headlining. Here we see a number of familiar faces populating the queer and transgendered ward of a Los Angeles County Prison, and while the end result is not actually empowering, it does have a lurid and arresting appeal, not unlike an overtly insistent train wreck.
Raymond Saxx Jr. (Goran Visnjic) is a highly successful record producer that gets thrown into county in the middle of a hellish drug binge. When he finally recovers consciousness, he learns that he has been accused of killing one of his more famous musical clients in some sort of drug induced rage of jealousy. Saxx is incredulous and sure of his innocence, but what makes matters worse is that the coke addicted warden of K-11 (the wing dedicated to the queer inmates), Sgt. Johnson (D.B. Sweeney) spied Saxx on his way in and fixed it so that he could be part of his ward to presumably be used as a sexual toy. Johnson already has a significant fixation on the ward's Queen Bee, a super bitch Mexican transsexual named Mousey (Kate del Castillo), who rules K-11 with an iron stiletto.
Mousey's main squeeze is the wing's drug supplier, Ben Shapiro (Jason Mewes), who gets to sit with Johnson in his office, dealing drugs and putting out as needed. As Saxx tries to figure a way out of his predicament (turns out he's most likely being framed in a poorly used subplot), he befriends Butterfly (Portia Doubleday), a transsexual that has been the victim of severe abuse and is systematically raped by K-11's resident pedophile, Detroit (Tommy Lister). With several rapes and a murder later, it dawns on Saxx that if he strikes a deal with Mousey, they can wrench control of K-11 away from the crooked Sgt. Johnson and make a lucrative future for the both of them.
If Matthew Bright wanted to remake Girl Interrupted with a splash of Wild Things, it might feel something like K-11 (though his directorial skills might make for a more tonally assured version of what that should look like). While it certainly isn't outlandish enough for cult status, as it takes itself much too seriously, nor is it as well made or provoking as something along the lines of Hedwig, it's probably one of the classier transploitative efforts to be made in some time (though maybe that's not saying much). Unfortunately, the whole affair looks fantastically cheap, set nearly entirely in a prison ward that looks like it could have been a cafeteria. There's no doubt that Stewart's familial connections had a hand in seeing this to a theatrical release, and daughter Kristen was gracious enough to have a voice cameo in a scene involving a phone call.
You'll most likely gravitate towards one of the two extreme behaviors on display here. Visnjic's turns is so serious he's almost borderline comatose, but he's also the most realistically handled element with most of the other inmates feeling like violent hyperboles from a grotesque fairy tale. D.B. Sweeney is often so over the top you'd wish that Stewart had gone for some sort of all out camp opus, replete with deliciously crass musical numbers. To be perfectly honest, the shining gem of K-11 is a fascinating performance from Katie del Castillo, who is quite convincing, especially if you're unfamiliar with her work. While it would've been great if Stewart could have cast some real transsexuals in the main M to F roles (some are evidently present, but they're mostly window dressing), Castillo's performance is the glue that holds this little dinghy afloat, and if anything should be celebrated from this curious endeavor it should most certainly be her.