Features
2014 Sundance "Trading Cards" Series: #1. Deke Garner (Hellion)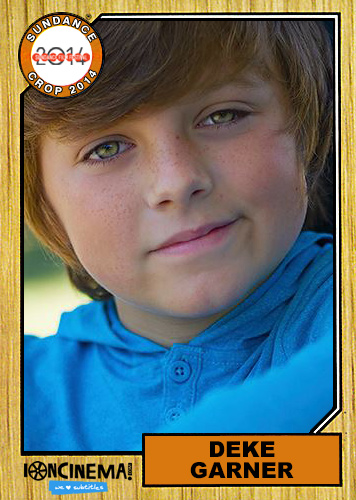 Lavallee: Name me 3 of your favorite "2013 discoveries"…
Deke Garner: I discovered Street League Skateboarding, I love to skate and watch the pros skate. Aaron Paul, my new favorite actor yo. Breaking Bad my new favorite show, I know its a bit old for me but I have been acting for almost 4yrs. now and I have never seen acting like that.
Lavallee: In the short version (2012) of Hellion you played Petey, while in the feature you play Wes. What was it like for you to change characters?
Garner: Changing from one brother to the other wasn't that hard, I was still the little brother. Changing from Petey to Wes though was hard because I had to audition again. After I got so many compliments from the short I thought I had Petey wrapped up if they make a feature. Well when we got a copy of the script no Petey so I started learning everything I could about Wes and made it my mission to get this part and after 3 or 4 rounds of auditions and what seemed like months of waiting. I got the good news.
Lavallee: What was your favorite scene to shoot in Kat Candler's Hellion?
Garner: I have two, when we destroy the truck, that was the most fun. The football game is my personal favorite because Wes was the hero in that scene and I worked all day with Aaron (Paul), Juliette (Lewis), and Josh (Wiggins).
Lavallee: Your co­star is Aaron Paul ­- millions know him as Jesse from Breaking Bad. Did you know who Aaron was before you started shooting and what acting lesson did you learn from him while on set?
Garner: My dad was a Breaking Bad fan already so he freaked out a little knowing Jessie was going to be my dad. I watched a couple of episodes after I found out just to see who he was. I didn't start really watching until after I met him and became a fan of his, he is so cool and fun to be around it wasn't even like we were working just hanging out having fun. The main acting lesson I got from Aaron was just by watching him. In between each take he would walk away get his head cleared and come back in character ready for the next shot. It was really cool watching him work and working with him. I will do that in every movie I get cast in now, its just take your time, be in character when director says action and do your thing.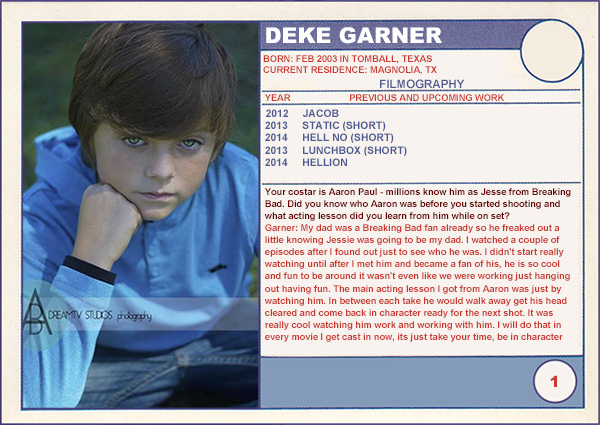 [related]2014 Sundance Trading Card Series[/related]