Features
2014 Sundance "Trading Cards" Series: #6. Lucas Joaquin (Love is Strange)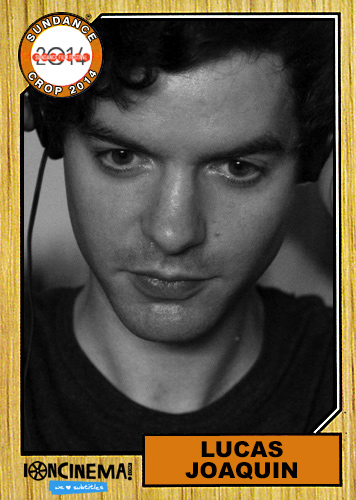 Eric Lavallee: Name me three of your favorite "2013 discoveries"…
Joaquin: 1. My Struggle by Karl Ove Knausgaard – earlier this year I read this memoir/novel by the Norwegian author Knausgaard. It's about a man's life and memory – his youth and teenage years in rural Norway, and the return to his childhood home to attend the funeral of his alcoholic father. It's a brilliant combination of the profound and the mundane. Really beautiful.
2. Lucrecia Martel – I saw the filmmaker Lucrecia Martel (THE HEADLESS WOMAN, THE HOLY GIRL, LA CIÉNAGA) speak at the Berlinale. She is one of the most articulate filmmakers I've heard discuss the process. One of my favorite filmmakers and a brilliant stylist.
3. Bullet Trains. I took the AVE train from Córdoba to Madrid in Spain this year, and the high speed train from Shanghai to Yuhang in China. The speed and ease of transportation is amazing. The United States should have these connecting every major city.
Lavallee: Your association with Ira Sachs dates back to Forty Shades of Blue and most recently, Keep the Lights On. In terms of writing and directing, what characteristics flourished in Ira and what has remained intact over the years?
Joaquin: All of Ira's movies come from a personal place, and they're all explicitly or implicitly autobiographical. I've known and worked with Ira for twelve years. Through his films I can see the progression of his worldview, his preoccupations and concerns at a given moment. In FORTY SHADES OF BLUE a real love springs up between two people but it can't last because of the external circumstances surrounding them. It's a tragedy. In MARRIED LIFE love is confused and misguided, bound up with lust, infidelity, and fear. KEEP THE LIGHTS ON starts to approach the existence of a real love, but ultimately it can't exist – it sees a love existing between two men that ultimately fails because of self involvement and addiction.
LOVE IS STRANGE is the first of Ira's films to recognize that real love can flourish between two people. It's no coincidence that it coincides with his marriage to artist Boris Torres and the birth of his two children. Ira's thematic preoccupations remain – variations on a theme. His style – both on screen and off – has matured through the years. He has an intimate understanding of the filmmaking process so he knows where to push and where to hold back. There's an impressive ease that he's achieved in his work. It's that apparent ease that all good artists share. He pushes to get these films made. There's a lot of effort in that push, but there's a calm too.
Lavallee: For Love is Strange you managed to lasso A-­listers such as Tomei, Molina, Lithgow. Could you describe the general reactions from the three with regards to the material and characters at hand.
Joaquin: Alfred Molina was the first to sign on. He loved the script and Ira's work. They instantly hit it off. It was incredible to work with him – his performance in PRICK UP YOUR EARS is fantastic, and his scene in BOOGIE NIGHTS is one of the best scenes ever committed to celluloid. John Lithgow said that the script was the best thing he'd read in years. He was a pleasure to work with. I saw him on stage in "All My Sons" in 2008 and have been impressed with his work since THE WORLD ACCORDING TO GARP. He gave so much to this film.
Marisa Tomei felt a real pathos in the character of "Kate". She understood the character instantly, something that's immediately apparent on screen. She disappears into the role. The supporting cast are fantastic as well – our stellar casting director Avy Kaufman put together a great group of actors to make the surrogate creative family that surrounds Ben and George so real and recognizable.
Favorite Film Festival: I love Sundance for the community, Berlinale for the city itself and its daring programming, New York because it's the festival I grew up with.
[related]2014 Sundance Trading Card Series[/related]