Interviews
2015 Sundance Trading Card Series: #18. Chris Bergoch (Tangerine)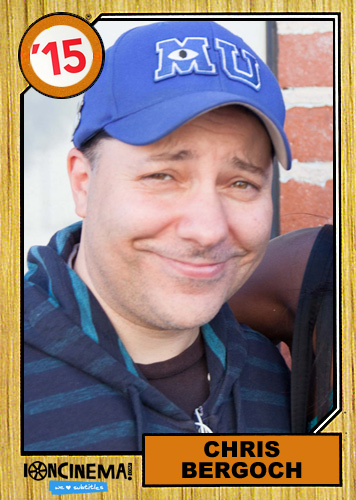 Eric Lavallee: Name me three of your favorite "2014 discoveries"…
Chris Bergoch: I really enjoyed the pre-Broadway run of The Hunchback of Notre Dame at the La Jolla Playhouse. I try to keep up with all of Walt Disney Theatrical's stage adaptations and I think this is their best yet. The show is dark, more in line with Victor Hugo's novel, the new songs from Alan Menken fit seamlessly into his brooding 1996 soundtrack and the cast is brilliant — hope they make it to The Great White Way. Speaking of, I loved Idina Menzel in IF/THEN — she's exhilarating to watch live. I thought Universal raised the bar for theme parks with the debut of Diagon Alley in Orlando last summer. It's the single most immersive themed environment I've ever had the pleasure of being whisked away to and it's also quite a stimulating place to sit down and write. The Scott Pilgrim vs. The World midnight screenings at LA's New Beverly Cinema continue to be an almost therapeutic pastime for me every few months as well!
Lavallee: What was the first kernel of an idea that presented itself and how did you and Sean flesh it out in the first draft?
Bergoch: Ever since we met back at NYU, Sean and I have been attracted to colorful locations and the unique people that inhabit them. With Tangerine, I think the corner of Santa Monica and Highland is a place that locals from all walks of life drive by every day but rarely stop to smell the donuts, so to speak… there are a lot of stories to discover in a place like Donut Time. Tangerine is only one.
In the Fall of 2013, Sean and I visited an LGBT center around the corner from Donut Time in hopes of meeting someone who might be interested in sitting down and talking about their experiences in that section of Hollywood. That's when we met Mya Taylor and then Kiki through her. Sean and I quickly jotted down ideas and potential scenarios on my iPad and spent that whole night formulating how to tie them together. But what would make these explosions of chaos accessible to an audience? We needed a way in, something folks could relate to. Our hope was that all of Sin-Dee's exploits would be more understandable if anchored by something we've all had — a broken heart.
Lavallee: Following in the footsteps of Starlet, how did (Los Angeles) location contribute to the tone, atmosphere this time out?
Bergoch: Starlet was originally going to be a far simpler story where we would follow a day in the life of Jane just wandering around the valley searching for her dog for ninety minutes. I don't think that vision of "wandering around searching for…" ever left our system and with LA offering so many colorful sections to wander through, Tangerine was almost inevitable. It's fun to try to immerse the audience in unfamiliar places and parts of a city less seen on screen than others. Plus, Los Angeles at Christmas never feels completely like Christmas, so we liked the tone that set for a story with themes of infidelity and characters not always being exactly what they seem.