Interviews
2015 Sundance Trading Card Series: #37. Matt Gallagher (Bob and the Trees)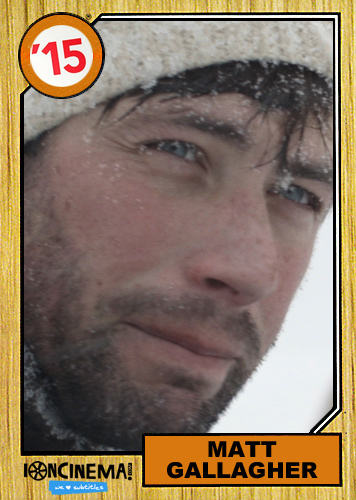 Eric Lavallee: Name me three of your favorite "2014 discoveries"…
Matt Gallagher: Hana, Maui. 5 pound Gummy Bears. Not wearing underwear.
Lavallee: Could you describe that first encounter with Diego, and ultimately how you were should on the idea of being the titular figure in the short. At the moment that you knew that the after the short there would be a feature, I was wondering what kind of creative work you might have down with this "character".
Gallagher: I was quickly sold on the idea of making this project a reality. Bob is a natural character with a compelling story. I was just excited to be lucky enough to be along for the ride. I'm Bob's son-in-law, so we do have that sort of relationship with one another. As a result, the biggest creative work we had to accomplish was getting used to a production crew surrounding us while acting "normal."
Lavallee: We imagine that this is a hybrid between fiction and docu, how much DNA would you say is you/and how much is fiction?
Gallagher: While it's shot in a verité style, it's definitely a narrative film. The set up for the story is a very real situation, but what unfolds is fictional. Many of the events in the film are loosely based on things that happened to Bob and I while logging and farming in New England. People viewing the film are going to get a very realistic dose of the day to day struggles that many people in the logging and farming communities face, especially in the bitter cold of winter.