Interviews
2015 Sundance Trading Card Series: #44. Rachel Morrison (Dope)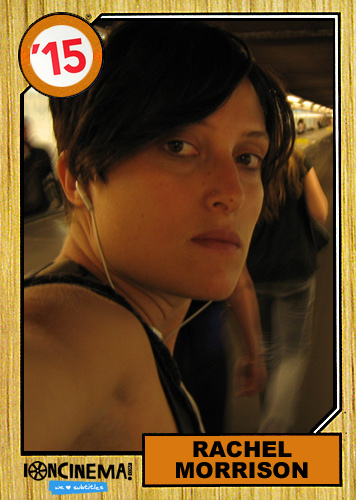 Eric Lavallee: Name me three of your favorite "2014 discoveries" …
Rachel Morrison: Polish film "Ida" (brilliant 4:3 B&W cinematography). Positano, Italy (off season) Must do: Hike of the Gods. iphone App "Cinescope" Shameless plug as I developed it. An affordable way to shoot stills and video in any aspect ratio on your phone.
Lavallee: Much in the same spirit as Fruitvale Station (aka Fruitvale), Dope appears to carry/exude/tap into a youthful energy/spirit. In terms of visually describing the players, comparatively, how would these two youth portraits differ?
Morrison: They could hardly be more different. Fruitvale is a harrowingly sad portrait of a life lost too soon (and based on true story of Oscar Grant). Dope is a light, fictional tale of life in the bottoms. There is a lot of movemnet in both films, but Fruitvale was all handheld whereas Dope was predominantly Dolly, Slider, Sticks, and Steadicam.
Lavallee: What are some of the visual style ideas Rick Famuyiwa had for the film and what did you shoot on (camera + lens) to achieve the desired look?
Morrison: Rick wanted a contemporary shout out to late 80s and early 90s styles. We shot on the Arri Alexa 4:3 with Panavision Anamorphic G Series Lenses.
Lavallee: Color palette wise, how was the backdrop of Inglewood captured visually?
Morrison: The goal was to explore the idea of colorful but not over saturated as in many films from the 90's. We wanted something more honest (and less dated) than blue moonlight, but still a vibrant sensibility.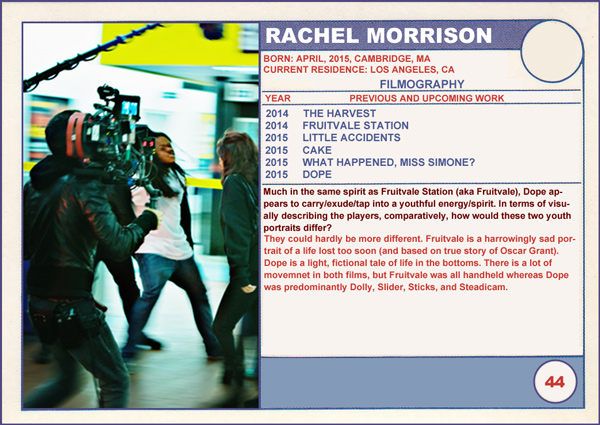 Lavallee: I believe this is your fifth consecutive Sundance Film Festival and this year you come with not one, but two films. Could you briefly discuss your participation on What Happened, Miss Simone? and I'd like to know do you feel yourself wearing a different thinking cap when you're working in the docu realm?
Morrison: I was one of 3 DPs on What Happened, Miss Simone? and I actually shot the most narrative component. I lensed 16mm interpretations/memories of Nina's childhood to accompany archival audio. But typically speaking, I would say that I bring similar qualities to documentaries. You always listen and look for character and story beats and for the most cinematic way to echo those beats. I think one of my strengths as a DP is using or supplementing natural light in an efficient manner and this holds true for both doc and narrative.