Interviews
Interview: Atiq Rahimi (The Patience Stone)
French based Afghan novelist turned director Atiq Rahimi adapted his second novel for the screen which puts him in a small circle of authors adapting their own material twice….from book form to the big screen. Set during an unspecified era, a young Afghan woman finds solace in her own comatose husband whom she imagines as her own magical stone that she can tell her secrets and desires. Rahimi who won the highest literature prize in France for his novel, the Prix Goncourt adapted his novel with legendary writer Jean-Claude Carrière helping him to open the mostly monologue driven novel for cinematic interpretation. Rahimi who also adapted his first novel "Earth and Ashes" for the screen, makes for a stronger case his second time out. With The Patience Stone, he cuts deep into the hypocrisy of the male dominated Afghan culture to shed light on the plight of Afghan women who are burdened by this ongoing, unimaginable suffering of epic proportions. Overcoming a huge language barrier, lead Iranian actress Golshifteh Farahani (of last year's Chicken with Plums) gives a tour-de-force performance while French cinematographer Thierry Arbogast is flawless with his stunning photography. I met Atiq Rahimi (no relation) at 56th San Francisco International Film Festival for this interview.
Yama Rahimi: You are among the few who were able to direct their own novel. In your case, you adapted both of your novels into films. How was the transition from a writer to a director?
Atiq Rahimi: Actually before I became a novelist, I was a filmmaker. I studied writing then film in France. I started making promotional films for corporate companies before going into documentaries for French TV. I also wrote and directed several short film. I wrote my first novel in 1996 which was "Earth and Ashes" which was published in France 1999 and made the film adaptation in 2003. So before I was a writer, I was a filmmaker. So both times with "Earth and Ashes" and "The Patience Stone," I had no intention to turn them into films but was approached to make the cinematic translation because of my background in the medium. I had my doubts and hesitations to commit because I wrote the novels and wondered what else I could say or add in the film that wasn't in the book which was the real challenge. If I made a literal translation from book to film, it would have been boring and not interesting to me at all. So with the help of new tools that cinema provides, I had to search what I could express in film that I couldn't in the book. Jean-Claude Carrière convinced me that a film could be made out of "The Patience Stone."
YR: How did you meet Jean-Claude Carrière and how was your collaboration?
AR: I knew Jean-Claude. I actually met him in India in 2005 for another project which was "Kabuliwala" an adaptation of a short story by Nobel Prize winning writer Rabindranath Tagore. The project was delayed several times due to several reasons.
YR: That's very interesting. I have seen the classic Indian version from 1961 but I want to see your and Jean-Claude Carrière version of it.
AR: There are two adaptations but ours was a contemporary and updated version of the story. So when "The Patience Stone" was published, I sent him a copy and Jean-Claude loved it and told me it would make a great film. When the producers agreed to make the film, who else could be better to work with than Jean-Claude Carrière? He's legendary writer with a staggering and impressive body of work, specially with Luis Buñuel amongst many others.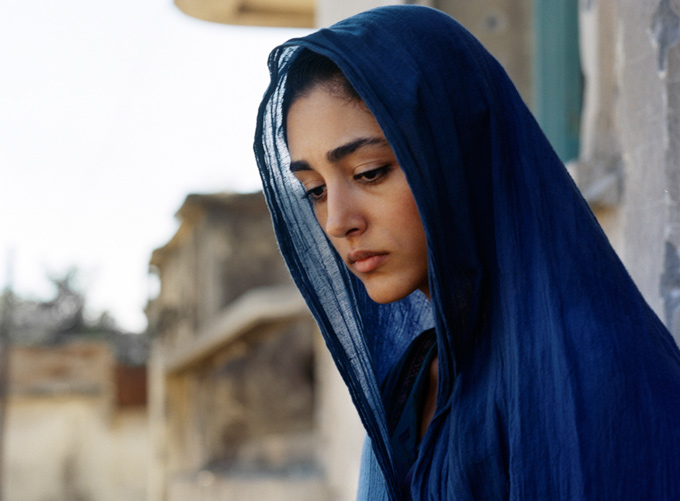 YR: What was the biggest challenge with this film?
AR: The first being the screenplay because the novel is set in one room and two characters, one being in coma. How to make it cinematic so it's not boring to the audience. A book which is all a monologue. The financing was another hurdle because of the obvious reasons. We almost abandoned it as well. Once those problems were solved, the other was to find an actor who could handle and carry the film with her performance. It was clear we couldn't find an actor in Afghanistan or Iran to perform due to the political climate in those countries but also the artistic and cultural challenges. I met with few actors but wasn't happy, then I met with Golshifteh Farahani but had my doubts and reservations because she's very beautiful and didn't want her beauty to distract and overwhelm the story. Then we worked together and found that behind the beauty is a tremendous talent and found my reasons unfounded. Now in hindsight, I don't think we could have made the film without Golshifteh Farahani. She was the biggest challenge but her performance is the heart and soul of the film.
YR: I agree. She gives a tour-de-force performance but what impressed me the most was that she got the Dari accent right which was almost flawless. Even though Farsi and Dari are similar but are very distinct from each other. In "The Kite Runner" the weakest link amongst others were the accents which the Iranian actors couldn't master. Where was the film shot?
AR: Well we knew we couldn't shoot it all in Afghanistan due to the safety issues. So we filmed all the interior scenes and scenes with Golshifteh in Morocco and all other exterior scenes in Kabul.
YR: How did you get Thierry Arbogast as your director of Photography?
AR: It was a lucky chance because he's one of the best in his profession. We had a small a budget so money wasn't an incentive. Since he works in big productions, he's attracted to smaller productions because of the artistic challenges. When we discussed the film, he loved that I approached each scene as a canvas like a painting.
YR: How challenging was it to score the film?
AR: It's probably one of the biggest challenges that I had on both of my films. The use of music is very tricky, either too much or less. You can use a song more efficiently as I did with classic tunes from Ahmad Zahir and Parasto. I worked with a composer but didn't like it in the film because film has its own specific language so it's hard to score. If you use local or regional music, it overpowers the film and goes into folklore and could distract. So it has to work to enhance each scene on its own like every other element from production design to editing.
YR: Did the story of the mythical stone inspire to write the book?
AR: No. The story is known in many forms including poetry and songs from India to Iran and beyond. After I wrote the book where a woman is talking to a comatose man who's not responding, I saw the parallel and incorporated in the book.
YR: What do you want the audience to take away from this film, about the plight of Afghan people or Afghanistan in general?
AR: First of all I want to state that I'm not an expert on Afghanistan in anyway to make an statement of the politics, culture and religion. I'm just an artist with one specific story that interests me which shouldn't stand for nor represent the entire country or region. For example, if you read Anna Karenina by Leo Tolstoy, you don't think she represents all the women of Russia but her story can be related to women everywhere. The same is true for my characters, even though she's Afghan, it's one of many. Some will relate to her while others won't. It's a character that I created. That woman may exist or not all. I wanted to show the horrors of war and the effects of a system on a human being. The story is universal, it can happen anywhere. At the same time people are aware of the role and plight of Afghan women, so I wanted show that Afghan women are like all women, they have the same hope and dreams in life. The men are allowed everything but women are restricted and forbidden to pursue the basic needs like education which is not right.
Sony Pictures Classics released Atim Rahimi's The Patience Stone in NYC and L.A. theaters on Wednesday and will expand in the following weeks to come.