Supersize Me: Swanberg Remains Intimate Despite Bigger Budget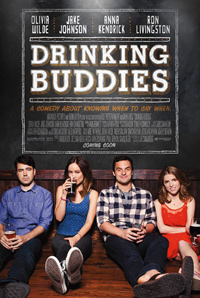 Harkening back to the studio system of the 1930s and 40s, the prolific writer/director Joe Swanberg has managed to direct 15 features since 2005, a staggering five of them released in 2011. Not without his detractors, his aesthetic has been lo-fi and the stories can be low-rent but each film has honesty, heart and feeling; Swanberg treats his characters with love and admiration, giving each story and character within them a voice, a direction and hope. With his new effort Drinking Buddies, Swanberg has graduated to using more notable actors (although many of his past collaborators are now notable themselves), a burgeoning cinematographer in Ben Richardson (Beasts of the Southern Wild) with a more upscale camera, but his personal, concise style of filmmaking still shines through.
The story unfolds in a Chicago brewery. Kate (Olivia Wilde) is the face of the company and drinking buddies with one of the brewers, Luke (Jake Johnson). Luke has been with Jill (Anna Kendrick) for years, their relationship solid and long lasting while Kate has been seeing Chris (Ron Livingston) for a far shorter period of time, their status much less certain. When Luke and Jill are alone, there is a facility and level of comfort only achieved after a serious commitment has been made, the time spent. When Kate drops by Chris's unannounced, he can contain his mild annoyance, just. Yet, neither relationship exhibits the true connection that pure platonic love brings out, that clearly visible between Luke and Kate.
Their friendship brings the two couples together and there is immediate tension flying around the room. Not only do Kate and Luke act as though they could be married, but Chris and Jill seem to be drawn to each other too. Sometimes opposites attract, sometimes familiarity and similarity overpowers. In either case, no one seems entirely sure of what it is they want.
The film was improvised, and in this context that means that Swanberg would give his actors the premise, the action of the scene, and allow them to work freely within it. This gives the film a lived-in, natural feel without forgoing the needed structure. Most of all, it lends an authenticity to the performances and even more so to the relationships between the characters which is not unlike his tonally similar 2007 film, Hannah Takes the Stairs.
Luke and Kate are "perfect" for each other. But Luke and Jill are perfect for each other. Watching these two relationships evolve, and devolve, is fascinating and a testament to the subtlety of Swanberg's direction. Luke and Kate's friendship is a study in the nuances and complexities of contemporary adult relationships, how two people who are not involved can become so close, perhaps too close, and yet not be right for one another. In Drinking Buddies, it's always more complicated than it seems.
Reviewed on March 9th at the 2013 SXSW Film Festival – Narrative Spotlight Section
90 Min