Interviews
This Month's IONCINEPHILE: Athina Rachel Tsangari
IONCINEMA.com's IONCINEPHILE of the Month feature focuses on an emerging filmmaker from the world of cinema. This March we feature Athina Rachel Tsangari, a filmmaker (and producer) whose sophomore film premiered at back to back major film festivals in Venice and Toronto in 2010. This month, Strand Releasing are finally putting ATTENBERG's film in theaters [9th]. Unfortunately we weren't provided with a top ten all time film's list (they change much like the seasons), but rather a collection of titles (see below) that have become important reference films, some dating back to her youth.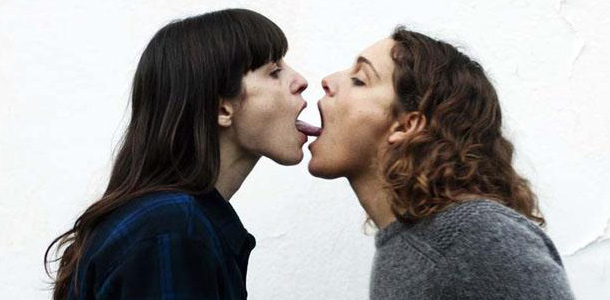 Eric Lavallee: During your childhood…what films were important to you and what were some of your related memories to early film watching?
Athina Rachel Tsangari: My cinema appreciation life began with subtitles on worn-out film prints with inaudible sound. There was a bizarre smell associated with cinema: honeysuckle mixed with grilled meat. I saw my first movies in open-air repertory theaters during endless, idle summers in the city. My parents were not believers in holidays. My sister and I were regularly dropped off to our neighborhood cinema for double features, armed with a bag of the Greek version of Cheetos. We sat religiouly in the third row. Front. Dead center. Without further ado, we entered into subtitle-speed-reading competitions. At the end of the summer, we tallied up the scores. She was younger, but she kicked my ass.
Here are some of my very early favorites: Mary Poppins, 2001: A Space Odyssey, Marx Bros.' Duck Soup, Jacques-Yves Cousteau's Calypso deep-sea exploration documentaries, Sydney Pollack's The Way We Were (age 11–we snuck in), John Schlesinger's Midnight Cowboy (yep… we snuck into this one too… our parents thought it was a Western — oh boy, was it worth it). A homemade brew of these random films' memory has been working its way in everything I do. Somehow.
Lavallee: During your formative years what films and filmmakers inspired you?
Tsangari: Through the subsequent endless, idle summers came into my life Cassavetes' Husbands, Godard's My Life to Live, Fassbinder's Martha, Anthony Mann's The Furies, Barbara Loden's Wanda, Shohei Imamura's The Vengeance is Mine, George Lucas' THX 1138, Robert Bresson's Au Hasard, Balthazar, Herzog's Even Dwarves Started Small, The Coen Brothers' The Big Lebowski, Paul Verhoeven's Starship Troopers, Tarkovsky's Stalker, Howard Hawks' Bringing up Baby, Gillo Pontecorvo's The Battle of Algiers, Monte Hellman'sTwo-Lane Blacktop, Tomás Gutiérrez Alea's Memories of Underdevelopment, Bunuel's Tristana, Peckinpah's Bring Me the Head of Alfredo Garcia, Altman's McCabe & Mrs. Miller. This is a list right now as I'm writing. Next week, it could be another one of equally admired heroes and pioneers. I often wonder if cinema now can be anything but self-referential and self-recycling, in the wake of a century-long history where it reached its peak and over-saturation really really fast, unlike its sister arts' long haul through the millennia.
Lavallee: At what point did you know you wanted to become a filmmaker?
Tsangari: I was giddy-happy to be a film viewer. Not for a moment did I consider moving to the other side. Maybe because in Greece, at the time, I wasn't aware of any girls making movies, and none of the movies I watched back then were made by girls. Then I saw Lina Wertmuller's Swept Away, and it got me thinking.
Just out of school, one summer night when my parents had run out of ideas on what on earth to do with me, I was shipped to another planet. Austin, Texas. Extraterrestrial language courses was the goal– in preparation for college. NUY. I was not ready for college, but I was ready for New York City.
I left my Austin dorm in a panic, hours after landing, thinking feverishly of a thousand ways to escape Texas. I called my boyfriend from a pay phone and begged him to save me. He was sound asleep. I hang up. Walked down the main drag, sweating like a pig, fuming in anger. I accidentally entered the set of Richard Linklater's Slacker, at the "Pier Paolo Pasolini Memorial Ballroom". I had bumped into a bunch of kids making a movie with their friends- they kept talking and talking and talking in front of a handheld camera which they told me was "16mm". There was all this talking. Had no idea what they were saying. Two days later, I was hooked and my language courses went to hell. Another foreign language had found an unexpected way to burrow under my skin. As an extra bonus, my English skyrocketed in zero time and with a cowboy accent. A month later I flew to NYC.
Lavallee: What is the genesis of ATTENBERG? And do you have a thing about nature documentaries?
Tsangari: I'd wanted to ask my dad if he ever imagined me naked, and I never dared to. I've since met families in the First World who walk around naked in their home, or skinny-dip, or brush their teeth in the morning in their underwear. And they are not necessarily hippies. In Greece, this is science fiction. That's how Attenberg began. I have tried to imagine him naked, my father, but in my fantasy, he is always a man without genitals. Then I thought of a daughter who does not want to have a vagina, and she will go to great lengths refusing that she was born with one.
Attenberg formed abruptly as a film that observes the human species as little animals who are scared of their reproductive system… Observing them in the manner of nature documentaries. Sir David Attenborough's documentaries move me to tears. I consider them highly poetic, scientific melodramas. The tension between emotional involvement and detached observation, between eros and thanatos, feminine and masculine "systems", nature and artifact, the taboo and the profane… all this. There was no psychology in our rehearsals, only biology.
Lavallee: What ideas did you have for the style of the film? What inspirations (other films, location, paintings etc…) did you draw upon for the look/style, aesthetics of the film?
Tsangari: I'm not interested in naturalism in cinema, although in literature I love Dostoyevsky, Balzac, Faulkner. Samuel Beckett, JG Ballard, Thomas Pynchon, Virginia Woolf are my big inspirations in palimpsest structures, subdued poetics, gray humor.
Attenberg's formal language followed intuitively the course of "nature" versus "naturalism". The camera could not move, it had to watch and dissect, except when the bodies moved through space, demanding to break loose. We watched Monty Python's Ministry of Silly Walks and interpreted them in our own silly ways, when we became impatient with dialogue stillness and felt like being utterly ridiculous, using limps and joints in unacceptable moving contortions. Almost everyone who's watched the film calls them "dances". They are not dances. They are two girls walking down a street… Father and daughter as gorilla and albatross… Two first-time lovers awkwardly attempting a sexual encounter.
Lavallee: For this final question, I'd like for you to underline three key people/departments that contributed the most in creating your film.
Tsangari: If I were forced to thank specific people in a public speech and was allowed a limited time of, say, one to two minutes, I'd be paralyzed, wishing of a thousand possible ways to disappear. I'm unable to single out 3 people from Attenberg's cast and crew. They all gave souls and busted asses, and that's how cinema works. It's collective labor.
ATTENBERG was selected for the Venice (where it won the Volpi Award for Best Actress) and Toronto Int. Film Festivals. The film is currently seeking a distribution deal for the U.S. Match Factory handles world sales.