8 Million Ways to Die | Blu-ray Review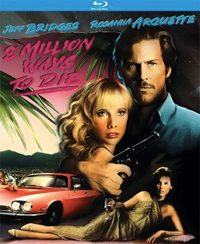 The only reality more mind blowing as concerns 8 Million Ways to Die, other than its unenthusiastically rendered characterizations from an sterling cast, is how it would end up being the swan song of Hal Ashby. One of the most notable contributors to the New American Cinema movement of the 1970s, Ashby's filmography during the period often netted his actors notable awards glory, though his auteurhood was overshadowed by peers like Robert Altman or Sidney Lumet (Ashby's own Oscar win was as Film Editor for Norman Jewison's In the Heat of the Night, 1967).
While his films were difficult to lump together thanks to Ashby's noted divorce from any one particular style or genre, the essence of his work during this period often deliberated the state of lonely American souls struggling to make or maintain connection in an increasingly alienating landscape, most terrifically in his signature Harold & Maude (1971). But the onset of the 1980s chilled many a celebrated director, (including Altman, with his infamous 1980 tackling of Popeye), but perhaps none to such a precipitous degree as Ashby, whose considerable addiction issues quickly eroded his reputation.
By 1986, he was a long way from his last notable effort (1979's Being There), and had been fired from 1985's The Slugger's Wife due to clashes with his interpretation (or divorce from) Neil Simon's script. He would also have his last film taken out of his hands in post-production, a neo-noir adaptation of a Lawrence Block novel (whose prose was not successfully mounted again until 2014's A Walk Among the Tombstones) about an ex-cop who agrees to help a comely hooker get free of her ruthless pimp, only to find himself embroiled in a dangerous mix of drugs and murder.
Disgraced and discharged following a tragic drug bust, LAPD officer Matthew Scudder (Jeff Bridges) nurses his yen for alcohol and takes on random, sometimes dangerous freelance work. While attending AA, he meets the aptly named Sunny (Alexandra Paul) who invites him to a party hosted by her slimy pimp, Chance (Randy Brooks), a man Scudder had arrested some years before. Scudder also meets Angel (Andy Garcia), a Cuban drug dealer whose harem is run by Sarah (Rosanna Arquette). After a rendezvous with Sunny, Scudder becomes convinced the woman is in danger, but after he offers to buy her off of Chance, she winds up murdered, leading the ex-cop into the arms of Sarah, who is in a similar situation.
The screenplay woes of 8 Million Ways to Die are impossible to overlook, as evidenced by the film's production history, which saw Oliver Stone's treatment railroaded by R. Lance Hill (under the pseudonym David Lee Henry), accounting for the film going significantly over budget for an expensive shoot-out in the finale. Purportedly, Robert Towne was brought into to doctor to the script, but an increasingly convoluted narrative is at odds with Ashby's attempts to have the cast improvise sequences. Instead, Towne seems to have been inspired from some of the elements of Block for his own directorial effort, a similarly high profile but B-grade 80s artifact, Tequila Sunrise (1988).
If 8 Million Ways to Die allows Andy Garcia to walk away with the film's only successful characterization as a sleazoid pimp and drug dealer, everyone else seems to be stumbling through the motions, particularly Jeff Bridges as the alcoholic Scudder. The actor never seems to be fully committed to any facet of Scudder's personality, either as a fallen cop or a sympathetic womanizer.
An unbelievable 'romance' with Rosanna Arquette (hot off Desperately Seeking Susan and replacing Jamie Lee Curtis) is how the film attempts to humanize his character, but instead succeeds in justifying its women as eternal victims in need of relief from the right kind of man. For instance, both Garcia and Bridges take pains to point out how Arquette "looks like shit" before attempting to secure ownership of her (perhaps best staged in a day time face-off where the two toughies munch on snow cones in a random parking lot and exchange flaccid jabs). Worst of all is Alexandra Paul as the tragic prostitute (think the Anna Levine character of Unforgiven) responsible for securing the film's only real dramatic catalyst, forced to utter the film's trashiest monologue about her pubic hair while she tries to unconvincingly seduce Scudder.
If the tone is never rightly established (despite a fitful score from James Newton Howard, who was married to Arquette), the promise of what 8 Million Ways to Die could have been remains lodged in its grisly, hardnosed narrative agenda. Had this been mounted a decade prior, it would have made a fine vehicle for Robert Mitchum as Scudder, with the women played by believable actresses (consider a Carrie Snodgress as the unfortunate Sunny and maybe Colleen Dewhurst as the ripe but grimly determined Sarah). However, such is not the case and 8 Million Ways to Die remains a missed opportunity on nearly every conceivable front.
Disc Review:
Kino Lorber presents Ashby's title as part of their Studio Classics, presented in 1.85:1 and mastered in HD. 1980s Los Angeles doesn't factor as significantly as one might hope in this bungled thriller, but the picture and sound are intact in this transfer. Kino includes an audio commentary track from film historians Howard S. Berger and Nathaniel Thompson as well as a variety of interviews with the cast.
Rosanna Arquette:
This five minute segment features Arquette, who cites Ashby as a favorite director of hers. She speaks briefly on the politics and drama going on behind the scenes, which she wasn't a part of.
Andy Garcia:
Garcia sits for this nineteen minute bit who speaks of how he had to prove he could do the role and wanted to work with Ashby.
Alexandra Paul:
Actress Alexandra Paul is on hand for this eleven minute interview and relates her involvement with the film. Usually cast as a girl next door, Paul shares some candid moments about the audition process, and preparing to play a cocaine addicted process.
Lawrence Block:
Author Lawrence Block shares his experiences writing his famed character Matthew Scudder in this thirteen minute interview.
Final Thoughts:
A far cry from Ashby's greatest works, 8 Million Ways to Die is perhaps only of interest to fans of its cast members as otherwise the film offers little by way of cinematic pleasure.
Film Review: ★★/☆☆☆☆☆
Disc Review: ★★★/☆☆☆☆☆