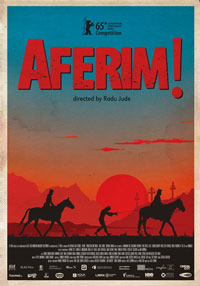 Romanian auteur Radu Jude enters the ring as one of his country's most accomplished new voices with third feature, Aferim! Its title an Ottoman Turkish expression meaning "bravo!" this velvety black and white period feature is set in early 19th century Wallachia as a more-or-less well-intentioned constable journeys with his son to retrieve a runaway gypsy slave who reportedly slept with his master's wife. As title and tone suggest, this initially poses as a droll, playfully stylized Western, but increasingly reveals itself to be a bitter, cynical remonstrance of a dark history with moralistic repercussions parallel to contemporary climates of unprocessed, under acknowledged resentments. Jude tied for Best Director following the film's premiere at the 2015 Berlin International Film Festival and the film was Romania's official submission for Best Foreign Language Film.
In 1835 Eastern Europe, gendarme Constandin (Teodor Corban) and his teenage son Ionita (Mihai Comanoiu) have been ordered by a boyar (a landowner) to track down a Roma (gypsy) slave named Carfin (Cuzin Toma) who was accused of seducing his master's wife. As they make their way over the terrain, a particularly pronounced social order reveals itself, with Constandin aggressively questioning (and demeaning) random peasants in their path. While the population is still largely Ottoman, the law of the land belongs to Russia, while a smattering of Jews, Hungarians, Turks and Christians reside alongside one another in bitter, derisive conflict. Upon finding Carfin (hiding in a peasant household featuring nominal roles for Luminita Gheorghiu and Victor Rebengiuc), father and son make their way back to the vicious landowner (Alexandru Dabija), but find they are becoming sympathetic to Carfin's side of the story. Eventually, not even they can imagine the atrocious punishment awaiting the potentially innocent slave.
Jude's film is only the second film (the first is a lost silent film made in 1923) to deal directly with the Roma slave period, which lasted until 1856. Filmed in striking black and white, DP Marius Panduru (reuniting with Jude from 2009's The Happiest Girl in the World) films most of this in long shot, meant to capture and convey the larger scope of the narrative. As such, we don't get to see many detailed close-ups of Corban (a well-known supporting actor who has been featured in films by Mungiu and Porumboiu) or the actor playing his son. Instead, we're left to rely on their hapless interactions, which usually involve Constandin schooling his son in the ways of the world by inflicting verbally abusive insults ("I'll kill you like sparrows!") at everyone they come into contact with. This lends the film a rather subversive comic edge, as equally evidenced in Jude's previous features, including the dysfunctional family saga Everybody in Our Family (2012). Jude supplies his constable with a bevy of memorable one-liners, mostly born out of his religious, ignorant worldview, one of the most withering being, "In the ass of the humble, the devil sits cross-legged."
Eventually, besides establishing the problematic historical developments which informed the tumultuous foundation of Romania, Aferim! charts a familiar dynamic with Constandin and his captive, with striking similarity to something like Hal Ashby's The Last Detail (1973), wherein two Navy men escort a prisoner cross country to face a punishment they don't agree he deserves. Jude's film is much more wildly cynical ("you can't feed the wolf and save your lambs"), exuding a caustic, pointed honesty until it delivers us into a traumatic finale (one which loses none of its repellant power on a rewatch). The sobering conversation between father and son as they walk off into the end credits attempts a prescience which is obvious but avoids feeling fallacious. "We live as we can, not as we're meant" he gently explains through, predicting a future glory based on their noble actions, fading into cruel facetiousness.
Disc Review:
Big World Pictures' release is the first of the auteur's features to receive domestic distribution, so thanks is certainly due). On the DVD version, picture and sound quality are dependable and there's clarity to Panduru's expansive frames. An extra morsel is included as the solo bonus feature, Jude's 2006 short film "The Tube with a Hat," which won the International Short Filmmaking Award at the Sundance Film Festival.
The Tube with a Hat:
Jude's first short was this twenty-five minute title about a boy who convinces his father to go into town to fix their TV. A short road movie as they trek through dismal weather looking for a certain specialist who can get the job done is a bonding film about the small joys in life.
Final Thoughts:
Eccentric, absurd, and ultimately a brutal portrait of late-Feudal Europe, Aferim! is a deservingly lauded calling card for Radu Jude in his increasingly formidable filmography.
Film Review: ★★★★/☆☆☆☆☆
Disc Review: ★★★/☆☆☆☆☆