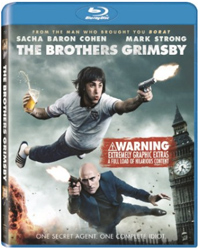 Not even the promise of a highly touted pachyderm gang bang was enough to generate box office appeal for Sacha Baron Cohen's latest vehicle, spy farce The Brothers Grimsby. Landing in the top 50 of the worst openings at the box office of all time, the Louis Leterrier directed comedy only recouped twenty-five million on its thirty-five million dollar budget, with only about seven million earned domestically. The broad, adolescent minded comedy pales in comparison to other, similarly themed recent fare, like the 2015 Melissa McCarthy comedy Spy (which raked in two-hundred and thirty-five million dollars), and doesn't bode well for future headlining ventures from the once lucrative Cohen.
Buffoonish soccer fan Nobby (Cohen) reunites with his estranged brother of twenty-eight years, Sebastian Grimsby (Mark Strong), a man who happens to be a super-spy working for an offshoot program of MI6. Through a series of bungled efforts, the two brothers find themselves being hunted by Sebastian's agency while trying to unveil a nefarious plot involving the assassination of a Princess Di-type human rights guru, Rhonda George (Penelope Cruz).
Thankfully, Cohen and his co-writer Phil Johnston (the writer of Zootopia and Wreck-It Ralph returning to the devilishly adult vein he first hinted at in 2011's Cedar Rapids) have enough sense to zip through the utterly ridiculous set-up, glancing swiftly over its own rudimentary flashbacks, mostly included solely as punch-lines. Before the credits roll, we're already into the narrative's main thrust, a reunion of two estranged brothers who become embroiled in clichéd conspiracy to stop an imminent act of terror (strangely, similar in origin to Kingsman: The Secret Service, which also featured Strong). To focus on the film's synopsis only conveys how useless and stupid it is, but it manages to create some perverse magic along the way, particularly for covering new ground in interspecies sexual shenanigans and uncomfortable uses of the anal cavity.
We've seen Cohen play these odd social misfits time and again, usually as an ethnically questionable foreigner navigating conservative social customs (Borat; The Dictator) or, more provocatively, masquerading as a flamboyant gay man through America's various armpits of homophobia in Bruno. The Brothers Grimsby doesn't have the same obvious agenda as Cohen's trio of Larry Charles directed films (fans of Fast & the Furious or Donald Trump be damned), thus making it nearly an anomaly in Cohen's representations—but not quite.
Most of the other cast members, including Mark Strong, are utilized solely to assist their lead showman. Several of them do nab a laugh here and there, though sometimes they're the troubling butt of the joke, such as Rebel Wilson as Cohen's white trash, incredibly fertile wife, or Gabourey Sidibe as another dubiously accented maid. Penelope Cruz is on hand for some surprise uses, as well. Others, like Ian McShane, Isla Fisher, and a weirdly neglected Tamsin Egerton, make little impact.
Specifically calibrated to be politically incorrect, The Brothers Grimsby continues a current trend of avoiding blatant homophobic tendencies (despite its random tangent involving Daniel Radcliffe and an offensive, exploitative AIDs punchline) in favor of more subtly demeaning women and the ignorance of Britain's working class. But really, the biggest complaint against the film is how consistently low-grade it is compared to Cohen's previous satires, making it an easier target than it should be for dismissive, critical contempt.
Disc Review:
The Sony Release gets the usual Blu-ray packaging treatment with a digital download option, presented in 1080p High Definition 2.39:1. As is par for the course with this particular genre, the items of most interest generally exist with the bonus options, of which there are many (including what's referred to on the disc as "Blu-ray Exclusives").
The Making of The Brothers Grimsby:
This eleven minute making of featurette features producers, cast, and crew speaking about the film in-between brief clips and set footage.
Line-O-Rama – Hilarious Outtakes:
Two-and-a-half minutes worth of outtakes are available.
Deleted & Extended Scenes:
Three deleted scenes (about nine minutes worth of footage) and thee extended scenes (including more from inside an elephant's vagina) are included.
Blooper Reel:
Another two-and-a-half minutes of more outtakes are strung together for a gag reel.
The Elephant in the Room:
This four minute segment focuses specifically on the film's most infamous sequence.
Final Thoughts:
Like a Leslie Nielsen slapstick spiced up with heroin and Viagra, The Brothers Grimsby will probably find its core audience at Redbox stations and late night cable re-runs.
Film Review: ★★½/☆☆☆☆☆
Disc Review: ★★★/☆☆☆☆☆