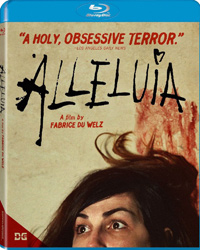 After premiering in the Directors' Fortnight sidebar at the 2014 Cannes Film Festival, Belgian auteur Fabrice du Welz's excellent fourth feature Alleluia went on to play in the esteemed Vanguard lineup in the Toronto International Film Festival before nabbing Best Actor and Actress awards at Fantastic Fest for superb performances from Laurent Lucas and Lola Duenas. Although this didn't translate into notable box office profit for US distributor Music Box Films (released in mid-July for a limited theatrical run, the title didn't crack ten grand in its paltry five week run), du Welz's beautiful cult-classic in the making will eventually secure a greater following. A recent Blu-ray re-release of Criterion Collection's presentation of the 1969 Leonard Kastle film, The Honeymoon Killers, based on the same romantic killing spree, should funnel some attention to it, as well as du Welz's break into English language in 2016 with his next title. However, considering its familiarity, du Welz takes the overwhelming onslaught of amour fou and makes into his own brand of magical macabre.
His first film since 2008's underappreciated Vinyan, the Belgian director debuts the second installment in his proposed Ardennes trilogy. His 2004 directorial debut, Calvaire (aka The Ordeal) depicted a rather hellacious account of a singer whose car breaks down in the middle of the woods, stranding him in the midst of a very strange and terrifying rural community. Here, Du Welz bases his latest madness on the true account of serial killing couple Martha Beck and Raymond Fernandez, a case that famously inspired the 1969 film The Honeymoon Killers and 1996's Deep Crimson, amongst others. But Du Welz hardly unveils a simple account of unhinged, obsessive love. His is a demonic hymnal of passion, a darkly droll exercise in the delusory notion of love as an unhealthy obsession told with aggressive flourish. But at its prominent dark heart is an utterly captivating performance from Spanish actress Lola Duenas.
Divided into four distinct parts, each named for a new female character introduced in each segment, we begin with the introduction of Gloria (Lola Duenas), a single mother whose last relationship didn't end well. We meet her at work, a morgue attendant who washes the bodies of the dead. Her best friend sets up a date for her via an online ad, and Gloria reluctantly meets Michel (Laurent Lucas), a rather strange man who believes he can put spells on his dates before meeting them by burning their picture and engaging in a secret ritual. The date goes so well that the duo is immediately consumed in the throes of passionate congress, which leads to Michel staying at her place and asking Gloria to lend him some money for a business related event. Gloria does so without question, but soon finds that Michel is a con artist when he fails to return her calls, leading her to stalk him.
After confronting him, Gloria confesses she is so in love with Michel she would like to accompany him on his cons. Gloria poses as Michel's emotionally troubled sister, yet their barely concealed intimacy causes immediate suspicion. The smitten woman, who unloads her daughter with a close friend, quickly realizes she can't stand the thought of Michel sleeping with other women, leading her to murder their first target, a lonely old spinster Michel marries. The duo tries to contend with Gloria's jealousy and Michel swears off sleeping with their targets. But making emotionally vulnerable ladies fall in love without sex proves to be quite difficult, leading them into a repeated series of murderous situations.
Excitingly, Du Welz reunites with Lucas, who headlined Calvaire (and who will hopefully return for the third thematic installment). Lucas, who has built an impressive resume of offbeat, fascinating fare with the likes of Bonello's Tiresia, Marina de Van's In My Skin, and Dominik Moll's Lemming, takes a back seat here as the more than willing love slave to Duena's unhinged Gloria. At each kill, he is rendered useless in the wake of her uncontrolled rampages. That is until the very last chapter, when the aggravated Gloria demands an act of violent retribution shocking even by her standards.
While Lucas deserves kudos for a pair of extremely uncomfortable sexual encounters, Duenas owns this film. An actress perhaps most recognizable for her work with Pedro Almodovar (she last appeared in his breezy I'm So Excited), she sometimes blends into the background of the supporting milieu. Not so with Alleluia, in a performance that is a force of nature. Think Shelley Winters' love starved Charlotte Haze turning the tables on the hyper civilized Humbert Humbert, so obsessed she'd agree to play second fiddle (in theory) to conning a series of rich women for profit. Except that jealousy proves to be an incompatible Achilles heel. Du Welz gives her plenty of hysterical moments, including a dip into a musical cue that plays like a horror version of Jacques Demy.
Co-written by Vincent Tavier of Man Bites Dog fame, the film was shot in gloriously grainy 16mm, with a striking visual design from cinematographer Manuel Dacosse, who last worked on the brilliant spectacle of The Strange Colour of Your Body's Tears.
A series of rich textual detail tend to lend the film additional weight, including reference to Michel's favorite actor, who happens to be Humphrey Bogart. A spontaneous date takes the couple to see The African Queen, introducing the birth of a unique in-joke that becomes a running gag throughout (while surely having the character Solange reading a novel by Georges Simenon isn't without purpose). Likewise, a hypnotic montage of the murderous lovers dancing naked around a bonfire, their figures in glowing shadow as they carouse like animals in heat, will surely burn itself brightly into your subconscious long after the credits roll.
One can't help but laugh at the point early on when Gloria's close friend tells her, "You look strange," and we gaze into the glazed eyes of Duenas, who can only profess that love is the best feeling in the world. Theirs is a love of unhealthy obsession, related with hysterical, unforgettable flourish that manages to remain eerily believable as it does profoundly strange.
Disc Review:
Music Box presents its untapped resource in 2.35:1 and du Welz's efforts to shoot in 16mm have not been lost. Several extra features enhance this packaging, making this the most respectable release yet for one of the director's titles (following the maligned release of 2008's Vinyan and the debacle of 2014's Colt 45, which still has not seen a US release), and he's on hand for optional commentary.
Home Cinema Episode:
This near half hour feature is comprised of a conversation between du Welz and fellow Belgian auteur Jaco Van Dormael discussing cinema.
Shooting Alleluia:
This ten minute segment contains behind the scenes footage of the making of the film.
Cut Scenes:
Seventeen minutes of cut scenes are spliced together for perusal.
Setting the Scene:
This two minute segment features crew interviews concerning the making of the film, including production designer Manu de Meulemeester who speaks on du Welz's somber tones.
Cast Interviews:
Three interviews are included with Duenas, Lucas, and Helena Noguerra, all together about fifteen minutes of footage.
A Wonderful Love:
This twenty-two minute short film is du Welz's first live short film features character actress Edith Le Merdy (she makes a brief appearance in Alleluia and also is a favored cast member in Olivier Dahan's French productions) as a strange woman who has significant issues interacting with men. But on this particular day, her birthday, she decides she'll have to do something to change all that. Gruesome and dark, it's a great find for du Welz fans.
Final Thoughts:
Of du Welz's four features, Alleluia is his most internationally renowned effort since his 2004 debut, Calvaire, coincidentally the first chapter in this proposed Ardennes trilogy. Though we'll have to wait for du Welz to cycle through a few more titles before he completes this loose thematic triptych, this second chapter announces du Welz as one of the leading, heretofore underappreciated new voices in offbeat genre cinema.
Film Review: ★★★★½/☆☆☆☆☆
Disc Review: ★★★½/☆☆☆☆☆