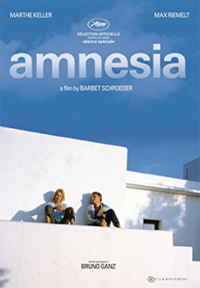 Earning a paltry five thousand at the US box office following its limited late July 2017 theatrical release courtesy of Film Movement, Barbet Schroeder's latest narrative feature Amnesia gets a rapid home entertainment release on DVD. After premiering out-of-competition at the 2015 Cannes Film Festival, Schroeder's quietest and most personable narrative venture to date may inspire its titular condition, at least as pertains to its shelf-life.
In an intriguingly varied career, which was kick started during the early days of the Nouvelle Vague when he starred in and produced titles by Eric Rohmer and Jean-Luc Godard, Schroeder's filmography reflects a haphazard cultural influence, perhaps no more evident than in his own directorial output, beginning with 1969's More. Moving freely between documentary and narrative filmmaking, Schroeder received his greatest renown in the 1990s, with the Claus von Bulow saga Reversal of Fortune (which won Jeremy Irons his Best Actor Academy Award) and the now iconic thriller Single White Female (1992).
After languishing a bit too long in Hollywood through the rest of the decade, Schroeder would take several years between flurries of prolific output. His latest feature is perhaps his quietest, slightest narrative happening to date, with a title evoking more of a wish fulfilment concerning Germany's collective unconscious than the actual medical condition. Purportedly based on the experiences of his own mother, the film focuses on a reclusive older woman in Ibiza who is forced to revisit a painful past when a younger man saunters into her wake.
Just after the fall of the Berlin Wall, Martha (Marthe Keller) finds her lonely idyll in Ibiza interrupted by the arrival of a new neighbor, the much younger Jo (Max Riemelt), who works as a DJ at a club called Amnesia. The prickly woman is disarmed by the charming man, who engages her with his process of composition after explaining his dreams to make it in the electronic music industry, a facet of the island's youthful party culture. They correspond affably in English until Jo discovers Martha is also German, which causes him pause. Explaining how she refuses to speak her native tongue due to what happened during WWII, her own beliefs and judgments are put to the test at the arrival of Jo's relatives.
Fittingly, Amnesia is perhaps most comparable to Schroeder's debut More, another musically influenced narrative about hippies faced with their own dilemmas in Ibiza. Both titles screened at the 2015 Cannes Film Festival, where the latter received its world premiere out of competition (while it's taken two years to reach theatrical release stateside, Schroeder's last feature, 2008's Edogawa Rampo adaptation Inju: In the Shadow of the Beast never received US distribution).
Amnesia, which may be the name of the club where Jo plies his trade, is more a statement of the cultural fugue which engulfed Germany in the decade after WWII, and the stunning resistance to acknowledging Nazi atrocities during the country's reconstruction era (for a recent reenactment of this struggle, 2014's Labyrinth of Lies does a fine job of formulating the tone of the era). If there's any mystery to Amnesia, it's slight, as Schroeder takes pains to paint Martha's elusively in terms as sterile and innocent as her alabaster façade.
Rarely has a Schroeder narrative seemed so amiable, on the other hand. One may spend the first hour of Amnesia waiting for some kind of quid pro quo weirdness or dangerous tête-à-tête, the usual happenings between his leads, like the toxic roommates of Single White Female, the dominatrix and her lover in the fantastic Maitresse (1975), the detective and the killers in Murder by Numbers (2002), or the teenage assassin and his older lover in Schroeder's guerilla style Our Lady of the Assassins (2000). Such a situation never occurs in what plays almost like a dialed down version of Polanski's Death and the Maiden (1994), where survivors from a deranged era meet and discuss painful notions of truth. Riemelt's Jo (best known for "Sense8" and the recent Berlin Syndrome) plays like a cypher, an uncharacteristically easygoing DJ (whose skills are about as verifiable as the Steve Guttenberg character in Can't Stop the Music, 1980) whose attraction to Martha remains purposefully vague.
As the inscrutable Martha, Swiss actress Martha Keller remains a ravishing cinematic fixture, although conversations about the performer have never been able to neglect mentioning the height of her influence in 1970s English language cinema, particularly Schlesinger's Marathon Man (1976). However, Riemelt and Keller's dynamic is also enhanced by their actual position in cinema, sniffing out their cultural identity through the safe zone of English. But Schroeder's major pay off comes with the arrival of Bruno Ganz (also Swiss), appearing as Riemelt's grandfather, a man with a treasure trove of WWII stories with which he entertained his grandson throughout the years. Upon meeting with Martha, it doesn't take long for a caustic verbal spat and a direct accusation to lead to the film's finest moment, courtesy of Ganz.
Through the use of music, mainly blending Jo's techno beat with Martha's classical influences, the underlying message seems to suggest it takes a blending of the past and present to move forward.
Disc Review:
Film Movement unleashes Amnesia on DVD only in 1.78:1 widescreen with 5.1 surround sound. Picture and sound quality are serviceable (it's difficult to make the glaring serenity of Ibiza look inconsequential) in this transfer. The release includes Film Movement's usual pairing of an unrelated short film, but otherwise arrives sans extra features.
Your Mother and I:
Anna Maguire's short film "Your Mother and I," which features Don McKellar and is based on a Dave Eggers story, is included.
Final Thoughts:
A sometimes clunky and overly loquacious examination of repressed memories and historical atrocity, Amnesia features a warm performance from Marthe Keller.
Film Review: ★★★/☆☆☆☆☆
Disc Review: ★★★/☆☆☆☆☆