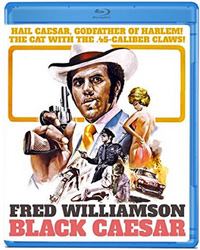 Cult director Larry Cohen's sophomore feature, Black Caesar gets a Blu-ray treatment courtesy of Olive Films. One of two bona fide Blaxploitation efforts Cohen made with Fred Williamson before lurching into the upper echelon of cult genre with his notable guerilla techniques, this basic reworking of 1930s gangster films, (borrowing from items such as Mervyn LeRoy's iconic presentation of Edward G. Robinson in Little Caesar) displays a bit more integrity in its characterizations than many of these exploitation efforts lack. Reworking a familiar bildungsroman trajectory, Cohen positions his protagonist as an opportunistic product of his environment, leaving us with a moral uncertainty as his hero is completely consumed, an inevitable result of continued sustenance from the gutter. By today's standards, it's incredibly problematic rendering of urban certainties has the tendency to repulse, and yet Cohen instills Williamson with a bit of presence and dignity often lacking in other Blaxploitation films from white directors (such as the handling of Pam Grier in several Jack Hill titles).
Young Tommy Gibbs (Fred Williamson) grows up in Harlem's ghetto, shining shoes until he snags a job as a runner for the mob. An encounter in with a racist cop (Art Lund) ends with a broken leg for Tommy when he's accused of stealing money. Over fifteen years later, Tommy inserts himself as a major player in the Italian mafia by usurping a hit and maneuvering his way into their territory. Soon, he's granted control of Harlem, which is initially a plus for the black populous. However, power soon starts to warp Tommy's sensibilities and he begins to exact power and control in similar fashion as his white predecessors.
Violence and the detrimental effects of dependence upon it knows no racial bounds, and there's an enjoyably gritty quality to Black Caesar thanks to Williamson's increasingly smug performance. Women hardly factor into the scenario at all, though Gloria Hendry pops up as a chanteuse who brings about Gibbs' downfall in the third act. Previous to her use as a catalyst, however, she's merely a pretty face that gets pushed around against her will, her career and eventual children used to force her hand. Art Lund is supremely effective as a sweaty, racist cop, but Cohen's rise and fall of a gangster doesn't seem quite as provocative as it might once have. However, its ironic final moments remain effective, even if Williamson's morally compromised character doesn't remain entirely empathetic.
Disc Review:
Olive doesn't include any extra features on Cohen's classic, presented in 1.85:1 in a plainly administered transfer. Compared to other recent Cohen Blu-ray transfers (the nicest thus far being Arrow's Region 2 version of The Stuff), it's not a celebratory package, but it's a nice start for an underrated title. No extra features are included.
Final Thoughts:
With its initial success spurring Cohen and Williamson to reunite for the loose sequel Hell Up in Harlem (released the same year), Black Caesar is an interesting artifact both as a Blaxploitation effort and an early work from Cohen (who cut his teeth with the strange 1972 Yaphet Kotto thriller, Bone).
Film Review: ★★★/☆☆☆☆☆
Disc Review: ★★★/☆☆☆☆☆