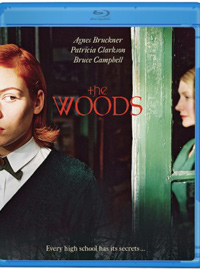 Horror director Lucky McKee unfortunately remains one of those unknown, peripheral genre names, mostly thanks to a number of compromised or abandoned projects following his formidable 2002 debut, May. Over the past several years, he's made headlines for 2011's The Woman (another underrated gem from his filmography), and most recently the co-directed effort All Cheerleaders Die in 2013, an expansion of his 2001 short film, which is more or less the comically inclined romp you'd assume it to be. Prizing complex female characterizations, usually featuring muse Angela Bettis, McKee's twisted visions, though few and far between, are enjoyable and entertaining, usually enhanced by a bit of subtext. About a decade ago, McKee's sophomore feature, The Woods, would finally land on DVD in the US following a limited festival circuit run, treated to a torturous release platform despite featuring several notable cast members. A period piece set amongst an all-girls boarding school harboring an insidious coven of witches, it features McKee's predilection for homosocial female bonding, though ultimately suffers from an anticlimactic finale and a rather unremarkable female lead.
Troubled teen Heather (Agnes Bruckner) is whisked away to the isolated Falburn Academy in 1965 New England, following an accidental house fire thanks to her tendencies for arson. Her parents (Bruce and Emma Campbell) seem eager to unload her at the school, run by a friendly but conservative dean, Mrs. Traverse (Patricia Clarkson). Heather begins to have nightmares, but begins a reluctant friendship with outcast Marcy (Lauren Birkell), which makes them both targets for the ire of school bully Samantha (Rachel Nichols). But there's something 'special' about Heather, which is what grants her the ability to attend the academy through a particular scholarship program, requiring lots of private meetings with Mrs. Traverse.
As The Woods was going into production, it reached its first developmental snag when director M. Night Shyamalan's 2004 film The Village was trying to usurp McKee's title. Unfortunately, McKee's film would take years to see any kind of release. The film doesn't feature Angela Bettis, perhaps too old to play the main protagonist. However, budding star at the time, Agnes Bruckner, doesn't demonstrate the necessary screen presence to make this scenario work, especially opposite the cool menace of a winning Patricia Clarkson. Bruckner would go on to headline several other features with the same flaccid energy, from Mary Harron's infamous Anna Nicole Smith Lifetime film to Jamie Babbit's rather unfortunate 2012 film Breaking the Girls.
Despite this slight, the main reason to revisit the film is for Clarkson's more complex characterization as a manipulative headmistress seeking out a new acolyte for her dwindling school, a vaguely outlined scheme (another narrative aspect that suffers from a lack in the script that cannot be filled with Bruckner's rather unenthusiastic rendering). It was a particularly prolific period for Clarkson, following a recent Oscar nomination for Pieces of April (2003), a recurring role on HBO's "Six Feet Under," and supporting roles in daring art house fare like Von Trier's Dogville, and the underrated Craig Lucas film The Dying Gaul (2005).
One gets the sense that McKee's subtext on sexuality (explored to great effect in May) was severely tweaked here, a staple motif of boarding school genres. It's clear we're meant to assume a mutual attraction between Marcy and Heather, but it's reduced to the rather telling montage where the loaded use of Lesley Gore plays bitingly over a series of banal schoolgirl interactions. Though The Woods is hardly the sumptuous spectacle of something like Argento's Suspiria, it lies somewhere in-between a wide spectrum of similar tales of supernatural boarding school films, better than Mary Harron's The Moth Diaries (2011) but with less narrative surprise than Hilary Brougher's equally uncertain Innocence (2014). But fans of Bruce Campbell should enjoy a small handful of scenes featuring the Evil Dead icon, lending The Woods a bit of intentional mirth.
Disc Review:
As usual, Olive Films doesn't provide any frills for this Blu-ray presentation, though at least this gives audiences opportunity to revisit a neglected title from an incredibly talented filmmaker. Granted the usual 1.85:1 aspect ratio, it's a serviceable transfer, and DoP John R. Leonetti's (Insidious, 2010) features a bit of playful framing with sequences offering otherwise predictable information.
Final Thoughts:
Though not as effective as McKee's May or The Woman, The Woods is a solid sophomore feature (and actually saw release the same year as his lone "Masters of Horror" episode, "Sick Girl") and worthy of a better reception than it initially received.
Film Review: ★★½/☆☆☆☆☆
Disc Review: ★★★/☆☆☆☆☆