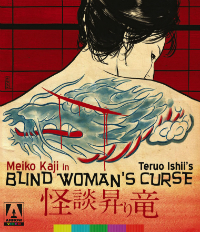 Equal parts yakuza revenge picture, sexualized exploitation romp, bakeneko (or ghost cat horror flick), and absurd comedy, Teruo Ishii's bizarro Blind Woman's Curse refuses to settle into categorization. Following on the heels of his much talked about Joys of Torture series which ran 1968-69, Ishii made this in addition to three other features in 1970. Sporting an inexhaustible work ethic and a taste for both the violent and absurd, one might say he is the direct predecessor of modern ludicrous Japanese cinema, Takashi Miike. It's telling then that Arrow Films, an upscale UK home release distro who specialize in genre films, are just now making their way to US soil with releases (amongst others) of both Ishii's ghost cat/yakuza mash-up film and Miike's completely insane murder musical The Happiness of the Katakuris.
Before going on to silver screen immortality in Lady Snowblood and Female Convict Scorpion, the one and only Meiko Kaji took her first leading role here as Akemi, the steely leader of the Tachibana gang who's been cursed by a black cat after blinding the daughter, Aiko (played by the oddly unscarred Hoki Tokuda) of a rival gang boss. The narrative unfolds, or I should say, unravels from there, seeing members of her gang, each of whom bear a tattooed piece of a dragon that coalesces as one only when its members come together in combat, taken out one by one by Aiko and the various gangs who try to impose upon Tachibana territory.
With henchmen pitting multiple gangs against one another while others gleefully appear clad in carnivalesque pastel garb complete with bowler hat, hippy sunglasses and a bright red, ass bearing loin cloth wholly superfluous to the narrative, yet bizarrely fitting in the grand scheme of things, the tone begins to wobble wide and deep into the absurd. There are even rather stale running jokes about the most colorful boss smelling bad, but being true of heart.
Even more odd, a travelling burlesque show features Aiko as a blind knife thrower, as well as an unsettling hunchbacked performance artist, played by real life experimental dancer Tatsumi Hijikata, who turns out to be Aiko's own mischievous partner in revenge. Contorting his already deformed body and sopped nest of hair while heinously giggling to camera after decapitating the already dead body of the reformed elderly uncle of the Tachibana gang, the hunchback takes the Ishii's film into true horror territory, predating the ghostly drenched contortionists of millennial j-horror such as Ringu or Ju-on.
But what's more surprising about this roarous genre stuffed nonsensical soup of a film is its unequivocal feminist perspective and optimistic outlook. Throughout the picture, women take charge, direct orders, and generally remain the sole narrative propulsion, while men ceaselessly foul things up, act like narcissistic pigs or – the one's in possession of good hearts – are keen on cooking and serving the women in their lives. By film's end, all but one of the blade bearing, tattoo toting members of the Tachibana gang are women, and even the final showdown sees one woman sensitively sparing another out of respect for her good heart, almost as a cinematic female super-sense. While Blind Woman's Curse rides a swelling wave of ridiculousness, it is this progressive notion that keeps its head well above water.
Disc Review:
As they've just begun to release in the US, this is my first experience with Arrow Films, and what a first time experience it has been! Arrow is undoubtedly the Criterion Collection of genre film for sure. Lavishly packaged with reversible artwork sleeve, this dual format release sees Ishii's film dressed up as near to perfect as it's ever likely to get. Sporting incredible textural detail, thick film grain and even authentically grindhousey film reel cigarette burns, it looks quite good. There are instances of softness throughout, more likely to the film's production than the transfer. Audiowise, the film sports an HD mono track that sounds like its post synced dialogue was quite rough around the edges to begin with, but is now as clean as its likely to be, though Hajime Kaburagi's memorable score sounds quite good, prominent in the mix.
Audio commentary with Japanese cinema expert Jasper Sharp
Armed with an incredible knowledge of Japanese cinema, Jasper dispenses a wealth of history behind the pictures making, the filmmakers themselves and the many actors that grace the screen
Theatrical Trailers
Along with Blind Woman's Curse, were are privy to trailers for four of the films in the Meiko Kaji-starring Stray Cat Rock series.
Booklet
Featuring a lengthy essay by Japanese cinema expert Tom Mes, this little booklet is packed with lovely film stills, credits and transfer details.
Final Thoughts:
My first experience with both Teruo Ishii and Arrow Films has been an absolute blast. Inundated with gratuitous violence and unrelenting absurdity,  Blind Woman's Curse is pure genre fun that comes stacked with scholastic goodies in a classy little package thanks to its meticulous distributor. Who doesn't love a solid yakuza ghost story splatter romp?
Film:    ★★★/☆☆☆☆☆
Disc: ★★★★/☆☆☆☆☆