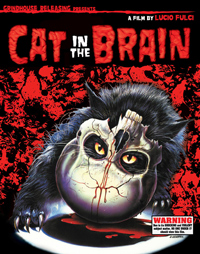 Director Lucio Fulci, the oft designated Godfather of Gore, starred as himself in one of his final efforts, the infamous Cat in the Brain, which received a theatrical re-release earlier this summer courtesy of Grindhouse Releasing. It's difficult to imagine any other distribution label tackling late period Fulci, a director clearly intent on maximizing the shock value from an otherwise mundane scenario. With a title meant as a play on the popular Dr. Seuss children's book Cat in the Hat, this ultra-violent, fantastically gory outing is basically a string of graphic sequences meant to disturb or nauseate, relegating this bit of extremism as a niche artifact rather than ranking alongside some of Fulci's most inspired titles from his heyday a decade or so earlier with The Beyond (1981), or even the popular Zombi (1979).
Fulci stars as himself, a horror director who begins to experience horrific visions only he can see as he makes his new film. Meanwhile, murders are happening all over Rome modeled specifically after moments from his films, which leads him to doubt his own sanity. After wrapping his latest film, he continues to be plagued by visions, his sleep interrupted. Discovering one of his neighbors is a psychiatrist, Fulci begins to see Professor Egon Schwarz (David L. Thomson). It is deduced the director has an identity crisis, but things get worse work when Fulci apparently cracks under pressure after being forced to put the finishing touches on his film Touch of Death and simultaneously begin a Nazi horror film called Ghosts of Sodom.
Whether you're grimacing or giggling, Cat in the Brain isn't entirely void of entertainment value, and it is sort of enhanced by a meta examination of the effects of graphic violence on the minds of its own makers. But then, the extreme lack of subtlety in every possible regard doesn't make this reason enough to champion the film or point to any sort of psychological finesse.
The initial script was reportedly a clutch of incredibly violent sequences, the rest of the narrative injected as it went along, and this is supremely evident from opening moments with a random feline poking around in a wet, mushy pile of hamburger meat meant to be brains before a man saws all the limbs off a plastic corpse in a scene being filmed for Fulci's latest film. But despite a towering assortment of horrifically violent moments (albeit nearly always utilizing practical special effects which seem a bit frugally administered and cobbled together from his past filmography, mainly 1988's Touch of Death, which accounts for the extended appearance of Brett Halsey), Fulci never tops the insane heights reached a decade earlier with something like Contraband (1980), which features a lengthy sequence wherein a woman who gets her face burned off with a blow torch as punishment for passing bad drugs.
Disc Review:
Grindhouse Releasing presents a zealous new restoration of the original, uncensored director's cut of Cat in the Brain. The high definition digital restoration is presented in 1.66:1. Picture quality is surprisingly robust, but the audio, particularly dialogue featuring the dubbed over Fulci, is sometimes muffled or easily obscured. A bevy of extra features accompany the generous Blu-ray release, including an extra CD containing Fabio Frizzi's original motion picture soundtrack from the title. Also included is a whole bonus disc of extras.
Have A Nice Vacation, Doctor Fulci!
A half hour segment features screenwriter Antonio Tentori, discussing how he came to work with Fulci as well as the metaphorical subtexts of the title.
A Nightmare in the Brain:
DP Sandro Grossi is on hand for this half hour venture, who also begins with his love of cinema as a child and progression into working with Fulci.
Frizzi & Fulci:
Composer Fabio Frizzi is interviewed in this half hour segment on his working relationship with Lucio Fulci.
Fabio Frizzi – Live in Hollywood:
Frizzi appears in this seven minute video filmed October 2, 2015 at Beyond Fest in Hollywood.
Painter of Nightmares:
Poster artist Enzo Sciotti discusses his passion for drawing and the development of the poster for Cat in the Brain in this seventeen minute segment.
Antonio Tentori Interviews Lucio Fulci:
On this sixteen minute 1987 Radio Show, screenwriter Antonio Tentori interviews Fulci.
Lucio Fulci:
This archival interview of Fulci from 1995 finds the director discussing his inspiration to become a director and his career in two forty minute segments.
Brett Halsey – Living La Dolce Vida:
Actor Brett Halsey appears in this forty-six minute segment from 2005 where he speaks of his career and eventual collaboration with Fulci.
Memories of Lucio:
A trio of cast members discuss the shoot of A Cat in the Brain in this five minute segment.
Final Thoughts:
Those familiar with the gory side of Fulci won't be surprised at the audacious level of repulsive visuals, but this doesn't earn the horror film equivalent of Fellini's 8 ½, a distinction it is often afforded.
Film Review: ★½/☆☆☆☆☆
Disc Review: ★★★½/☆☆☆☆☆