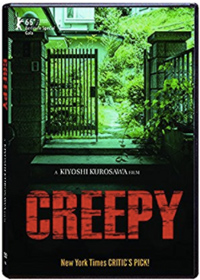 Documentary label Icarus Films moves into the distribution of narrative features, first up with the unveiling of Kiyoshi Kurosawa's Creepy, which premiered as a Special Screening at the 2016 Berlin International Film Festival before receiving a limited theatrical run in New York City in late October, 2016. A chilling, tense nail biter which lives up to its name, Kurosawa returns to the offbeat genre elements which made him an international success back in the late 1990s with Cure (1997). Featuring a stellar performance from an off-putting Teruyuki Kagawa, this psychological thriller perverts social customs with great delight, and is not to be missed for fans of Kurosawa.
After botching the detainment of an escaped psychopath, Detective Takakura (Hidetoshi Nishijima) leaves law enforcement and relocates with his wife, Yasuko (Yuko Takeuchi). Now a professor of criminal psychology, they're hardly allowed to settle into a rhythm when he begins delving into an unsolved disappearance of a family who left their daughter (Haruna Kawaguchi) behind, never to be heard from again. Distracted in this venture and assisted by his old colleague (Masahiro Higashide), who insist on quizzing the young woman on memories now six years old, his wife focuses on making friends with their new neighbors, a mostly standoffish crowd. She is put off but curious by the bizarre behavior of Nishino (Teruyuki Kagawa), who doesn't seem to know how to be socially appropriate. Though his teenage daughter (Ryoko Fujino) comes and goes, Yasuko is eager to meet Nishino's wife, who never seems to leave the house, and never receives company, even when Yasuko brings over home cooked meals. Eventually, these two disparate storylines become unexpectedly united.
Kurosawa opens the film with the sort of exaggerated melodrama we'd expect to find in American genre covering the same subject matter, a cocky detective consumed by his own expertise to objectively confront a perpetrator, described as a "perfect psychopath," but a man who will singlehandedly ruin his career. The initial moment of folly suggests a mixture of ignorance and hubris assumed by society's 'good-guys,' and recalls a particular moment from Jon Amiel's Copycat (1995), where Holly Hunter unwisely (as retrospect dictates) shoots a violent criminal in the Brachial nerve rather than administer a kill shot. But it provides a perfect starting point for the psychological state of Nishijima's Takakura, a stand-in for society at large. An expert in classifying serial killers, he explains to his new class at Tokaru University the three distinct types, with a highlight on those 'mixed characteristic' fellows who tend to baffle categorization. Jokingly, he assuages his wife on their strange neighbor Nishino, who has no concept of social skills. "The most dangerous criminals seem super nice," suggesting it's alright to trust the obvious weirdos. Trust she does, though alarmed at her neighbor's menacing behavior, she can't help herself from desiring to encounter a mysterious wife who is never allowed to be seen. Since Yasuko is a bored housewife struggling through a stagnant marriage, she inadvertently becomes enmeshed in Nishino's trap, one we're led to believe he may have set before.
The real star of Creepy is Teruyuki Kagawa, whose social awkwardness inadvertently makes him the most sincere character, an inversion of Takakura and his wife, people living in an environment where they are lying to themselves and the rest of the world about how they really feel. The abducted members of Nishino's family face more terrifying circumstances, obviously, but their madhouse (or at least the promise of their dysfunction) is what attracts the curiousness of their bored counterparts. Kagawa is so disarmingly and effectively off-putting, we spend most of the film's running time amused at his interactions, particularly with his entertaining moments with Yasuko. But as characters begin to enter the foreboding hallways inside his house, leading to a basement with violent secrets, the film starts to make your flesh crawl, and Kurosawa creates an alarming mixture of dread and tension through anxiety inducing stillness and lack of action on the part of characters we have come to view as rational.
What's compelling here is how he crafts several character choices which suggest desire and not fear as a paralyzing factor allowing Nishino to go further and further with his insanely effective tactics, including the chilling use of an unexplained injectable substance. The use of some plastic wrap and a vacuum is also quite memorably dreadful in a nonchalant, numbing sequence. A drastic tonal shift is enhanced by composer Yuri Habuka (who has, heretofore, worked mostly in Japanese television), which begins to register alarm at just the right moment.
Although this is familiar territory for Kurosawa, Creepy is highly effective and accessible genre material, suggesting social customs (which include forced politeness with those in constant propinquity) sometimes allow for victimization in one's very own neighborhood.
Disc Review:
Although Icarus Films decided to forego a Blu-ray release of Creepy, the packaging and presentation for the title is solid in this straightforward transfer. Picture and sound quality are serviceable, though one hopes eventually this title will receive an enhanced restoration considering the quality of the production and sound design. Extra features are not included.
Final Thoughts:
A master of creating extreme tension through innocuous means (using silence and daylight to surprising effect), Creepy stands out as one of Kurosawa's best.
Film Review: ★★★½/☆☆☆☆☆
Disc Review: ★★★/☆☆☆☆☆