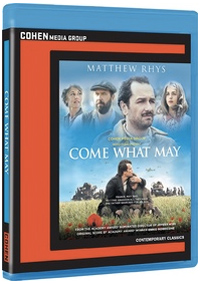 Beneath its swells of emotion and somewhat bitter but diminished remonstrance on the horrors of war, French director Christian Carion's fourth film, Come What May, is representative of how subdued familiarity hobbles the dramatic effect of such noted atrocities. Returning to the style which brought him great success back in 2005 with Joyeux Noel, set during the earlier era of WWI, Carion revisits Germany's invasion of France in 1940 and the subsequent displacement of many French citizens during their exodus to what was considered the safety of the coastal regions. The tale of a German activist desperate to reunite with his son provides the uniting force for this underwhelming deliberation on life during wartime, despite the notable distinction of a graceful score composed by Ennio Morricone.
In May of 1940, Germany invades France, which upends the lives of millions. An occupation activist who has fled with his preadolescent Max (Joshio Marlon) to the small village of Pas-de-Calais, German émigré Hans (August Diehl) finds himself turned over to the Nazis and imprisoned in Arras because the French were angry he lied about his nationality. Cared for by his teacher (Alice Isaaz), Max is shuffled along with the rest of the French townsfolk who are forced from their homes at the beckoning of the mayor (Olivier Gourmet). Meanwhile, Hans is eventually released, and with the help of a Scottish soldier (Matthew Rhys) sets off on a journey to be reunited with his son.
Depictions of Germany's invasion, occupation, and retreat from France during WWII continue to proliferate the French cinematic landscape, and Carion's film belongs to recent clutch of period detailed examinations of exodus, from Suite Francaise (2014) to Lola Doillon's Fanny's Journey (2016). Carion's film has two distinct perspectives, but tends to gravitate towards the narrative's non-French players, namely August Diehl (who recently starred in Raoul Peck's The Young Karl Marx as the titular figure), and Matthew Rhys as a perseverant Scotsman.
The clutch of French characters fleeing the Nazis have little to do other than avoid getting killed during attacks on their troupe, with fleeting characterization for the mayor played by a dependable Olivier Gourmet and the strained relationship with his wife, an unhappy Mathilde Seigner (the lead from Carion's first feature, The Girl from Paris, 2001). Alice Isaaz (of Verhoeven's Elle) has little to do but provide the film with a sympathetic maternal figure charged with caring for Hans' son.
Dependable performances never dip into overly sentimental approximations of grief, but even adorned with impressive technical credits, Carion's screenplay (co-written by Laure Irrmann and Andrew Bampfield) seems too sanitized and noble to generate much emotional investment. If anything, the most surprising element is a sweeping but subdued score from Ennio Morricone, who scored a Cesar nomination for his work on the film.
Disc Review:
Cohen Media Group announces the title as a contemporary classic, their transfer presented in 2.40:1 with 5.1 Dolby Digital. Picture and sound quality remain handsomely attenuated in this prestige period piece. Christian Carion provides optional audio commentary and Cohen Media Group provides several extra features.
Making of Come What May:
This twenty-two minute feature finds cast and crew discussing the creation of the film, with Carion confirming the film was inspired by his own family's story.
Behind-the-Scenes with Ennio Morricone:
Carion discusses how he managed to secure Morricone, who was at first reluctant due to the director approaching him so late in post-production. Footage of Morricone between some interview segments are included in this near half hour segment.
Christian Carion Interview:
Director Christian Carion and Richard Pena, Professor of Film Studies, Columbia University, are on hand for this thirty-eight minute interview segment discussing the historical realities informing Come What May.
Final Thoughts:
As far as war movies go, Come What May plays it safe, a melodrama which prizes the picturesque over the grotesque, and often to its own narrative detriment.
Film Rating: ★★½/☆☆☆☆☆
Disc Review: ★★★½/☆☆☆☆☆