Disc Reviews
Criterion Collection: Anatomy of a Murder | Blu-ray Review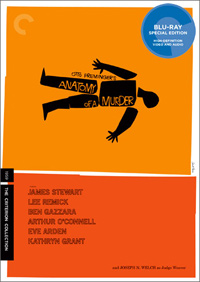 Otto Preminger's 1959 film Anatomy of a Murder still stands as one of the finest courtroom dramas ever made. An exercise in moral ambiguity and borderline procedural, Preminger's roots as a student of law in his native Austria certainly pay off for what may arguably be one of his best films, and from a period in his career when he was calling all the shots.
Adapted from a novel by John D. Voelker (who wrote under the pseudonym Robert Traver because he was a judge in real life), Anatomy of a Murder stars James Stewart as attorney Paul Biegler, a small town Michigan lawyer who revels in fishing and jazz music more than he seems to love the law. Returning from one of his frequent trips, Biegler commiserates with his old pal and drunkard, Parnell McCarthy (Arthur O'Connell), who crashes at Biegler's, waking up to Biegler's sassy secretary Maida (an always wonderful Eve Arden), who playfully quips at them. Biegler receives an urgent phone call from a woman in trouble, a Mrs. Laura Manion (Lee Remick), and Parnell excitedly insists that Biegler commit to taking her case even though he doesn't know anything about it. While away on his fishing trip, a scandalous crime visited their fine Michigan town when Laura's husband, Lt. Frederick Manion (Ben Gazarra) killed a man that purportedly raped her. Biegler agrees to take the case, and after meeting with the volatile lieutenant, agrees to pursue plea of not guilty due to temporary insanity. With Laura Manion's reputation of being an easy woman, Biegler has his work cut out for him, especially when a tenacious State Attorney, Claude Dancer (George C. Scott) joins the DA's prosecution. Throw into the mix a droll, visiting judge (played by Joseph Welch, the man who represented the Army during the McCarthy hearings) and you've got a fine tuned courtroom orchestra.
With a running time of nearly three hours, Preminger gives us a substantial buildup before he even plops us into the mechanics of the courtroom. The first hour of Anatomy of a Murder is notable for a delicious morally ambiguous turn from the usually wholesome Jimmy Stewart, here a country lawyer who knows very well what game he's playing, a performance that many critics have hailed as the Stewart performance most aware of the Stewart persona. And, as was often the case with the films Preminger produced on his own, he brazenly courted controversy once again with the censors (even James Stewart's own father denounced the film as a dirty picture and took out an ad advising people not to see it). And yes, by 1959's standards (also the year William S. Burroughs faced obscenity charges for the publication of Naked Lunch) Preminger's film is quite frank with its discussions of sex. You'll never hear the word 'panties' used to such dramatic (or hilarious) effect as you will in one key scene here.
As for the other performers, there isn't one poor player in the bunch. The always dependable Arthur O'Connell as Stewart's sobered up sidekick is stellar, along with Eve Arden (damn, she knew how to read a line), whose husband, Brooks West, appears as the DA. But it's the deliriously excellent performances from newcomers Lee Remick and Ben Gazarra that really makes the film truly engrossing. Remick, in a role originally meant for Lana Turner, appears in one of her first major roles. You'll never see anyone so maddeningly nonchalant about being raped, a flirty girl everyone calls fast and easy. But Remick's small tics, her eye movements, her body language, make this a mesmerizing performance. When she first shows Jimmy Stewart her black eye, she tells him, "You should see all over." Dynamite. And Gazarra, with his crazy, electric eyes, you can't take your own off him. Watch him in the courtroom scenes with Remick and how they correspond without any dialogue.
Preminger was well known for his long takes, and would purportedly base the rhythm of the take on the actor's performance, thinking that cuts only interrupted everything. And you also can't help but notice that there's never just one focal point in most of his frames, whether it's other characters in the background, or even shadows on the wall, there's always more than meets the eye. In one particularly excellent scene, when Stewart first meets the sullen Gazarra, we see that Stewart is trying to subtly coax Gazarra into saying he's mad, making him understand what the law upholds as an excuse for murder. Watch the frame where the light bulb goes off for Gazarra and he understands that he needs to say he was 'mad' at the time, and you'll see a eye chart test loom inconspicuously in the frame. And then there's that classic Duke Ellington score that's simply perfect. There's really nothing more you can say about it other than that it makes for an impeccable combination of sound and image.
Disc Review:
As Preminger's only title in the Criterion Collection, this is an appropriate selection, and they've put together a dandy. A new digital restoration with an uncompressed monaural soundtrack (and a new alternate 5.1 soundtrack, presented in DTS-HD Master Audio—which certainly enhances the Ellington soundtrack) has the film looking crisp and sounding sharp and you couldn't ask for better. The extras are also quite good, with interviews galore.
Foster Hirsch Interview
Preminger biographer Foster Hirsch's new interview is engaging and informative. For newcomers to Preminger, he's a great source, and here he rehashes Preminger's early life and there's significant detail about his first run in with the censors with The Moon Is Blue, 1953. He also details Russia's response to Preminger when he brought Anatomy of a Murder there, as they were confused about the whole point of the film, recognizing that Manion is guilty. They wanted to know why he wasn't simply beheaded. Hirsch also reveals other important timely details, such as Preminger's casting of Joseph Welch (famous for his line to McCarthy, "Have you no sense of decency, sir?") as well as Preminger's refusal to cut the scene where Ellington is featured at a piano next to James Stewart, as per the South African government's request. However, it would've been nice to see someone contest Hirsch's statement that Laura (1944) was Preminger's only notable work while made at the studio (please note that Preminger was quite the gifted film noir director and there are several excellent titles he made with the studio).
Preminger Interview
Snippets of a 1967 Preminger interview on Firing Line has the director discussing his thoughts on obscenity and censorship with William F. Buckley, Jr. Preminger's latest film at the time was Hurry Sundown (so, thankfully, this was before Skidoo, 1968).
Critic Gary Giddens on Duke Ellington
Giddens gives extensive background information on Ellington and jazz scores. Informative.
Pat Kirkam on Saul Bass
Kirkham, a Bass biographer, gives extensive background information about Bass and his title designs. Preminger worked extensively with Bass, first on The Moon Is Blue. Kirkham credits Bass with bringing modern art to the cinemas. One can hardly argue that the poster design for this film is anything short of stunning.
News Reel Footage and Trailer
News Reel Footage from on set is featured as well as the original theatrical trailer.
Life magazine's Gjon Mili
Life photographer Gjon Mili's photographs from on set are available to scroll through.
Anatomy of Anatomy
A resident from the Michigan town where this film took place published an article in 1997 on the impact Preminger's film had on the area. Excerpts from a documentary currently being made with resident Joan Hansen and filmmakers is available here. While the information is mildly interesting, one feels that this might hold more of a regional interest.
Final Thoughts:
Certainly, by today's standards, Anatomy of a Murder seems hardly controversial. However, there's actually quite an alarming message in the film. No one ever actually even seems to pretend that Frank Manion is really innocent. In fact, it seems quite obvious that not only is Manion guilty, but he's aware that his plea is basically hogwash as well. In essence, Anatomy of a Murder is more about the scary game of the American justice system (and his film also manages to unfold with aplomb, unlike other courtroom dramas from his contemporaries, like Fritz Lang's poorly conceived 1956 Beyond a Reasonable Doubt ). As critics have pointed out, this film is more about the story of a rape. Interesting that rape charges don't really result in detrimental charges, but murder due to temporary insanity caused by one seems justifiable. Criterion has put together a beautiful package with this Preminger title. In a perfect world, they'd give us Laura (1944), Daisy Kenyon (1947), and Angel Face (1952) in a box set next.