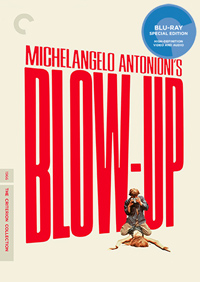 Italian auteur Michelangelo Antonioni ended the 1960s, his most consequential and revered cinematic period, with a legendary bang. Following his quartet of brooding treatments on contemporary alienation and troubling social ennui, Antonioni signed a three film contract with MGM, and his first English language film, Blow-Up, would become his most critically acclaimed and profitable picture. Credited with serving as one of the final nails in the coffin of the infamous Production Code, the title is a formidable change of pace for Antonioni, also working in color for this first time as he examines the spaces, objects, and perspectives surrounding a possible murder in London's swinging 1960s. Taking home the Palme d'Or at the 1967 Cannes Film Festival (and also scoring Antonioni his only two Oscar nods, for Director and Screenplay), the film remains as infamous and influential amongst filmmakers and cineastes as it did following its premiere.
Popular but emotionally stagnant London photographer Thomas (David Hemmings) seems to have the world at his fingertips. A family securely and unobtrusively at home while gorgeous women throw themselves at his feet, his entitlement is unbridled…and yet, something seems to be missing from his sense of creative purpose, which is suggested by his interactions with a neighbor (Sarah Miles). One early morning while spying on a couple (Vanessa Redgrave, John Castle) in the middle of Maryon Park, a strange interaction occurs. The woman, Jane, becomes alarmed at Thomas and demands he give her the film from his camera as she had not agreed to be photographed. Intrigued by her aggressiveness, he suggests he has every right to 'do his job' in public spaces and they arrange to meet at a later date. But when Thomas develops the photos, he believes he may have unwittingly been a witness to murder.
At its core, Blow-Up may be the ultimate homage to the notion of scopophilic pleasure as depicted in a cinematic medium (even more so than Michael Powell's pervy Peeping Tom, 1960). The film opens much the same way it closes, a group of people screaming with pleasure as they carouse through the mannered streets of London (later, Antonioni captivates both Thomas and the audience with the group of college kids, apparently engaged in a tradition known as 'rag,' but what we might casually dismiss as mimes playing tennis, a testament to the film's fluid perspective on seeing as believing). And we're immediately thrust into the ragtag world of a posh heterosexual photographer, a mussed-up David Hemmings as Thomas, who holds as much disdain for his female models as he does a pair of homosexual men with poodles outside an antique shop he frequents.
The notion of the male gaze is tantamount to Blow-Up, notoriously an anti-thriller more about perspective and the limited relationship to objects in one's trajectory. It takes the film nearly an hour for Thomas to actually develop the photographs, and prior to this we've seen him be dismissive towards his models (the famous Veruschka, playing herself shortly before a self-titled film and Ennio Morricone score would further cement her cult status) and engage in a suspiciously demeaning orgy between two nameless woman who have been pestering him (a sequence famous for its nudity and a nubile Jane Birkin). Hemmings' Thomas is a man obsessed with how things 'look' but only inherently interested in exploring what he cannot possibly control.
Sneering at the 'queers and their poodles' snatching a semblance of agency by daring to gaze (and treating Thomas to a taste of his own objectification), Thomas randomly buys a propeller (get it?), a 'prop' (or McGuffin) which is aligned with an earlier conversation Thomas has about a painting and the initial meaninglessness of art. "Afterwards I find something to hang onto," says a painter, carelessly glomming onto an obscure detail of an item which heretofore was a "mess," which gives him the sense of "finding a clue in a detective story," and thus we understand the real sense of satisfaction Thomas (as the artist) derives from a profession otherwise wholly superficial. In the same sense, he asks the owner of the antique shop about what she would do with the propeller if she had to make sense of it. Crafting one's own explanations to make sense of their surroundings is also at the heart of Andrzej Zulawski's final masterpiece, Cosmos (2015), which focuses on the inherent meaning we project onto signs, symbols, and language itself.
The women Thomas doesn't seem to loathe are only those who he readily determines to be unavailable to him. He's most sympathetic to the neighbor played by Sarah Miles, but his wonkiest moments come with Vanessa Redgrave's Jane, an anxious, angular sort who doesn't seem to have an interest in him or his potentially lucrative profession, but readily throws off all her clothes and tokes on a little of the devil's grass (perhaps the only invocation of the source story by Julio Cortazar, "The Devil's Drool"), anything she can to wheedle her way into possession of those pictures. After they uncomfortably listen to jazz together (she can barely keep still and he advises her to move calmly, against the beat), we seem to lose all sense of her peculiarity, and only later wonder, is she a victim or maybe even a murderess? His own jitteriness is something else entirely, as evidenced by a jarring monologue where he attempts to explain his relationship with the mother of his children, contradicting every clichéd description with a suggestion of the exact opposite. In the end, it seems their relationship is what it is—nothing. "We just have some kids."
We're saved from considering Thomas' instability (or, are we really?) as Antonioni verifies his suspicions about a crouched figure in the grass to be real, to some degree. But if this is arguably the one true thing about Blow-Up and all else is either Thomas' flighty conjectures or our assumptions about Thomas and what exists between the frames (one delicious moment shows him positioned betwixt the enlarged hanging photographs), then this is merely a process of deconstruction, providing us with the murder mystery as a disappearing act. Having never unveiled the 'what' or the 'why,' Antonioni erases even the 'who' at the center of his swinging universe.
Disc Review:
The Criterion Collection has at last acquired this iconic Antonioni title, and it's been worth the wait. The newly restored 4K digital transfer is presented in its original aspect ratio of 1.85:1 with uncompressed monaural soundtrack. The visual acuity, and all 'fab' color palettes, look astounding, as Blow-Up is a masterful line-up of exquisite frames from DP Carlo Di Palma (in what's arguably his best work outside of his Woody Allen period, which lasted from 1986's Hannah and Her Sisters to 1997's Deconstructing Harry), while Herbie Hancock's score (paired with highly praised appearance of The Yardbirds, featuring Jimmy Page and Jeff Beck) lends a hand in creating a heady time capsule of a groovy period in a time and place that disappeared long ago.
Michelangelo Antonioni:
Criterion includes this five minute excerpt from the 2001 documentary Michelangelo Antonioni: The Eye That Changed Cinema, which includes footage of the director accepting his Palme d'Or at the 1967 Cannes Film Festival, as well as his experiences shooting in London and eventual plans to make a film in America.
Blow Up of "Blow Up:"
Valentina Agostinis directed this fifty-three minute 2016 documentary to celebrate the fiftieth anniversary of Blow-Up, which revisits several key locations as well as Antonioni's particular approach to art and photography. Dialogue assistant Piers Haggard, model Jill Kennington, photographer David Montgomery, historian Philippe Garner, and art historian David Alan Mellor are amongst the many figures who reminisce about their involvement in the production.
David Hemmings:
Criterion includes excerpts from two interviews with David Hemmings, the first a 1968 bit while the actor was on set of Basil Dearden's Only When I Larf, the second a conversation between Hemmings and host Brian Linehan on the program City Lights from 1977.
Vanessa Redgrave:
In celebration of the film's fiftieth anniversary, historian Philippe Garner sat down with Vanessa Redgrave in 2016 for this forty-four minute interview on Antonioni and the film.
Jane Birkin:
This nine minute excerpt from a 1989 interview finds Jane Birkin recalling her audition for Blow-Up, as well as her experiences working with Antonioni and co-stars David Hemmings and Vanessa Redgrave.
Antonioni's Hypnotic Vision:
Criterion produced these two pieces, "Modernism" and "Photography," the first from David Alan Mellor (curator and art historian at the University of Sussex) and the second from historian Philippe Garner and Walter Moser (head of the photographic collection at the Albertina museum in Vienna) to explore Antonioni's engagement with modernism and his complex explorations of photography.
Final Thoughts:
Heralded as a counterculture masterpiece (although it would be hard to relegate any of Antonioni's more prolific titles as anything less), Blow-Up demands and succeeds by immersing us truly into an ambience where nothing is what it seems, including our own ability to comprehend, define, and explain.
Film Review: ★★★★/☆☆☆☆☆
Disc Review: ★★★★/☆☆☆☆☆