Disc Reviews
Criterion Collection: Fellini's Roma | Blu-ray Review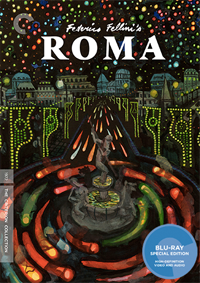 Long before there was an actual cinematic movement known as Cinema Du Look (formulated from a handful of ambitious French directors circa 1980s), the notion of cinema as pure spectacle had already been established and conquered by the unparalleled Federico Fellini. It's difficult to point to one of his films as quintessentially 'Felliniesque,' as nearly everything from La Dolce Vita (1960) onward features unconventional narrative structures subjected to (or completely negated) by the bombastic, elliptical, or altogether fantastically fragmented storylines the idiosyncratic auteur employed. An arguable turning point was his 1969 outré extravaganza Fellini's Satyricon, the first title to employ his name, suggesting the director's omnipresence in every detailed, period-specific frame. Throughout the next decade he would continually employ and playfully expand on this sort of stream-of-consciousness routine, each overlaid with a vague but expressively overarching technique. Thus, the second title to employ his surname, 1972's Fellini's Roma, arrived at a juncture in his filmography where it would be eventually overshadowed by the perversity of Satyricon and the critical acclaim of the film directly following it, 1973's Amarcord (which many proclaim to be Fellini's last discernable masterpiece). But this freewheeling chiaroscuro of ends and oddities, jarring compositions, dueling tempos, and hybrid genres is perhaps succinctly described as a love letter to the eternal city of Fellini's adulthood, Rome.
Swooping down into the periphery of the city, Roma opens with a hellish traffic jam, a veritable struggle through the outer layers to pierce the metropolis. Upon entering the city limits, filled with an assortment of prostitutes, those socially stigmatized bedrocks of temporary carnal relief, are juxtaposed with remnants of religious artifacts—jagged, ruptured edifices of the city's historical sites looming prominently. Fellini stages various asides, one featuring a stylized night-time documentary film crew, another a rendering of excavated frescos in underground tunnels, the fresh air instantly oxidizing the artistic timelessness.
Amarcord remains a bit more palatable in a structural sense when compared to Roma, the former title focused on Fellini's nostalgic memories of his youth while the latter film vaguely features a character named Fellini at the center of certain experiences and episodes which aren't as visceral. Many have described Roma as a travelogue, an homage to the city which masquerades (and meanders) sometimes into a faux documentary zone before digressing into frequent bouts of bacchanalian interludes, like a display of prostitutes vying for customers. The piece de resistance, of course, is a fashion show to rival all cinematic fashion shows (save the classic heights of Cukor's The Women, 1939, perhaps), wherein religion and pop (or should one say pope?) art meld orgiastically into a crescendo so delightfully blasphemous in its depiction of the religious figurehead, it overcompensates for several of Fellini's less invigorating sketches.
Fellini's mixture of the sacred and profane could be read as the overwhelming metaphor regarding the titular a city, the country's considerable religious values smashed sidelong into the dizzying concoction of urban vice and artistic integrity, a line purposefully blurred. Fellini's beloved DP Giuseppe Rotunna brings the same sense of the carnivalesque as previous and later collaborations, which sometimes makes Roma feel like one of the lesser spectacles they formulated. Like several of Fellini's later works, Roma premiered out of competition at the Cannes Film Festival, where it was bestowed a Technical Grand Prize (Fellini's last competition title was La Dolce Vita). The 1972 edition of Cannes was a tremendous victory for Italian cinema, as both Elio Petri and Francesco Rosi tied for the Palme D'or, with Gian Maria Volonte snagging a Special Mention, not to mention Lina Wertmuller's The Seduction of Mimi in the lineup. Fellini's honor, despite not competing, is a testament of the reverence then and now for his visual achievements.
But Fellini closes with an unprecedentedly melancholic aside. Having brushed over a celebrity appearance of writer Gore Vidal, Fellini's camera accosts none other than Anna Magnani as she walks home alone in the middle of the night. Suggesting the actress herself is a symbol of the city, who came to prominence during the initiation of Roberto Rossellini and neorealism wth his famous Rome: Open City (1945). Magnani, Italy's most talented performer (referred to as La Magnani, or La Lupa, "living she-wolf" of the cinema) had heretofore never been in a Fellini picture, one of cinema's most revered auteurs. She laughingly brushes him away, saying she doesn't trust him as she shuts the door in his face. It was to be her last moment on screen, passing away from cancer at the age of 65 from pancreatic cancer in 1973.
Disc Review:
Criterion, long a purveyor of Fellini's cinema (Amarcord was one of the collection's first releases, while very recent additions include Satyricon and La Dolce Vita), seems the logical platform for this title's resurrection, presenting Roma in a new 2K digital restoration with uncompressed monaural soundtrack in 1.85:1. The transfer was the result of a 2010 restoration at L'Immagine Ritrovata in Bologna, Italy, remastered from the original 35 mm negative. Picture and sound quality are lush and vibrant in this welcome re-introduction to the film.
Deleted Scenes:
Seventeen minutes of deleted sequences have been includes, which Fellini excised following the film's initial premiere. The colors are more faded here but were restored in 2010.
Paolo Sorrentino:
New York University film professor and critic Antonio Monda discusses Roma with filmmaker Paolo Sorrentino (whose flourishes have long been considered inspired by Fellini) in this fifteen minute interview recorded by Criterion in 2016.
Valerio Magrelli:
Antonio Monda also interviews poet Valerio Magrelli (author of the 2015 publication The Family Shaman: Homeopathy, Pornography, Directing in 77 Drawings by Fellini) in this sixteen minute segment recorded by Criterion in 2016.
Felliniana:
A selection of posters and behind-the-scenes photographs from the production of Roma are included here, courtesy of the private collection of Don Young's Felliniana Archive.
Final Thoughts:
Fellini's mythical cinematic achievements remain unparalleled, even in the fluid, undefinable majesty of Roma, a fantastic cinematic love letter to the eternal city.
Film Review: ★★★½/☆☆☆☆☆
Disc Review: ★★★★/☆☆☆☆☆