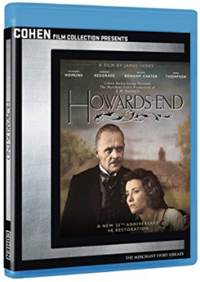 "Are they likely people?" says one female relative to another in the opening segments of James Ivory's Howards End, the 1992 adaptation of British author E.M. Forester's enduring classic novel, initially published in 1910. It's an intriguingly phrased question, because underneath the superficial placidity of polite social customs, emotional hang-ups are roiling, coiling, and winnowing deep beneath the generally serene interactions transpiring between two sets of white well-to-do families in turn of the century England. Rather than wondering if any of these are likely people, observers will try to determine if any of these are indeed 'likeable' characters, or who ends up sacrificing the least of their integrity by remaining true to their own values. Out of the many illustrious titles which were directed by James Ivory, produced by Ismail Merchant, and written by Ruth Prawer Jhabvala, (known collectively and distinctly under the banner "Merchant-Ivory"), this is perhaps their most acclaimed and esteemed achievement. Premiering out of the 1992 Cannes Film Festival (where it left empty-handed, save for an accolade noted as a 45th Anniversary Prize), it would go on to collect nine Academy Award nominations, winning three, for Best Art Direction, Adapted Screenplay, and a deserved statue for leading actress Emma Thompson.
In turn of the century London, Margaret Schlegel (Thompson) receives correspondence from her younger sister Helen (Helena Bonham Carter) detailing a surprise romance with the youngest member of the wealthy Wilcox family, whom she is currently visiting at their countryside manor, Howards End. Thrilled for her sister, Margaret is overjoyed, but their suspicious Aunt Juley (Prunella Scales) decides to see for herself, only to find the youngsters had made a hasty mistake and the rendezvous is soon forgotten. The Schlegel sisters reside comfortably with their brother Tibby (Adrian Ross Magenty), an upper middle class family who will eventually be forced to relocate because the home they rent in London has been sold. Just as Helen begins a flirtation with someone else, the handsome but poor (and spoken for) Leonard Bast (Samuel West), the Wilcox clan happens to arrive next door to the Schlegel's. Helen jets off for Germany to avoid certain discomfort, but Margaret strikes up a warm friendship with the lonely and fragile Mrs. Wilcox (Vanessa Redgrave). Upon her deathbed, Mrs. Wilcox attempts to have her childhood home of Howards End left to Margaret, but her husband (Anthony Hopkins), believing his wife to have taken leave of his senses, tears up her proposal. Time passes, and Mr. Wilcox falls once more into the orbit of the Schlegel sisters. Unsound advice from the businessman leads to detrimental effects on Helen and Leonard Bast, but at the same time, the older gentleman finds himself cultivating feelings for Margaret.
The eponymous estate, is of course a metaphor for the crumbling prestige of England, of its honorable, even majestic past which is too quaint to properly function in the increasingly industrialized world. When Redgrave's querulous and hopelessly self-involved Mrs. Wilcox innocently remarks on how "I think about my house," her obsessive notions about its future are all wrapped up in the blissful memories of her past. Thompson's Margaret is painted as the modern equivalent of a Mrs. Wilcox, albeit of a slightly less accomplished social standing, which grants her character the misfortune of being too closely tied to very different lifestyles. Her attraction to the Wilcox's, we seem to forget by the time the final act comes around, was mostly due to her sister's dalliance with their son and the subsequent propinquity of the family's arrival in an adjacent London townhouse. When Hopkins gives Margaret a rather awkward tour of his home and belongings, a sort of peacocked fanfare meant to display the worldly goods at her fingertips, their engagement is abrupt, a shared kiss absolutely cringe worthy. Do these people actually love one another? Or does he feel guilty because he knows his dead wife really wanted Margaret to inherit their property? And is she still curiously taking a sort of social revenge based on their son's slight of her younger sister?
None of this is confirmed, but it's all the flotsam and jetsam swimming around freely in the film's psychological periphery, further complicated by a disastrous bout of misogyny when we learn of Mr. Wilcox's predilection for adultery and his unwillingness to allow his pregnant and unmarried sister-in-law to spend the night on his property, even though his callous and casual comments have brought the father of the unborn fetus to absolute financial ruin. Despite some slight flurries of emotion, Howards End is nearly devoid of action—even its most rousing moment, when Leonard Bast is accosted by the flat end of a family heirloom by Charles Wilcox to avenge Helen's honor unnecessarily, the swell of Richard Robbins' mostly discreet score wails in placement of the drama a falling bookcase and subsequent heart failure don't quite accomplish.
Hopkins, who was fresh off a win for 1991's The Silence of the Lambs, is marvellously rigid as Mr. Wilcox, while Vanessa Redgrave (who scored a Best Supporting Actress nomination) is frighteningly vapid as a hollowed out matriarch who dismisses the suffragette movement because the right to vote, in her opinion, would be too akin to work. Just as it's difficult to remember a time when Merchant-Ivory films were a celebrated formula, retreading through the early performances of Helena Bonham-Carter pre-1997 (and her eventual string of Tim Burton films) is a welcome reminder of what a talented dramatic actress she is. But it is Emma Thompson's performance, a fascinating mixture of body language, tone, and expression, which remains the most compelling facet of Howards End, and manages to make-up for the grand themes from Forester's novel the film version simply cannot encompass. There's a warmth and subtle affectation which seems reminiscent of a young Margaret Rutherford in her naturalistic performance as a woman constantly tossed from side to side but clearly wishing the best for all parties.
Disc Review:
Cohen Media Group was responsible for this lavish 4K restoration, which was presented for the first time in the Cannes Classic section at the 2016 edition of the film festival. Interestingly, the Criterion Collection held the rights to the title until very recently, having released a high-definition digital transfer of the title back in 2009, which has since become a pricey out-of-print item. Although CMG's extra features (which includes new interviews and a commentary track) don't quite compare to all the bells and whistles of the earlier Criterion version (especially since the documentary segments included here were also on Criterion's 2009 release), the picture and sound quality, presented in 1.78 with 5.1 Dolby Digital Master Audio, appears to be on par with the earlier transfer, benefitting from this new restoration taken from the original negative. On this two disc set, there's optional commentary from critics Wade Major and Lael Lowenstein.
2016 Conversation w/James Ivory & Laurence Kardish:
This half hour conversation between James Ivory and Laurence Kardish, the former senior curator of Film at MOMA, was recorded in 2016.
2016 Interview w/James Ivory & Vanessa Redgrave:
James Ivory and Vanessa Redgrave recall their memories of both Cannes and the making of the film at the 2016 Cannes Film Festival when the restoration screened in Cannes Classics.
2016 Q+A:
This 2016 on-stage half hour Q+A took place at Lincoln Center between James Ivory and moderating critic Michael Koresky
1992 Behind-the-Scenes Featurette:
This four minute segment features cast and crew commenting on the film from 1992.
Building Howards End:
This forty-two minute documentary focuses in the production history of Howards End.
The Design of Howards End:
This nine minute feature focuses on production designer Luciana Arrighi, who discusses creating the age of the film.
James Ivory Remembers Ismail Merchant:
In this twelve minute feature, James Ivory recalls how he met Ismail Merchant (who passed away in 2005) and their subsequent working relationship.
Final Thoughts:
An incredibly executed period piece, Howards End is as impassioned and refined a cinematic spectacle you're apt to see, belonging to a tradition of narrative and characterization belonging to a format now all but extinct.
Film Review: ★★★★/☆☆☆☆☆
Disc Review: ★★★★/☆☆☆☆☆