Criterion Collection: Good Morning | Blu-ray Review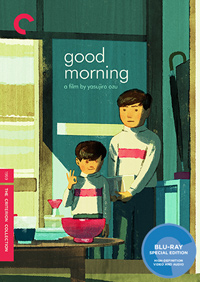 Criterion re-releases one of its early additions to the collection for the first time on Blu-ray, Yasujiro Ozu's poignant late period comedy, Good Morning (1959). Known for his subtly defined dramas exploring generational rifts between increasingly estranged family members, this is a definite change of pace, especially for audiences accustomed only to his lauded masterpieces, such as the tragic Tokyo Story (1953), or even the more seriously inclined titles which followed this, such as Floating Weeds (1959) and his gentle capstone, An Autumn Afternoon (1962).
Set in a suburb of Tokyo and based on his own 1932 title I Was Born, But…, Ozu portrays a rapidly growing consumer culture post-WWII, and the ensuing domestic dilemmas amongst housewives whose husbands struggle to find better paying jobs while close proximity heightens gossipy henpecking. Ozu's charm centers on two young brothers who commit to a vow of silence until their conservatively minded parents agree to buy a television set.
In a lower-middle-class suburb of Tokyo, Minoru (Koji Shitara) and his younger brother Isamu (Masahiko Shimazu) sneak off regularly to the neighbor's house to watch sumo wrestling on t.v. When confronted by their mother, (Kuniko Miyake), who is appalled her sons are skipping their English lessons to waste their time watching television, the situation comes to a standstill when the boys demand mom and dad (Chishu Ryu) buy them their own. Chastising them, the boys take a vow of silence and refuse to eat until their parents relent. Meanwhile, their mother is embroiled in a separate gossip fueled snafu involving misplaced funds from the local women's association. As the treasurer, she delivered the monthly funds to the president's home, Mrs. Haraguchi (Haruko Sugimura), who claims she never received them, which sends a ripple effect of resentment and misunderstandings amongst the families in their community.
Ozu's title alludes to the adult niceties which are critiqued by Minoru during a temper tantrum as one of several unnecessary and meaningless exchanges. The concept is mentioned directly once again in relation to how these social norms are required because they provide 'lubricant' in social settings, especially concerning sensitive subjects, such as embarking on a romantic exchange (comically depicted when Keiji Sada's tutor carries on an extended conversation on the weather with the object of his affection, the boys' aunt).
On the surface, Good Morning is as simple an evocation of time and place as its colloquial title, but like many of Ozu's celebrated titles, its success lies in the level of texture and nuance. This is best exemplified by the various women of Good Morning, whose bitterness and cynicism creeps into many of their private exchanges as they discuss those whose living situations are supposedly more comfortable. Ozu's regular DP Yuharu Atsuta concentrates on the depth of field, many of the women corresponding from inside their home, which their neighbors can clearly see into.
The purchase of a washing machine marks Mrs. Hayashi as automatically suspect in the eyes of the less fortunate Mrs. Haraguchi, who angrily resents her forgetful mother for causing her embarrassment (and as we see, would greatly appreciate a washing machine of her own based on her son's penchant for soiling his underwear). The conflict, which stems from a case of the haves and have-nots, results in a series of misconceptions amongst the adults who begin to treat Mrs. Hayashi as a petty cheapskate thanks to Mrs. Haraguchi's gossip, which is further exacerbated when Minoru and Isamu give all the adults in their wake the silent treatment. Prizing the perspective of the young boys and their mothers, patriarchal figures are pushed to the periphery, but Ozu's favored actor Chisu Ryu stands out as the boys' father.
Although Ozu has influenced countless contemporary filmmakers, his clearest successor in this realm has to be Hirokazu Koreeda, an auteur who also culls fantastic performances from child actors. The playfulness of Good Morning is reminiscent of Koreeda's I Wish (2011), or the more recent After the Storm (2016) which also depicts contemporary family dynamics across three generations, brought warmly together by an event (rather than an object in Ozu's film).
Disc Review:
Criterion presents Good Morning as a new 4K digital restoration in its original aspect ratio 1.37:1 with uncompressed monaural soundtrack. The release is a welcome restoration from the label's extensive back catalogue, still slowly but surely re-releasing early titles amidst newly announced releases. Ozu's second color film is a lovingly presented in this brand new package.
I Was Born, But…:
If you want more, be sure to check out Ozu's 1932 ninety-minute silent classic upon which Good Morning is based.
David Bordwell:
Criterion interviewed film scholar David Bordwell in this eighteen-minute segment from 2017 where he analyzes Ozu's evolving style by comparing the original 1932 film with the 1959 re-working.
David Cairns:
Film critic David Cairns examines Ozu's use of humor in this new seventeen-minute video essay.
A Straightforward Boy:
Criterion presents a fragment of Ozu's 1929 silent film A Straightforward Boy, of which only fourteen surviving minutes are available (notably, this was the first film in which Ozu used children as social commentary).
Final Thoughts:
Arguably Ozu's most effervescent film, Good Morning is a pleasantly amusing slice of life from the master (and also perhaps his only title to include bodily function humor).
Film Review: ★★★★/☆☆☆☆☆
Disc Review: ★★★★/☆☆☆☆☆