Disc Reviews
Criterion Collection: Hearts and Minds | Blu-ray Review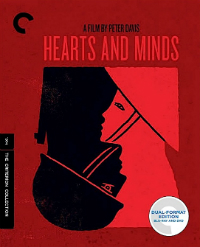 As a historical cinematic document that depicts the horrors of the Vietnam War with unflinching nerve and political consternation, Peter Davis's Academy Award winning film Hearts and Minds stands unparalleled, forty years out still reverberating with the inherent subsequent amnesia of the war, its underlying capitalist ends and the shame of both of these truths, yet it's very existence has been baptized in controversy since its premiere at the Cannes Film Festival back in 1974. Taking a brazenly anti-Vietnam War stance, the film juxtaposes vacuous US politicians with the ugly aftermath of the misguided conflict in regretful US soldiers and heart-wrenching footage of Vietnamese civilians mourning the senseless loss of their beloved. Part retrospective assessment of the back-door politics that led to the American funding of the Indochina War and the subsequent militarization of South Vietnam, and part straight-laced propaganda, Davis's equally lauded and hated documentary is a manipulative masterpiece that makes no bones about its intentions to appaul and enlighten with leftist edification that calls on wounded veterans and racist politicians to bend prior ideals.
Even the most wildly liberal activist would be hard pressed not to admit the editorial sleight of hand Davis has employed to prove his bureaucratic points. The entire film is essentially a full length montage of juxtaposing ideology about the war. We are introduced to former US soldiers who recount their mechanical involvement in mass killings and eventually transition into their regrets of their participation, the debilitating losses they've personally endured and lingering question of why exactly were they over there in the first place. Intermingled within, several Vietnamese families are seen post-bombings, their children, parents or siblings burned by napalm, blown to pieces by cluster bombs or crushed by the rubble of their former homes, and at the height of empathetic involvement he cuts to a variety of horrifically revelatory political admissions, such as General William Westmoreland, the commander of American military operations during the peak of the Vietnam War, plainly stating, "The Oriental doesn't put the same high price on life as does a Westerner. Life is plentiful. Life is cheap in the Orient." Davis deliberately means to shock and enrage, and indeed, he does, though omitting any points of view not fully aligning with his own.
This solitary perspective is cohesively stitched together with various interviews from both sides of the war and footage shot by other period journalistic contemporaries like Alan Downes and Le Phuc Dinh, who lensed the cinematic counterpart to Nick Ut's iconically disturbing Pultizer Prize winning photograph of Phan Thi Kim Phuc, "The Girl in the Picture". More important than the propagandizing that results from Davis's editorial choices are the political and emotional truths that result. The overwhelming disgust and contempt for the scheming corporate greed that led to war and returned in full force after the reconciliation of the bloody conflict is fully warranted. Hearts and Minds may get its name from Lyndon Johnson's statement that "the victory will depend on the hearts and minds of the people who actually live out there," but Davis's film is much more a film made to shame the hearts and minds of those living right here at home in the US that thought victory was actually the solution.
Disc Review:
Transferred from the Academy Film Archive's restored 35mm interpositive, this HD release of Hearts and Minds looks quite outstanding. With plenty of that warm early 70s coloration and a consistent grain structure, the film only shows any real wear in a few sequences where the color palette warps due to chemical degradation. On the audio side of things, the disc's single track is a generally natural sounding, fairly unremarkable PCM monaural track. No complaints whatsoever. The Blu-ray is packed alongside a pair of DVDs that contain all the same content in SD, as well as a hefty little booklet.
Audio Commentary with director Peter Davis
Extremely knowledgeable and full of vivid memories from the shoot, Davis imparts a wealth of background history about why specific people or situations ended up in the film, as well as personal anecdotes about his own experiences filming in Vietnam and conducting interviews. This recording was originally recorded and included with the original Criterion DVD release of the film in 2002.
Outtakes
Broken into nine segments, included here are extended interviews and footage of Vietnamese devastation. They've included extra conversation with French war correspondent Philippe Devillers, secretary of state under Johnson and J.F.K., George Ball, Tony Russo, who had leaked the Pentagon Papers to the New York Times, journalist and TV personality David Brinkley, General William Westmoreland, as well as economist and political theorist Walt Rostow – all in HD. 151 mins
Booklet
This dense little booklet packs tons of critical reflection within; essays include an updated version of Peter Davis's memorial "Vietnam and Memory", as well as pieces that were included in the original 2002 DVD release titled "The Right Side of History" by Judith Crist, "The Human Connection" by Robert K. Brigham, "A Historical Context" by George C. Herring and "Moving the People" by Ngo Vinh Long, all mixed with stills from the film.
Final Thoughts:
Peter Davis's monumental Vietnam critique is a brilliantly propagandist examination that carries no less gravity and relevance than it did upon its initial release. Hearts and Minds remains a brutal, eye opening piece that mixes 60s style direct cinema with honest and balanced interviews columnating in a work of activist non-fiction that falls unapologetically in the anti-war camp. As usual, Criterion has done an outstanding job preserving and presenting yet another important film that reminds us to keep our greedy and opinionated heads out of other countries business unless there is a morally good and responsible reason to do so.