Disc Reviews
Criterion Collection: Jellyfish Eyes | Blu-ray Review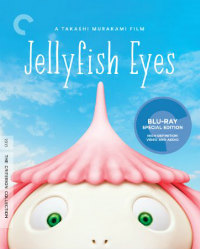 Criterion adds Jellyfish Eyes to its collection, the directorial debut of prolific Japanese artist Takashi Murakami. Known for his multi-faceted platforms of painting, sculpture, and a continual blending of media meant to push the boundaries of what defines notions of art, his 2013 debut is a psychedelic children's adventure conveying significant messages as concerns social media, the environment, and human interaction. Having had his work featured at the Museum of Contemporary Art in Los Angeles during a 2007-2009 retrospective, it's perhaps no surprise Murakami premiered his film at LACMA (Los Angeles County Museum of Art) in 2013, before it spread to other venues and ultimately a limited theatrical release in the US in July, 2015. Named by TIME magazine in 2008 as one of the one hundred most influential people (the only visual artist to make this particular round) perhaps explains the high expectations and underwhelming critical response to his first cinematic effort. Disarmingly child-like and visually impressive, it's obvious Murakami's artistic strengths and notable accomplishments within the feature outweigh the sometimes simpering narrative. Others may find it to be another example of cartoonish lunacy from a country where such zany animation frequents quite a bit of cinematic output.
Masashi (Takuto Sueoka) is going through a rough emotional period just prior to becoming an adolescent. After the recent death of his father, Masashi and his mother (Mayu Tsuruta) were forced to abandon their homes due to an undefined disaster. They've recently relocated from an evacuation center to a new home where his mom can be near her brother (Takumi Saitoh), who works in a dangerous lab on the periphery of the community, engaged in potentially harmful experiments. Within the same lab, a clandestine group known as the Black-Cloaked Four has discovered a way to harness the unhappiness and anger of the children in the community via a social app called F.R.I.E.N.D., where little critters created through the children's own subconscious association act as conduits for their negative emotions. Masahi discovers his own extra-terrestrial friend soon after moving into his new home, a curious looking floating creature he calls Kurage-bo (aka jellyfish boy). The other children think they control their creations via their own devices, but they are actually enhancing the looming possibility of a nuclear meltdown. Masashi, however, does not operate his companion through a device, and it's up to him and another willing student to convince the others to use their reserves of energy for good.
Murakami's aesthetic birthed its own idiosyncratic moniker, "superflat," explaining his flat, glossy surfaces and other visual characteristics as which also incorporates Japan's post-war culture. Murakami seems to recalibrating the same nuclear fears which birthed the monstrous Godzilla post WWII, contemporized for a hybrid of social media obsessed pre-teens in a post-Fukushima environment. As such, this colorful palette resembles a soft-serve version of something you'd expect from Sion Sono, but Murakami never really dips below the candy-coating superficiality, despite significant instances of school bullying and a supposed suicide.
The blending of animation and live-action is nothing new, and despite some untoward parallels with Pokemon, Yasutaka Nagano (Noburu Iguchi's The Machine Girl) does create a sort of wonder with both elements present (it's no surprise to learn Murakami's unveiling in Los Angeles led to a music video project with Pharrell). A variety of long shots crouched in iridescent green grass enhance the lusciousness of a quaint rural environment threatened by the encroaching scientific lab and its potentially dangerous experiments. But the film never falls into full-fledged horror, though the presence of producer Yoshihiro Nishimura of Tokyo Gore Police (2008) would seem to indicate otherwise. And for audiences accustomed to seeing children and their cartoonish devices engaged in acts of supreme depravity, the lack of expected perversion sometimes feels like a surprise (especially if you're accustomed to something like Shinji Imaoka's 'kappa' pink musical Underwater Love, 2011). Instead, the trajectory and family dynamics feel akin to last year's Big Hero 6 but sans the same emotional depth.
Disc Review:
Criterion presents this new high-definition digital transfer in 1.78:1 with 5.1 surround DTS-HD Master Audio. The picture and sound quality is superb, especially considering the innovative blend of visual special effects on a modest budget. Several extra features are on hand, including a preview for Murakami's upcoming sequel.
Murakami Interview:
Criterion conducts this 2015 interview with Murakami at the Kaikai Kiki Studio in New York. In the twenty-two minute discussion, the artists talks about the origins of the project and how the television from his childhood provided inspiration.
Making F.R.I.E.N.D.s:
Murakami's special effects crew and clay model makers demonstrate how the film's F.R.I.E.N.D.s were brought to life in this new fifteen minute feature. The effects team headquarters is located in Tokyo, and the group is filmed six months in advance of filming during the illustrative phase of the creatures.
Takashi Murakami – The Art of Film:
This behind-the-scenes feature focuses on Murakami, plus his cast and crew, during the making of Jellyfish Eyes. The forty minute segment begins in Summer of 2011 during a production staff meeting led by Murakami, who credit the project as a collaboration born out of his conversations with director Nishimura. Murakami self-financed the feature to maintain creative freedom, accomplished through his company Kaikai Kiki Co., Ltd.
Trailer for Jellyfish Eyes 2:
A two minute trailer for Murakami's forthcoming sequel is included, which promises to be even more visually extravagant.
Final Thoughts:
Using its anthropomorphized social apps for a Battle Royale showdown, Jellyfish Eyes is sure to have its fans. But those who tire easily of twee children and their fantastical toys may find Murakami's debut a bit cloying, and perhaps a bit too representative of his superflat technique.
Film Review: ★★½/☆☆☆☆☆
Disc Review: ★★★½/☆☆☆☆☆