Disc Reviews
Criterion Collection: La Dolce Vita | Blu-ray Review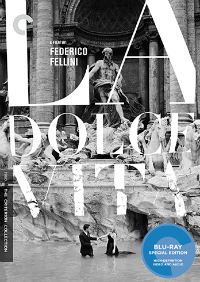 "The most miserable life is better, believe me, than an existence protected by a society where everything's organized and planned for and perfect," says Steiner (Alain Cuny), Marcello's (Marcello Mastroianni) only friend with seemingly any moral fiber or family values in the Rome of upper-class debauchery in which they surf throughout Federico Fellini's groundbreaking critical masterpiece on the vacuous Roman high-life of the late 50s, La Dolce Vita. Steiner's fleeting suggestion stands as an epiphanic thesis of Marcello's own internal struggle to find love and stability while carrying out a career in journalism that takes him gallivanting with royalty and movie stars throughout all the ancient and newly minted quarters of Rome. The final frames of the film featuring Paola's (Valeria Ciangottini) subtle glance to the audience suggest that in this new hodge-podge of old and evolving culture, only the innocence of youth has a chance of breaking free of this new cycle of promiscuity and deceit implicit within not only personal relationships, but those held between public figures and our lowly star obsessed selves.
Fellini's portrait of the Italian capital shares it's sprawling bed with themes big, small and most often perversely grotesque, but it's Steiner's denouncement of his balanced lifestyle of bohemian parties and family scruples that rocks the emotional core of the film, if one could call any one of the film's twelve main sequences such, which is to say, Steiner's subsequent suicide lands the hammer blow that dooms Marcello to live without true love in a racket of face value conversations and dip and dive relationships. He's a man living a life big on paper, but small in qualitative consequence. Like Marcello himself, the film floats without moral support from scene to scene with no traditional narrative thoroughfare, indulging in women (Anita Ekberg, Anouk Aimée, Yvonne Furneaux, and Magali Noël among those involved) and booze, so ill-equipped for real relationships it can only engage in intellectual small talk, the silliness of spontaneous adventure (like ghost hunting or fountain diving) or the obsession of media frenzy, and yet, its expansive almost three hour running time gives it an assumed weight that expands its superficial exterior to engage with larger issues of emotional and cultural importance through structural ambiguity.
There is no rise and fall, no three act structure – just a series of episodes involving Marcello, subtly experiencing a moral reckoning that surfaces while the paparazzi swarm. The film's final sequence features the collapse of an all night orgy onto a nearby beach where a gelatinous sea monster is hauled up on the shore, captured by net by the illustrious rich and famous. As it's beady, unblinking eyes peer out, someone asks, "What is it staring at?" It's an odd, but perfect encapsulation of Fellini's interest in the relationship between public figures, the media and consumers, now mutated creatures obsessed with the grotesque circus that is pop culture.
An undisputed masterpiece of modern cinema that saw Fellini shift from neo-realism to something much more thematically rich and narratively weird, La Dolce Vita showed us the 1950s "good life" at it's most unscrupulous and commented on our fantastical obsession to know the inner lives of those in the public eye, and yet we cannot help but celebrate its accomplishments by partaking in exactly what it disparages. As always, life imitates art, no?
Disc Review:
Just a half a year after Criterion released Paolo Sorrentino's own ode to Fellini's critic of the Italian upper class, they've finally got there hands on La Dolce Vita, which had previously been released as a mediocre DVD release by Koch Lorber Films years ago. Restored from various sources and scanned at 4k, the transfer here looks quite incredible most of the time, with the occasional exception of a handful of shots that look a bit worn. Nino Rota's memorably odd orientally influenced score comes cleanly through a robust mono track, while dialogue comes across without issue. The disc itself comes packaged in a standard Criterion clear case.
The Eye & The Beholder
A ravishing new visual essay by ::kogonada in which he questions the meaning of Paola's final gaze in relation to other monumental 4th wall breaking features of the time. 10 min
Federico Fellini
This video interview conducted in 1965 by Irving R. Levine for NBC news sees Fellini openingly speaking on his a variety of topics, from disliking analyzing his own films to his creative collaboration process. 31 min
Lina Wertmüller
Having been an assistant director on both La Dolce Vita and 8½, Lina gives her impressions on what it's like to work with Fellini in this new interview. 8 min
David Forgacs
This film scholar speaks on the cultural changes that were taking place in Italy during the film's creation that influenced its overall cultural meaning and impact. 15 min
Antonello Sarno
Speaking on the tabloidy aspects of the film's creation and the people behind the bold costume choices featured in the film, this Italian film critic was interviewed earlier this year. 16 min
Marcello Mastroianni
Conducted in 1963 in the wake of the release of 8½ by film historian Gideon Bachmann, this lengthy audio interview with complimentary photo slides sees Mastroianni lavishly speak of his friend and collaborator, Fellini. 47 min
Felliniana
Scanned from Don Young's immense collection of Fellini memorabilia, there are over 50 posters, press books and promotional pamphlets to scan through as a slideshow.
Booklet
Unlike most of the pamphlets that come in Criterion releases which are normally bound, this one is more of a fold-out poster style leaflet featuring an essay by Gary Giddins, aptly titled "Tuxedos at Dawn."
Final Thoughts:
Though I still maintain that 8½ is Fellini's finest work, La Dolce Vita is only but a single notch down the ranking. It is indeed a sprawling tour de force of cultural criticism that wades into dark existential waters under the guise of a continuous roving party (let's not forget the film closes on the beach with a dead sea monster). There are few other home releases in this calendar year I've looked forward to more and Criterion has not let me down – it is a stacked disc, it looks and sounds gorgeous, and most importantly, the film remains astoundingly.
Film: ★★★★½/☆☆☆☆☆
Disc: ★★★★½/☆☆☆☆☆