Criterion Collection: La poison (1951) | Blu-ray Review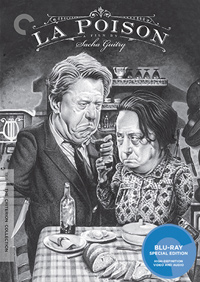 Groucho Marx once drolly remarked, "Marriage is a wonderful institution, but who wants to live in an institution?" Such is the state of the cursed union at the center of Sacha Guitry's 1951 dark comedy La Poison, an acid-tongued condemnation of a contract designed for until death do you part—which is the literal interpretation of the matter. Guitry, aptly described as the French equivalent of Noel Coward, was a titan of the stage and screen through the 1930s and 40s, adapting many of his own works in which he also frequently starred. But by 1951, in his mid-sixties (and only six years before his death in 1957), Guitry made his first major collaboration with a major cinematic star, the celebrated Michel Simon, who stars as the sour, mealy-mouthed husband in a narrative which could have easily been called The Killing of the Shrew.
In the small Catholic town of Remonville, 53-year-old Paul Braconnier (Michel Simon) has been unhappily married for the past thirty years to Blandine (Germaine Reuver). Divorce is not an option to these provincial folks, but Braconnier doesn't varnish his ill opinion of his wife, who he denounces as fat, slovenly, and alcoholic to anyone who will give him an ear, including the kindly vicar (Jean Duvaleix). When Paul happens to hear a radio interview with arrogant defense attorney Aubanel (Jean Debucourt) about his one hundredth acquittal, Paul visits the lawyer claiming he has just killed his wife. Securing the lawyer's services, Paul gleans helpful information before returning home to kill Blandine, a woman who simultaneously had a few murderous tricks up her own sleeve.
Less a battle of the sexes scenario than an indictment of the French judicial system, the residual misogyny is quelled by the repulsive characterization of Germain Reuver, whose looks become a point of possible contention (and perhaps the film's most glaring innuendo when Simon declares men don't have the ability to, err, fake their attraction as women do).
In retrospect, La Poison plays like the comedic version of Reversal of Fortune (1990), which details the famed trial of Claus von Bulow and his famed defense attorney Alan Dershowitz, a lawyer similarly bamboozled into a clearing a client whose innocence is negligible. Instead, La Poison is a rather subversive study on the influential pull of media ("the radio saves us," Simon's character explains to his sympathetic peers on how he gets through each evening with his wife), as evidenced by a premeditated murder which takes place because of Aubanel's bragging rights interview—not to mention it's an act which trumps Blandine's own murderous intentions with rat poison because her husband had the foresight to twist the system to his favor.
As Aubanel so succinctly states, "it means a living for a lot of people," meaning crime, and how it benefits a community. Prior to the murder of Blandine, the townsfolk are shown griping for a manufactured miracle, consulting with the local priest. Ideas are bandied about (which recalls the sextuplets of Preston Sturges' screwball comedy The Miracle of Morgan Creek, 1944) but the community is dissuaded from such charlatanism. However, Braconnier's murder brings the extra commerce they were seeking, which makes Paul a local hero (Guitry juxtaposes the reading of the verdict with schoolchildren reenacting the trial, who give it a much less exultant outcome).
Guitry, known for his playful idiosyncrasies, begins the film by reading a letter of praise to Michel Simon before introducing the remainder of the cast personally. This light sleight gives La Poison the sort of disarming tone required for a pair of harpies who could easily stand in as prototypes of George and Martha. Instead, the film was inspired by Guitry's experiences following France's liberation from the Nazis.
Having worked steadily during the occupation, Guitry was accused of collaborationism, a charge which would eventually be cleared, and by 1948 he would again be allowed to work in stage and film. But La Poison remains the funny yet bitter tinged love letter to the hypocritical system which censured him. Remade in the US in 1966 as How to Murder Your Wife starring Jack Lemmon, a French remake was also attempted by Jean Becker in 2001 as A Crime in Paradise starring Josiane Balasko as the ill-tempered wife and Jacques Villeret as the murderous husband.
Disc Review:
Criterion presents La Poison with a new high-definition digital restoration and uncompressed monaural soundtrack. Picture and sound quality are phenomenal in this transfer, presented in 1.33:1 from a 35 mm fine-grain positive (the label remains the only prominent distributor of Guitry in the US, following an earlier Eclipse series set of four 1930s Guitry titles released in 2010).
Olivier Assayas:
Criterion conducted this sixteen-minute interview with director Olivier Assayas in October 2016, where the auteur discusses his love for the films of Sacha Guitry and their influence, comparing him to Renoir in his contributions to French cinema.
On Life On-Screen – Miseries and Splendour of a Monarch:
An hour-long documentary made in 2010 details the collaboration between Guitry and Michel Simon and the making of La Poison as various French filmmakers and scholars weigh in.
Cineastes De Notre Temps:
Claude de Givray directed this hour-long episode of Cineastes de notre temps, which aired on May 20, 1965, and creates a portrait of Sacha Guitry through interviews of those who worked with him on stage and screen.
Final Thoughts:
As much as testament to the talents of Michel Simon as Sacha Guitry, La Poison is a wicked little love letter to the purgatorial possibilities of marriage and the corrupt tendencies of the court system.
Film Review: ★★★★/☆☆☆☆☆
Disc Review: ★★★★/☆☆☆☆☆